A selection of photos from the first month of the tsunami response; from the morning after through the emergency aid and construction of safe water supplies.
The morning after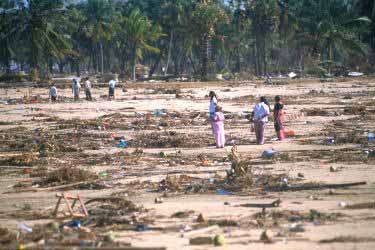 Residents of Kalmunai, on the Sri Lankan seafront, survey the damage caused by the devastating events of 26 December.
Credit: Howard Davies/Oxfam
Homeless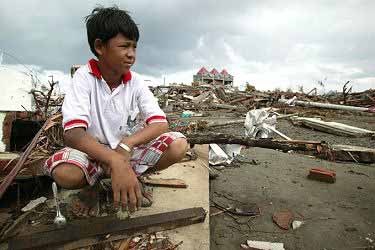 Over in Banda Aceh, Indonesia, 13 year-old Fariz returns to the spot where his house used to stand. He and his sister have been adopted by their neighbour after losing the rest of their family.
Credit: Jim Holmes/Oxfam
Early days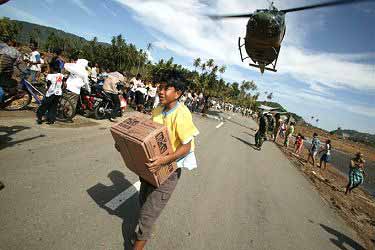 Many areas are inaccessible in the days following the tsunami. Near Banda Aceh in Indonesia, food, water and other supplies are dropped by helicopter in the short term (mainly by the US military), while emergency workers tackle the huge logistical problem of transporting adequate quantities of aid overland to where it is needed.
Credit: Jim Holmes/Oxfam
Against the odds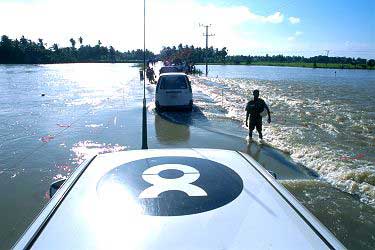 There is no time to lose. In Sri Lanka, despite the onset of an early and heavy monsoon, Oxfam begins assessing how to best target its aid effort quickly and effectively. Here an emergency evaluation team makes its way across flooded roads south of Batticaloa.
Credit: Howard Davies/Oxfam
Aid from the UK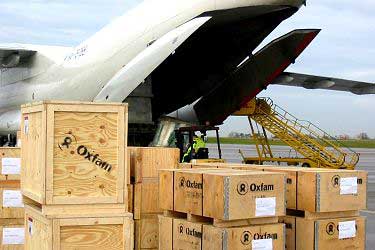 In the UK, Oxfam staff are working around the clock to assemble life-saving aid. On December 29, a plane charted by Oxfam leaves for Sri Lanka and Indonesia with 27 tonnes of emergency water and sanitation equipment.
Credit: Jeff Vuolo
The journey ahead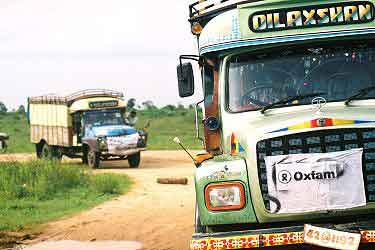 When the plane arrives in Sri Lanka, Oxfam charters trucks to deliver essential aid. The roads are poor, and there are numerous army checkpoints, but the Oxfam trucks waste no time getting to their destination, Vakarai…
Credit: Howard Davies/Oxfam
Bringing hope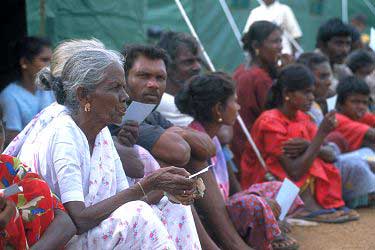 …Where some 800 families are wating hopefully in displaced people's camps to receive hygiene kits, Oxfam buckets, and blankets.
Credit: Howard Davies/Oxfam
Oxfam supplies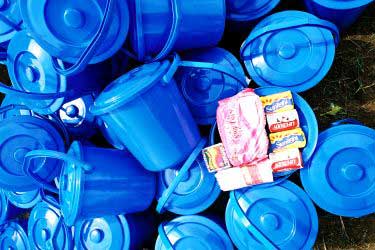 Staff from Oxfam and local NGO partner, Sarvdaya, set about organising the distribution with one family member identified as the head of the family to sign for and receive aid packages. Each family receives one Oxfam blue bucket along with a basic hygiene pack and candles.
Credit: Howard Davies/Oxfam
Coming clean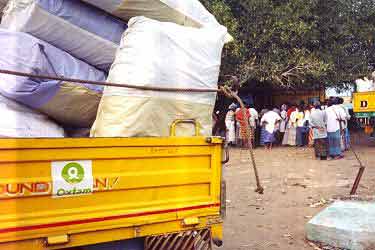 Meanwhile in the Cuddalore district of Tamil Nadu in southern India, Oxfam has reached many seashore villages and is handing out hygiene kits. As Oxfam arrives, 612 people are known to have died in this district of 100,000 people,and over 20,000 people are living in relief camps.
Credit: Max Martin/Oxfam
Water for life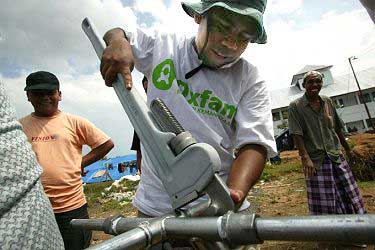 In a displaced persons camp in Banda Aceh, Indonesia, John, a local member of Oxfam's staff tightens a fitting on a tap stand. Here, Oxfam has also been supplying water tanks for a clean water supply.
Credit: John Holmes/Oxfam
Tackling disease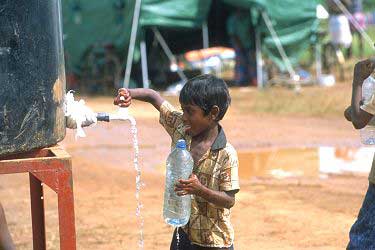 These tanks are allowing children and their families access to clean, safe water. It is hoped that this, combined with the distribution of hygiene packs, will limit the spread of disease in overcrowded camps.
Credit: Howard Davies/Oxfam
Making a difference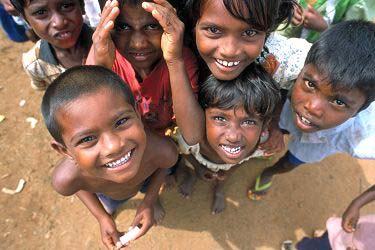 Despite very difficult conditions, Oxfam is reaching people and making a difference to families affected by the tsunami… and making some new friends along the way, like these children in Sri Lanka.
Credit: Howard Davies/Oxfam