Oxfam has installed running water in 700 new houses built after the tsunami. Read about the logistics of delivering a gravity fed system and how we "built back better".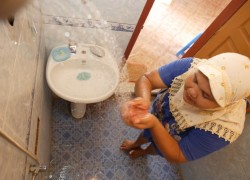 Maryamah's is one of 700 homes in LhokNga, Aceh Province, that now have running water thanks to a gravity water system installed by Oxfam. Credit: Jim Holmes/Oxfam
Before the tsunami, Maryamah had no running water in her house. But now she does. "I am very happy because before Oxfam came we had to get water from the well," smiles the 39-year-old mother of two as she turns on the shiny kitchen tap to wash up the breakfast dishes.
"It's easier now to do my daily work at home," she says as clean water gushes into the sink's soapy water
Maryamah had lived quietly in LhokNga, on Aceh's northwestern coast, for 25 years until the tsunami destroyed her home and family. "I was at home the day of the tsunami. The waves came and swept me away. I lost my parents, relatives and property."
Building homes
Her two sons, Syukran and Armayanda, and her husband, a coffee trader, all survived. But the following year was tough on the family. "All we could think about was how to survive. We lived in a tent for three months and after that we moved to the barracks," Maryamah recalls, referring to the one-storey shelters that served as temporary accommodation for thousands of tsunami survivors.
Their uncertain future ended in 2006 when the family moved to a new home built by the Turkish Red Crescent on the site of their old one. In total, they erected some 700 houses in the area: the task of supplying them all with clean running water was taken up by Oxfam.
LhokNga's two schools needed running water, too, as did the only building to survive the tsunami when all else was swept away: the community's white mosque, brought to the world's attention when former US Presidents George Bush Sr. and Bill Clinton visited in January 2005.
Finding water
The challenge for Oxfam was to find a sustainable water source capable of supplying 100 liters of water a day to each person – and a way of getting it directly to each household.
The solution, high up in the dense rainforest hills that surround LhokNga, was a river running in the direction of the community.
In February 2006, Oxfam started constructing what's known as a water gravity system to direct water to the community using only a small concrete dam, a gravel filter and a series of pipes.
Environmentally sustainable, the system channels water downhill to LhokNga through a 1.7 km-long six-inch main water pipe. Its low-tech design keeps down costs and ensures that a volunteer water committee established to operate and maintain the system can do so without the need for specialised training or tools.
Thirty-six year-old Agus Darman volunteered for the committee when it was established in April 2007. Down a steep muddy river embankment in the hills above LhokNga, he tightens large metal nuts on the system's main water pipe with a wrench. Then, straddling an inlet pipe, his hands beneath the water, Agus clears away debris.
"Now is the rainy season and there is a problem with sand blocking the flow of the water. We come once a week to clean this up," Agus explains, wiping his hands dry on a T-shirt.
Low-maintenance systems
According to Oxfam's Public Health Engineer, Stuart Cheesman, no water system is ever maintenance-free. "Pipes could burst, get damaged or trucks could run over them. But a gravity system is very low-maintenance."
It took nearly 18 months at a cost of 1 billion rupiah ($110,000) to install, but by August 2007, Oxfam, with help from UNICEF who provided 20 kilometers of plastic piping, had connected 715 homes to the water grid. USAID also contributed by providing basic maintenance training for the water committee, as well as tools.
Today in LhokNga, 1,250 people receive running water direct to their homes. In the near future, however, the population is projected to grow by 30 per cent. But that, says Stuart, is not a problem, as "the system is designed for over 3,500 people."
Homes with running water remain fairly uncommon in many parts of Aceh, where villagers have traditionally taken their water from wells. But after the tsunami the world pledged to build back better. Connecting people and homes with water is part of Oxfam's commitment to do that.
There are plans in the future to charge households a modest monthly fee of about 15,000 rupiah ($1.65) for the water they receive. This is essential according to Stuart to keep the system in good working order. "No system is free and maintenance needs money."
Meanwhile back at home, Maryamah rinses the morning's last dishes. She is happy to pay for the water she uses.
"If the water flows well and keep running then 15,000 is very reasonable," she nods in agreement.
'Before, I had to take the water from the well and it was hard work pulling it up by hand. We used to also take a bath near the well. But now I have shower like in a hotel. I love it!"
by Ian Woolverton, Oxfam, Information dated:December 2007