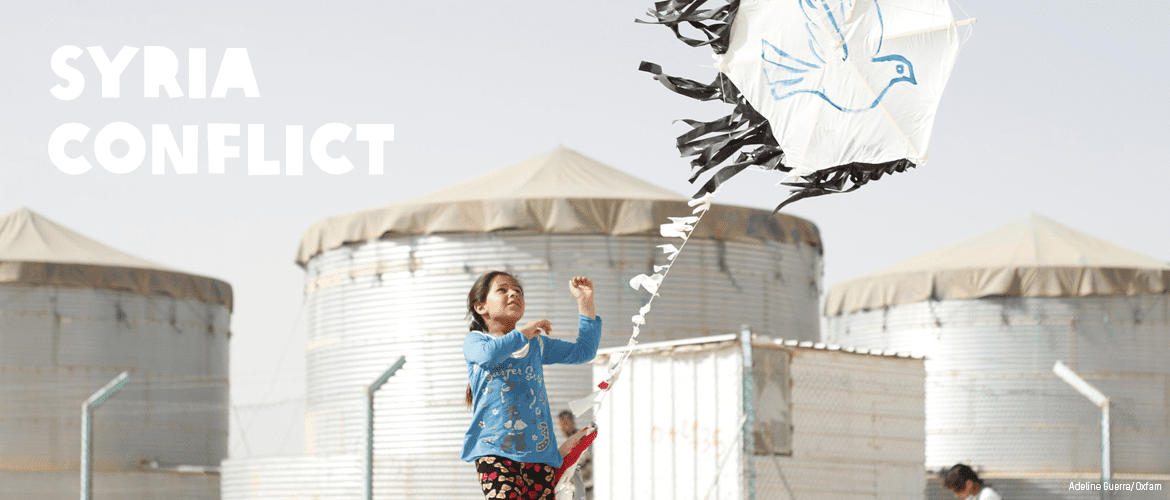 More than half the Syrian population is in need of humanitarian assistance.
More than 400,000 people have been killed in the conflict and millions of people have been forced from their homes by conflict in the largest refugee crisis since the Second World War.
Oxfam estimates it has reached over two million people in the past year with desperately needed food, water and shelter. But the scale of this emergency is staggering and we still urgently need your help.
The situation
Out of a population of 22 million before the crisis, more than half of all Syrians have been forced to flee their homes, including more than 5.6 million who have fled to neighbouring countries and are registered as refugees. Three-quarters of these refugees are women and children. More than 400,000 Syrians are estimated to have lost their lives. In Syria alone, more than 13 million people are in need of humanitarian assistance such as water, food, and shelter. Millions of people both inside Syria and across the region are almost entirely dependent on aid, but the scale of need is outstripping the current capacity of humanitarian agencies to respond. The situation will continue to deteriorate unless increased funds for the humanitarian response are found. This is a humanitarian crisis of staggering proportions requiring continued support from the international community. Even if the fighting ends, the Syrian people need long-term support to rebuild and recover from this crisis. This includes support for safe and secure places to live and job opportunities, so they can provide for their families and live in dignity.
Oxfam's response
Oxfam is on the ground in Syria, Lebanon and Jordan providing desperately needed emergency assistance. We estimate we have reached more than two million people in the past year with clean drinking water, hygiene and sanitation programs, as well cash and relief supplies such as blankets and stoves in winter and vouchers for hygiene supplies in summer. We are also helping refugee families get the information they need about their legal and human rights and connecting them to medical, legal and support services.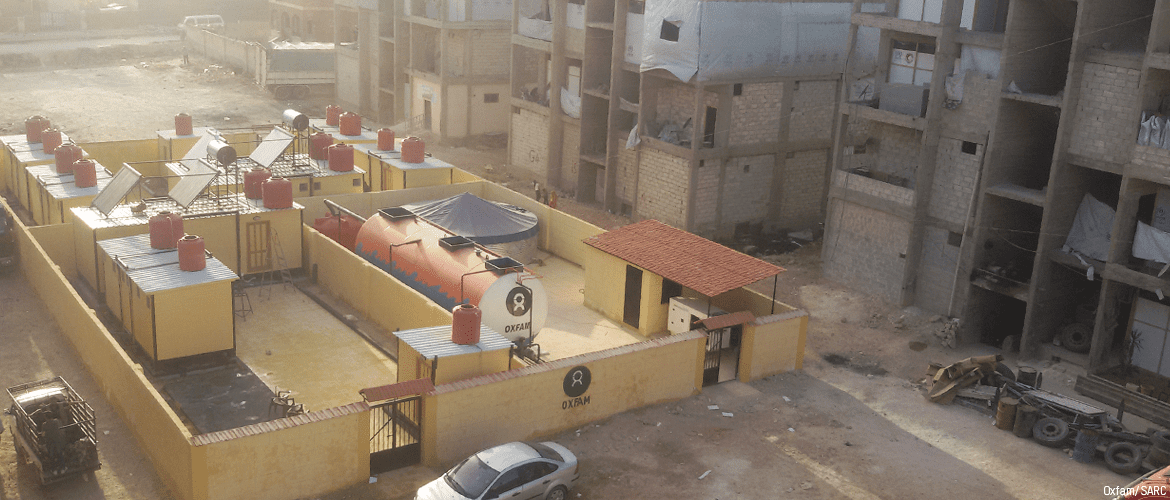 Lebanon
Oxfam has reached more than 250,000 vulnerable people in Lebanon. We are providing vulnerable families with cash and vouchers to help them afford safe housing and basic needs for their families. We're also distributing hygiene kits, constructing latrines and saving lives with access to safe sources of drinking water. Our response has included:
Providing 3,200 hygiene kits (accompanied by hygiene promotion and awareness sessions), toilet cleaning kits, and 840 environmental cleaning kits, and distributing household, communal and municipal waste bins.
Building and repairing over 1,100 toilets, ensuring that each is shared by no more than 20 people.
Installing over 720 water tanks in communal areas.
Delivering 10 million litres of water through water trucking, providing refugees with clean water for drinking, cooking and washing.
Constructing or repairing 70 shared bathing facilities, and providing families with jerry cans and water storage containers.
Jordan
In Jordan we work in both Za'atari refugee camp (Jordan's fourth largest "city") and in Jordanian communities that are hosting Syrian refugees. Za'atari camp is now the fourth biggest "city" in Jordan, housing around 90,000 Syrian refugees. Oxfam currently works in three of Za'atari's 12 districts, supervising water and sanitation, refuse management and the cleaning and maintenance of wash blocks, we also co-ordinate hygiene promotion activities. In addition, together with UNICEF and other international actors, we are installing a massive water network in the camp, which will ensure refugees have safe access to water. To date, our response has included:
Building 50 water, sanitation and hygiene blocks, including 318 toilets, 288 bathing areas, 72 laundry areas, and 100 water points, serving up to 15,600 people.
Maintaining 120 water, sanitation and hygiene blocks in 3 districts benefitting around 25.000 people.
Installing 270 portable latrines as a temporary measure.
Distributing 75 commodes for disabled users.
Provided 19 x 95,000 litre and 378 x 2,000 litre water tanks.
Installed 10 hand-washing facilities in the market area.
Built 24 toilets in youth centres, sports grounds and playgrounds.
Constructed 10 water, sanitation and hygiene blocks (showers, toilets and water points) at border crossing areas.
Distributed hygiene materials to 96,000 people across the camp.
Design and preparation for construction of a piped water network to benefit all 90,000 people in Za'atari
Solid waste management for up to 25,000 people
Hygiene promotion and community mobilisation for up to 25,000 people (36,000 during water network construction)
Syria
Oxfam's operations inside Syria focus on the provision of clean water to conflict-affected populations by setting up and repairing water infrastructure, water trucking and repairing of wells. By January 2016, 48 projects had been completed and 14 others are being implemented. We estimate that we have reached at least two million people with some from of assistance in the past year. We have brought two water treatment plants back on-line using multiple truck-sized generators, capable of continuously pumping more than 700,000 extra litres of water per hour – enough to deliver safe water to around 500,000 people. We continue to scale up our program within the country. We have also undertaken water treatment activities, improved sewage systems, and worked on hygiene promotion in schools.
---