Farm Support Association increase income opportunities for rural people in order for them to generate a sustainable amount of money from their goods.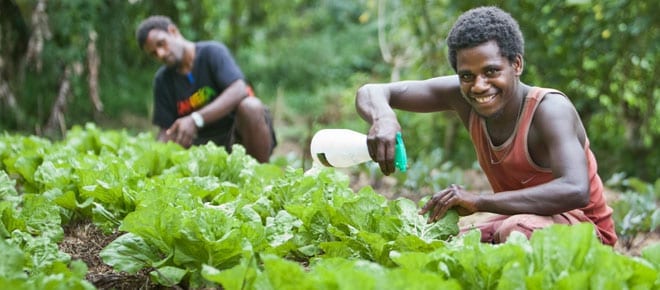 The aim is to increase income opportunities for rural people, for farmers and producers, in order for them to generate a sustainable amount of money from their goods.
One way of doing is this is through organic certification. This adds value to a product — as much as 10 per cent — because it is driven by a strong, stable international demand for products that have health benefits and a positive environmental contribution. If more young people see the opportunities farming can offer, less will flock to the cities, alleviating pressure on the tightly squeezed public services and reinvigorating rural life.
FSA has reached over 300 organic rural farmers involved in community farming, helping the sector transition from subsistence to small scale market-oriented farming through agricultural training courses.
Training
Oxfam and FSA provide young women and men with training courses through Rural Training Centres (RTCs), operated by another of Oxfam's partners in Vanuatu, the Vanuatu Rural Development and Training Centre Association (VRDTCA).
In the last six months, 12 students from Napil completed their first year of a Young Farmers Development course. This is the first course in Vanuatu to train and equip young people with agricultural life skills.  Topics cover organic practices for pest control, composting, how to make chicken feed, seed saving and weeding. Each of the students successfully grew and sold organic crops, putting the profit safely away into savings accounts.
Support
FSA also provide technical support and training for vanilla and spice farmers.  Quality control and monitoring visits are an important element of FSA's work, enabling them to keep in touch with what's happening on the ground. FSA staff regularly met with farmers in their homes and gardens to advise on composting, pruning, pollinating and plot maintenance. They recently travelled to Tanna to carry out organic certification with new spice farmers. FSA also work with established farmers to maintain their plots, steward those who are organically certified to keep their annual certification and assist new farmers to produce spices for income generation.
The FSA field officers also help farmers to experiment with organic methods of pest and disease control. This is crucial to ensuring a healthy crop suitable for selling. It's an area of organic farming that is often problematic, but  FSA has been able to run a series of trials on searching for the most effective solution to caterpillars and other insects, microbes and rot.
The impact of FSA's programmes ripple through the whole community. Ni-Vanuatu villages are communal places where farmers frequently work on each others plots and gardens. Those who have benefited from FSA's training share what they have learnt with friends, family and neighbours, spreading the skills wider and on to future generations. The whole community benefits.