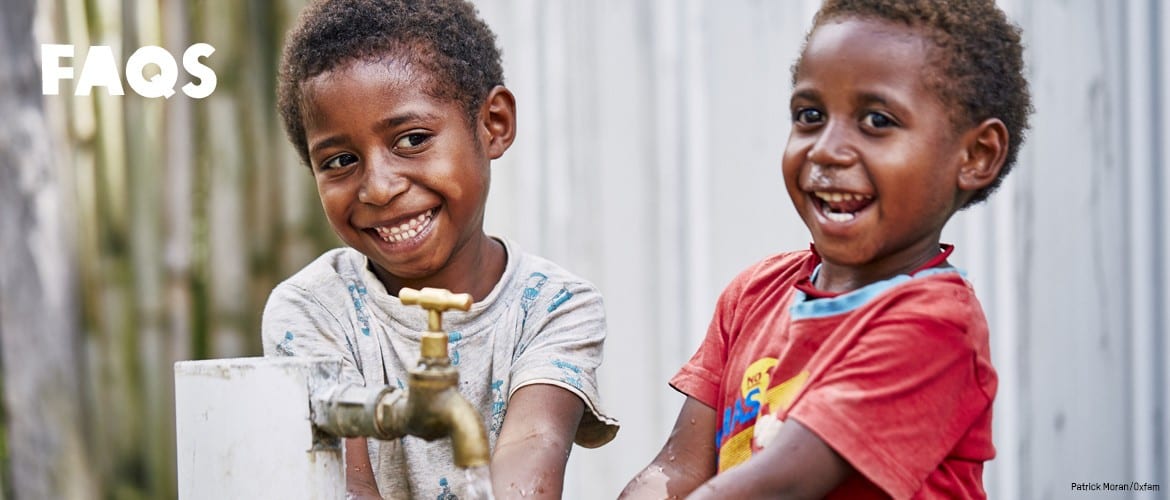 We've compiled a handy list of answers to some of our most frequently asked questions.
Can't find the answer you're looking for? Feel free to get in touch.
What is Oxfam New Zealand?
Oxfam New Zealand is a non-profit organisation dedicated to finding lasting solutions to poverty and injustice. We are striving to achieve a vision of a safer, fairer, more sustainable world where all people can enjoy a life of hope and opportunity. We believe we can all play a part in fighting poverty; each and every one of us can do something to make a difference.
What does Oxfam New Zealand do?
Oxfam New Zealand works in the Pacific and Southeast Asia working with communities to tackle the root causes of poverty. We help people to access safe water and sanitation and build sustainable livelihoods. We help families to provide education for their children, and to live free from persecution and violence. Oxfam responds rapidly to emergencies, providing life-saving essentials such as clean water, food and sanitation. Oxfam also recognises that people want justice and human rights, not handouts. That's why Oxfam New Zealand campaigns for a global agenda that is fair to the world's poorest people.
Where does Oxfam New Zealand work?
Oxfam New Zealand works primarily in our neighbourhood – in the Pacific and Southeast Asia.
What does Oxfam do in an emergency?
Oxfam responds rapidly, helping keep survivors alive by supplying clean water and life-saving essentials. We stay for the long-term to ensure communities can rebuild and break the cycle of poverty that made them vulnerable in the first place. Find out more about Oxfam's current emergency work.
Why does Oxfam work in the Pacific?
Poverty is a significant and growing problem for many states in the Pacific region due to decades of weak economic performance, population growth, urban drift and increasing inequality. In Papua New Guinea for instance, communities are facing the threat of a HIV and AIDS epidemic. The lack of clean drinking water is also a huge problem with 61 per cent of people having no access to safe water.
Is Oxfam a British charity?
Oxfam New Zealand is very much a New Zealand charity. The name "Oxfam" began as an abbreviation for the Oxford Committee for Famine Relief, which was set up in Oxford in the UK in 1942, during World War II, to provide relief to war victims in Europe. Since then, Oxfam organisations have been established in 20 countries and Oxfam New Zealand was formed in 1991 in Auckland.
Together, these 20 Oxfam organisations comprise the Oxfam International Confederation, working together as a worldwide force to overcome poverty and injustice. We believe that by working together globally we can have greater impact. Find out more about Oxfam International and our affiliates around the world.
Is Oxfam New Zealand connected to any religious organisation?
No. We are a secular organisation, but with support from across the community, including people from all denominations and faiths.
How is Oxfam New Zealand funded?
Most of Oxfam New Zealand's funds come from generous donations from New Zealanders. These are supplemented by New Zealand government funds for specific projects.
I want to get involved. What can I do to help?
There are lots of ways you can get involved with Oxfam New Zealand. You could donate, add your voice to speak out against poverty, fundraise, join an event, or volunteer with us. Following us on Twitter, Facebook or Instagram is the easiest way to keep up-to-date with our events and activities. Find out more about what you can do.
How can I donate to Oxfam New Zealand?
It's amazing how much can be achieved with just a small donation from generous people like you. Donations provide urgently needed funds for our work in Southeast Asia and the Pacific and our emergency response work. You can donate online or call 0800 600 700.
Can I make a regular donation to Oxfam New Zealand?
Regular gifts are a great contribution to our work. They give us vital long-term funds that allow us to plan ahead, and they represent a strong commitment to our partners overseas. Set up a monthly gift today.
What is payroll giving? Can I set this up with Oxfam New Zealand?
Payroll giving allows employees to work together with Oxfam to end poverty and injustice in the Pacific and around the world. Payroll giving is administered by employers and enables employees to make regular donations to approved charities through their electronic pay. As with other charitable donations, you are entitled to a tax credit for all donations made through the payroll giving scheme. However, instead of receiving the tax credit at the end of the year, 33.33 cents for every dollar donated is credited to your pay at the time of the donation.
To enquire further or set up payroll giving, please get in touch on 0800 600 700 or oxfam@oxfam.org.nz.
Can I sponsor a child through Oxfam New Zealand?
When you donate to Oxfam, you're helping support whole villages and communities rather than individuals. We believe this is a more effective long-term solution to poverty. By donating at least $10 a month, you'll be helping save and improve lives all around the world. Because you're giving regularly, we can commit to long-term change, tackle the causes of poverty and make a real and lasting difference.
Can I support a specific project?
Check out our Oxfam Unwrapped website where you can direct your gift towards specific items. Or you can call one of our friendly team on 0800 600 700 for more information and to order.
Can I donate items like clothing and blankets to help people in emergencies?
Oxfam does not send clothes and blankets overseas, however good their condition. Customs regulations, fumigation of second-hand items, transport and communications make the process of exporting secondhand items very complicated and expensive. Money goes much further, and supports many more people, if it is used to purchase food and clothing locally.
Can I fundraise for Oxfam?
There are lots of ways you can raise money for Oxfam. You can fundraise as part of an organised sponsored challenge like Oxfam Trailwalker. Or you could do your own thing and contribute the proceeds to Oxfam. We can help out with a handy DIY toolkit, online fundraising pages, a listing on our event calendar and promotional material. Find out more about fundraising for Oxfam.
Where does the money go?
Oxfam is accountable for achieving the highest standards in programmes that tackle poverty and help people achieve their basic human rights. We keep overhead costs close to five percent and on average over the last five years have ensured that 75 percent of all funds raised are spent on humanitarian relief, long-term development and campaigns.
Can I leave Oxfam New Zealand a bequest?
Bequests are special gifts from one generation to another. Because contributing to the development of the world's poorest communities, helping them to help themselves, is the noblest legacy that we can leave. Find out more about remembering Oxfam in your will.
Are donations to Oxfam tax-deductible?
Yes, donations over $5 are eligible for a tax credit in New Zealand.
When will I receive my tax receipt?
For single donations to Oxfam made through the post or by phone, we will post your tax receipt within four working days of your donation. And for online donations, your receipt will be sent by email within one day.
What if I don't receive a tax receipt or I lose my original copy?
Please call us on 0800 600 700 or 09 355 6500. Or send us an email with your name and address details.
How do I update my details?
To update your supporter details please send us an email or give us a call on 0800 600 700.
Can I donate my tax rebate to Oxfam?
Yes, thank you for making your donations go even further.
What is Oxfam Unwrapped?
Oxfam Unwrapped is a unique collection of gift ideas that help you give something special to your friends or family, while supporting someone in need. For example, gifts include safe water, to goats, to training for a farmer to grow resilient crops. Your friends will receive a card detailing the present you bought them, and your donation goes to those who need it most. Find out more and shop for gifts on the Oxfam Unwrapped website.
Can I volunteer for Oxfam in New Zealand?
Yes. As a volunteer, your time, skills, energy and experience will extend Oxfam's capacity to achieve our goals and provide you with an opportunity to gain and share skills in a wide range of areas. Volunteers often work alongside staff in our offices in Auckland and Wellington, and support campaigns and events in their communities. Working hours can be flexible and you don't have to commit to a long-term position. Find out more about volunteering with Oxfam.
Can I volunteer with Oxfam overseas?
We do not generally send volunteers overseas because, like most international development agencies, the projects that Oxfam supports are actually managed by local organisations in the region. As a result, these agencies mostly find the workers they need among the local population. Visit Global Focus Aotearoa and Volunteer Service Abroad for possible opportunities overseas.
How can I work with Oxfam New Zealand?
Go to the online recruitment section of our website and view job and internship vacancies.
I'm interested in taking an internship with Oxfam New Zealand
Internships are voluntary positions. They are usually focused on completing a specific task or project. It is a great opportunity to gain and share skills in a range of areas, for instance, international development, fundraising, event management, advocacy, media, and marketing. Check out current internship opportunities.
What is campaigning?
Oxfam New Zealand works to create positive change for the world's poorest people. Oxfam campaigns for a global agenda that is fair to the world's poorest people. So we're working at every level – from local to global – getting poor people heard and challenging decisions by leaders whenever we see the developing world's interests under fire. You can be part of that change. Find out more about Oxfam's campaigns and how to take action.
What are Oxfam New Zealand's current campaigns?
Oxfam currently campaigns on inequality and climate change. There are many ways you can get involved and help change the world, from signing and petition, to sending emails and letters. You could organise an event, and educate your friends and family. Visit our campaigning page.
I want to get more active in campaigning for Oxfam
Sign up to become an Oxfam campaigner and we will keep you posted on our latest campaign actions. And we will let you know when we are looking for campaigners to help with events around the country. Campaign activities can range from spending two minutes on an email action, to fronting up to politicians to ask questions about their policies on aid, trade and debt, for example. Become an Oxfam campaigner.
What is Oxfam Trailwalker?
Oxfam Trailwalker NZ is an annual fundraising event organised and promoted by Oxfam New Zealand. Teams of four walk or run either a 100 or 50km course. Funds raised from the event support Oxfam New Zealand's humanitarian, development and campaigning work to lift some of the world's poorest people out of poverty. Find out more on the Oxfam Trailwalker website.
When and where does Oxfam Trailwalker take place?
Oxfam Trailwalker takes place in March each year in Whakatane. To find out more visit the Oxfam Trailwalker website
I can't find the answer to my question. Who can I contact?
Please visit our contact us page.