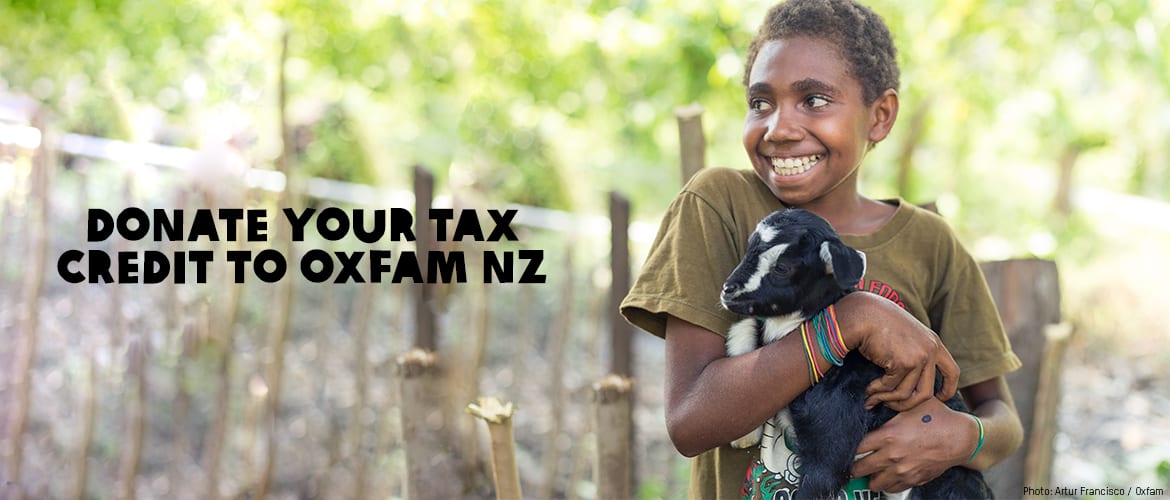 Did you know that your donations are tax deductible? Claiming your tax and donating it back to Oxfam is a fantastic way to make your donation go further. Should you choose to donate your year-end tax credit to Oxfam, you can be assured that your kind gift will be used where it's needed most, helping ending poverty & inequality.



Donating your tax credit is simple!
What is my tax credit?
It's the money you can claim from the government for donations you've given over a tax year. You can get 33.3% of your donations back for each donation over $5. This
IRD website tells you how, you can now also apply for your tax credit online.
How do I donate my tax credit to Oxfam?
Once you receive your tax credit in your bank account you can gift it to Oxfam in a few ways:

1. Donate a general gift online here.


2. Donate to our latest Emergency Appeal here.

3. By calling us on 0800 600 700 or + 64 9 355 6500 between 9am to 5pm to donate over the phone



4. Through online banking (see our details below)
Account Number 

 01-0202-0117805-04

Account Name

 Oxfam NZ

Particulars       

'Your Name'

Code 

Your supporter number (if known), otherwise
first part of your mailing address or email.

Reference       

Tax Credit
To ensure we can send you a tax receipt for your donation (so you can claim another tax credit next year!), please email Oxfam@oxfam.org.nz to let us know your name, address and amount after you've made the deposit.
Thank you for this amazing extra gift!