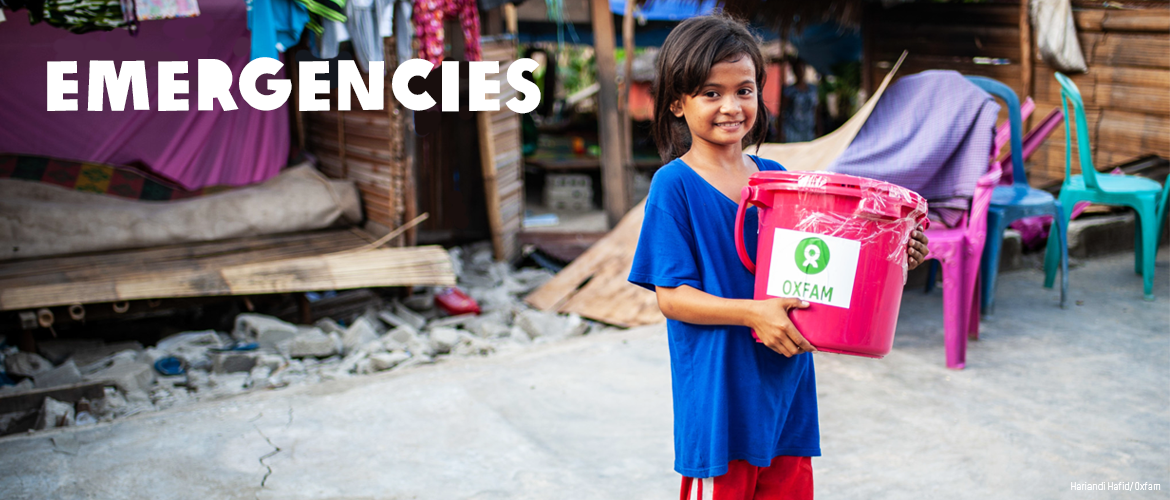 Together we can save lives and help communities rebuild.
Each year more than 30 million people flee their homes as a result of conflict and natural disasters. Over 500,000 people are killed in war. The livelihoods of many more are destroyed, and families broken up. Oxfam is currently working in emergency situations in over 30 countries around the world.
Oxfam is one of the world's leading providers of humanitarian aid in emergencies, with well-recognised expertise in several fields. These are clean water, sanitation, public health, food security, and the protection of civilians. We have a strong reputation for scale, speed, and innovation. Oxfam responds directly wherever there is a widespread threat to life, health, and livelihoods. And we stay for the long-term to rebuild lives and reduce the risk of future disasters.
Oxfam's response
We launch an emergency response whenever lives, health, and livelihoods are threatened by disasters or conflict. In any emergency, our primary goal is to reduce the incidence of death and disease. We're also committed to staying as long as there is a need, to help people rebuild their lives.
We're recognised globally as experts in water and sanitation provision, with a strong track record in ensuring access to food, providing basic necessities, and promoting hygiene. More recently we have been involved in the provision of shelter.
Ready to go
Oxfam International has about 60 experts in water and sanitation, health care and nutrition, on call at all times, ready to travel immediately to an emergency to share their knowledge and skills with local people.
And because it takes time for public donations to an emergency to start arriving, Oxfam maintains a Disaster response fund, ensuring that work can get underway immediately.
Oxfam also has the largest store of life-saving equipment in the world; equipment worth over NZ$4 million. Much of this equipment has been specially designed for use in emergency situations — that's equipment like the Oxfam bucket and water tank, which are now used as standard by relief agencies around the world.
Improving our response
We are always striving to expand our capacity to respond to emergencies, in particular, our capacity to provide fresh water and sanitation as quickly as possible.
We work at community, national and international levels to reduce the likelihood of disasters occurring in the first place, and preparing communities to be better able to cope with disasters when they do.
Learning from our work
We regularly measure the effectiveness of our work and feed our learning into our work with the UN and other humanitarian agencies to help ensure the humanitarian sector as a whole can provide the best possible support for people caught in emergencies.