COUNTRY PROFILE
In August 2017 a brutal military crackdown on Rohingya people in Myanmar caused more than 700,000 people to flee across the border in search of safety in Bangladesh. In the years since then, Rohingya families have continued to escape into Bangladesh, finding shelter in one of the many refugee camps in the Cox's Bazar region. 
There are close to a million Rohingya refugees in the 34 camps, which include the world's largest refugee camp (Kutupalong Balukhali mega camp) which hosts more than 630,000 refugees packed into an area of just 13 square kilometers.
Heavy monsoon rains in Southeast Bangladesh can lead to severe flooding and landslides throughout the camps. Rainwater inundates homes and shops and damages critical infrastructure like toilets and waterpoints—heightening the risk of water-borne illness. 
Your support can help us continue this important work and scale up our efforts to reach more families with clean water, nutritious food, and a safer, well-lit environment.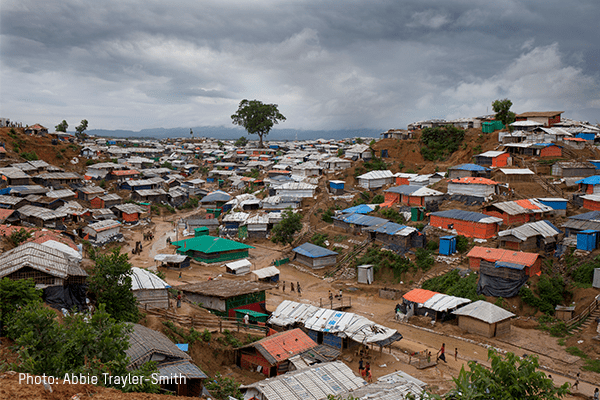 KEY STATISTICS
Over 980,000 refugees and asylum seekers have fled Myanmar since the mass exodus in August 2017. 
As of February 2022, about 923,179 refugees, or over 94% of people who fled Myanmar, live in Cox's Bazar. The Kutupalong and Nayapara refugee camps are the largest and most densely populated camps in the world.
Women, girls and boys make up more than 75% of the refugee population. There are about 194,091 families living in Cox's Bazar.
Key projects
Oxfam is working with the government of Bangladesh and other humanitarian agencies to improve conidtions in the camps.
We have already reached more than 266,000 people in the Rohingya camps and host communities with multiple hygiene and gender protection programmes.
We have installed a sewage facility which initially served 50,000 people, and will eventually serve more than 100,000.
We are drilling wells, installing water points, toilets and showers, and distributing water purification tablets. To help local communities cope with water shortages, we are providing around 385,000 liters of chlorinated water daily in the Teknaf area.
We're helping people stay healthy and hygienic by distributing soap and other essentials, and working with community-based volunteers to emphasize the importance of clean water and good hygiene.
We have installed solar-powered lights around the camps and provided torches and portable solar lanterns so that refugees – especially women – feel safer leaving their shelters after dark to reach water points and toilets.
We're also providing 24,000 households with vouchers that can be exchanged at local markets for nutritious vegetables and ingredients to supplement their basic rations.
Oxfam is treating water for the megacamp using electricity generated from solar panels, cleaning 100,000L of water per day.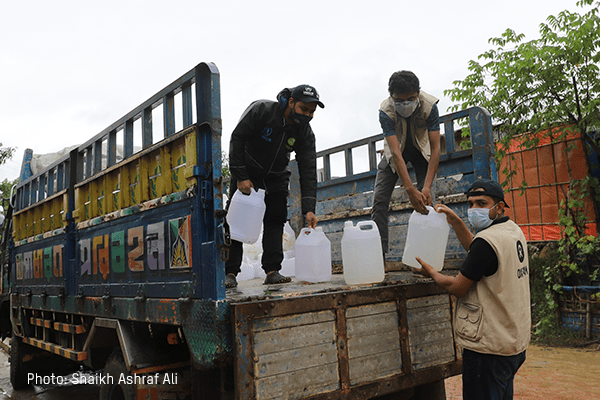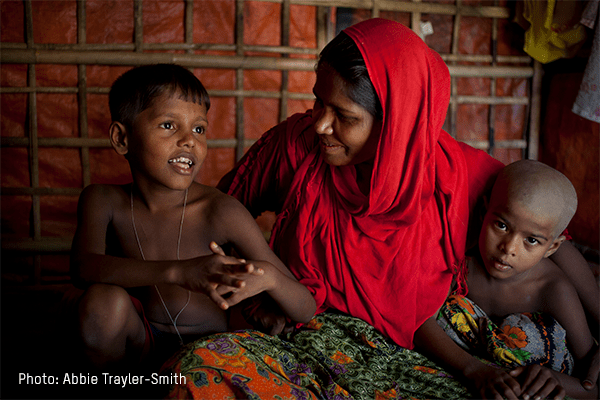 By supporting Oxfam you will
Help to provide water and sanitation and adapting to better deal with the crowded conditions.
Install sewage facilities that will eventually service over 100,000 people.
Drill wells and install water points, toilets and showers.
Help local communities cope with water shortages through deliveries of chlorinated water.
Help people stay healthy and hygienic with soap and other essentials.
Support and train community-based volunteers to emphasize the importance of clean water and good hygiene.