A fair world is possible.

Leave a gift in your Will for the next generation.
The impact of your gift
Your Will is a testament to what you believe in and it can create lasting change.  
A gift in your Will is one of the most powerful gifts a person can make. This incredible act of generosity will transform lives and help end the injustice of poverty for generations to come.   
Whether big or small, a gift in your Will to Oxfam will pave the way towards our shared goal of an inclusive and sustainable world for everyone. Together we can change the world.  
CREATE A LEGACY

AND LEAVE YOUR MARK FOR A

BETTER WORLD
Including a gift to Oxfam in your Will ensures that our life-changing programmes will continue to benefit future generations. Learn more about Oxfam's work. 

If you have questions about leaving a gift in your Will or would like to notify us that you have included Oxfam Aotearoa in your Will, we'd love to hear from you!  
How to leave a gift in your will
Leaving a gift to Oxfam Aotearoa in your Will is a powerful way to build a future world without injustice and poverty for the next generation. It is a simple process, however, please seek professional legal advice to ensure any arrangements are legally valid.
If you have any questions or would like to have a confidential, no-obligation chat about leaving a gift or what it could help achieve, please get in touch with:
Please Contact: Fran, our Donor Care Administrator
Toll Free: 0800 600 700
Email: fran.vergaravial@oxfam.org.nz or oxfam@oxfam.org.nz
You can request a copy of our legacy booklet for more information via the form. This provides the practical details of leaving a gift in your Will, such as our legal name. The information can be stored until the time is right for you to visit a legal advisor.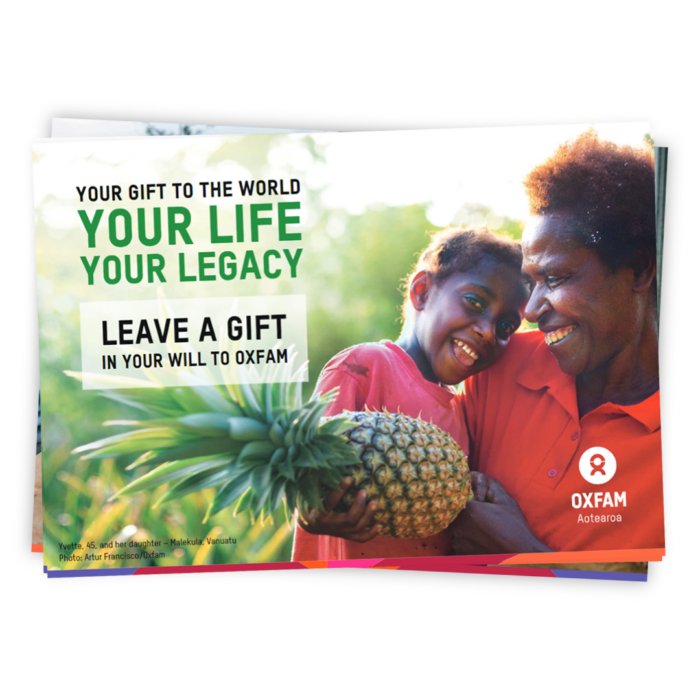 REQUEST A BEQUEST BOOKLET
Please pop your details in the box below and we will be in touch as soon as possible.