This page highlights the policies and processes Oxfam has in place to protect the people we
work with from any form of abuse, exploitation and harm.
Safeguarding
At Oxfam, we are committed to zero tolerance of sexual harassment, exploitation and abuse in our organization. This means that we will do everything in our power to prevent these from happening, and rigorously address it each and every time it happens. One of the most important pillars of safeguarding is our Code of Conduct, which provides a framework within which all Oxfam employees, regardless of location, undertake to carry out their duties and to regulate their conduct.

How can Oxfam staff, volunteers, partners and people we work with safely report cases of misconduct?
Anyone (including Oxfam's partners and people we work with) can raise a concern or make a complaint to Oxfam about something they have experienced or witnessed without fear of retribution. 
Our whistleblowing policy specifically affirms and clarifies Oxfam's commitment to help and protect our employees and workers to safely report serious misconduct or wrongdoing, without having to worry that detrimental action will be taken against them. 
For more general concerns and complaints you can email oxfam@oxfam.org.nz or call us on 0800 600 700 (+64 9 355 6500) 
For more significant issues that you believe should be classified as serious wrongdoing / serious misconduct (e.g. sexual harassment, exploitation, abuse, fraud, corruption, or discrimination of any kind), please see your options for reporting such issues here.
How does the incident reporting process work?
We commit to engage all relevant parties and to act swiftly to conclude all cases. However, the timeline may vary depending on the nature and complexity of the complaint.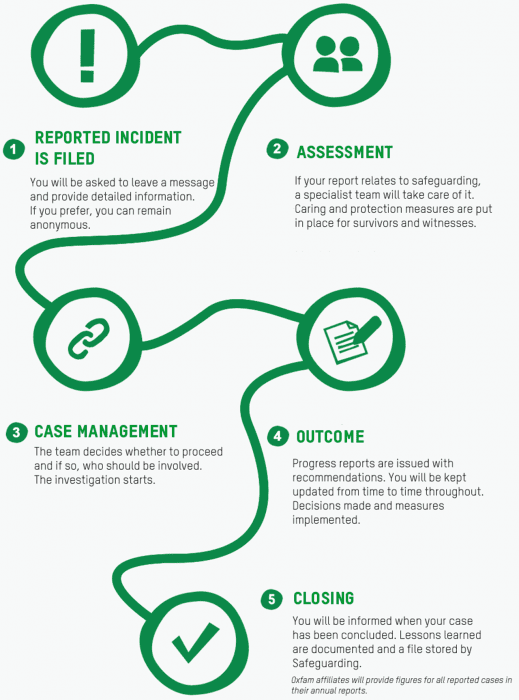 HOW DO WE WORK TO PREVENT ABUSE AND MISCONDUCT FROM HAPPENING IN THE FIRST PLACE?
Oxfam has a global safeguarding taskforce, this taskforce is working in three main areas:
Prevention: This includes training, communications and information to prevent risk of harm and abuse, a revision of staff screening processes, risk assessment and an evaluation of staff capacity to perform the work.
Support and care:  Entails providing resources to support and care for those who have experienced sexual harassment, abuse and/or violence.  It also includes ensuring that staff have access to specialized training and real-life experience.
Response: This includes strengthening and harmonizing current policies and procedures, and ensuring that these are clear and accessible to all. We are aiming to cultivate an environment where information is shared and people are held accountable.
Oxfam's safeguarding and related policies
We have updated our safeguarding policies across the Oxfam confederation – including policies on the Prevention of Sexual Exploitation and Abuse, Child Safeguarding and Survivor Support. 
How we utilise these policies is described in more detail in our Safeguarding Core Standards Document.
You can read Oxfam's Employee Code of Conduct here.