Join us to be champions for better taxes – for a better future!
Along with allies across the motu, we have come together to talk about the problems in our tax system and rally together for better taxes for a better future.
Inequality in Aotearoa is continuing to get worse, and COVID-19 exacerbated this hardship for a lot of us. Just last year, our tax system ranked 136th in the world in its effectiveness at addressing inequality.
Across Aotearoa, too many people don't have access to stable, warm and dry housing, are struggling to afford nutritious food, and are not sure if they'll be able to access the basics they need from week to week – whether that's medication, or transport to school or work.
This is not fair.
Everyone deserves to know that they and their whānau can afford to stay healthy and safe. In many other countries, the tax system plays a significant role in addressing inequality – and it could here too.
We want a tax system that will level the playing field and tackle the inequalities that have become so deeply embedded in Aotearoa. We want to see everyone having access to a decent quality of life.
The power to make our tax system better lies with our decision makers – but as voters, we have the power to influence them! Together, we can persuade our leaders to take action.
Join us to be champions for better taxes – for a better future!
Together, we can move Aotearoa towards a more equal society, with a fair tax system.
WHO'S BEHIND THE CAMPAIGN?
Oxfam Aotearoa, with our friends at Tax Justice Aotearoa and a large coalition of organisations across the motu, have formed the Fair Tax Coalition.
Together, we're calling for Better Taxes for a Better Future – we want a better tax system that addresses the entrenched inequalities in Aotearoa.
We want to be assured that all can afford world class healthcare, education and infrastructure that make Aotearoa better for everyone.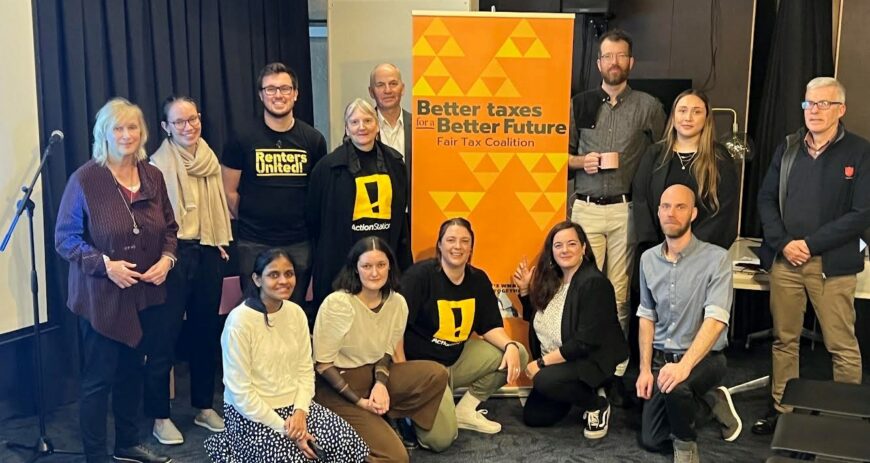 The Better taxes campaign was officially launched on 21st June 2023.
At the launch, we heard from a secondary school teacher, social workers, and a tax expert about how our current tax system is broken. They spoke of how our tax system furthers inequality and falls far short of better tax systems in other parts of the world. This results in inadequate resources to fund essentials such as better support for kids with learning needs, healthy school lunches, and school transport. A broken tax system also results in further burdening low-income earners by taking away their access to safe housing and a life with dignity and pushing them further into debt.  
Has tax impacted your life too? We would love to hear from you.
Better taxes for a Better Future is a Fair Tax Coalition initiative supported by:
Action Station, Alliance Aotearoa, Amnesty International, Anglican Advocacy, Climate Club, Closing the Gap, CPAG, CTU, EcuAction Canterbury, First Union, NZCCSS, NZNO, Oxfam Aotearoa, PPTA, PSA, Renters United, Salvation Army, Tax Justice Aotearoa, Wellbeing Economy