You're more likely to be poor if you are a woman. That's a fact.
Of the 1.3 billion people living in extreme poverty worldwide, more than two-thirds are women and girls.
Campaigning for gender equality is an important part of Oxfam's work, and putting an end to discrimination and unfair treatment is key to eliminating global poverty and injustice.
Here's why:
Women make up 75% of the world's workforce.
Women work two-thirds of the world's working hours.
Women produce the majority of the world's food.
Women earn only 10% of the world's income.
Women own less than 1% of the world's property.
Oxfam is working with women across the Pacific and Southeast Asia who are speaking out against the discrimination they face while attempting to bring about positive change to secure their basic human rights.
Learn more about Oxfam's 16 Days of Activism against gender-based violence here.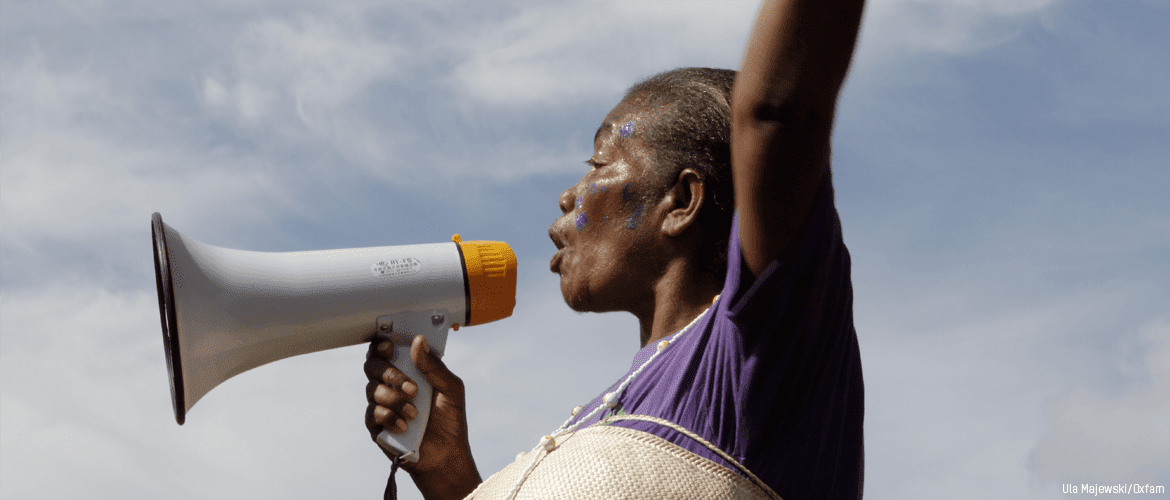 Killer facts on gender equality
60% of the world's chronically hungry are women and girls.
Two-thirds of all children denied school are girls, and 75 per cent of the world's 876 million illiterate adults are women
Women hold only 21 per cent of the world's parliamentary seats, and only 8 percent of the world's cabinet ministers are women.
Only 46 countries have met the UN target of 30 percent female decision-makers.
One in three women around the world are likely to be victims of gender-based violence in their lifetime.
Gender-based violence is one of the biggest causes of injury and death to women worldwide, causing more deaths and disability among women aged 15 to 44 than cancer, malaria, traffic accidents, and war.
As a result of violence and neglect, there are 50 million fewer women in South Asia today than there should be.
Every extra year a girl spends at school could reduce child mortality by ten percent.
Almost 300,000 women died in 2013 from causes related to pregnancy and childbirth. Most of these deaths are preventable. Of these deaths, 99 percent are in developing countries. In parts of Africa, maternal mortality rates are 1 in 16.
In New Zealand, 20 percent of women will be physically abused by a male partner and one in five women will be a victim of rape or attempted rape in her lifetime.
In Samoa, 46 percent of women have been abused by their partner
In Fiji 41 percent of women who experienced violence reported being hit while pregnant.
Sources: OXFAM, UN, UNICEF, UNIFEM, WHO, UNDP.