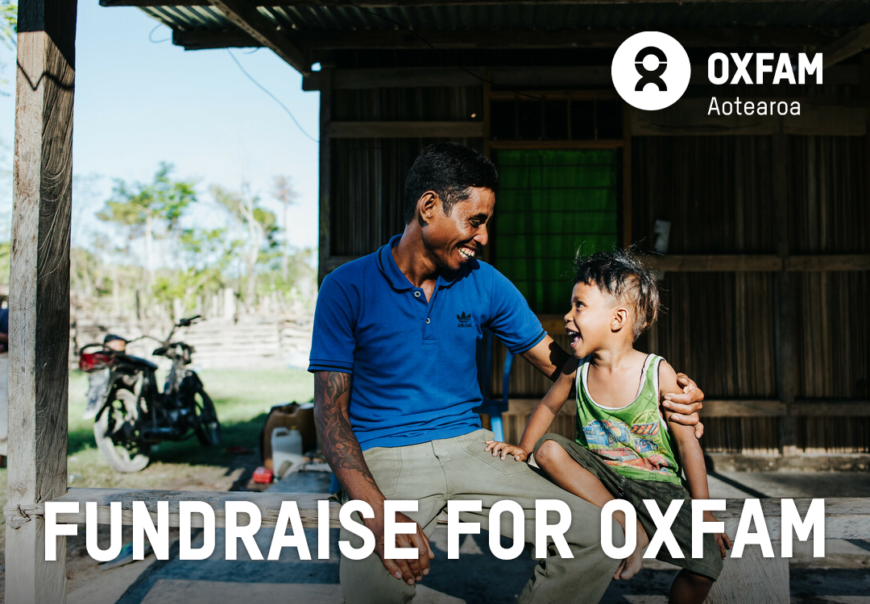 Fundraising is a great way to make a difference. When you raise money for Oxfam, you're also raising awareness about injustice, climate change, and poverty. And when people donate to your fundraiser, it can be an important first step for them to take further action.

Oxfam Trailwalker is our biggest annual fundraising event. It's New Zealand's largest team endurance event and an absolute must-do! Tackle 100km in 36 hours, 50km in 18 hours or 25km in 9 hours and raise vital funds for Oxfam's programmes in the Pacific and Southeast Asia.
Ready to sign up for an epic challenge in 2024? Register your interest today for more info!

At any one time, Oxfam is responding to around 25 emergencies worldwide. Fundraising for our emergency work will help save lives.
Our emergency aid includes targeted food distribution, providing clean water and sanitation, as well as cash so that families can buy the items they need, like medicine or tools. Oxfam responds immediately after a disaster, and we wouldn't be able to do it without people getting together and fundraising for us.

From running a marathon to a birthday celebration, to selling cakes in the community – there are so many ways for you to make a difference. Fundraising for Oxfam Aotearoa is fun and easy. You can pick one of the ideas we've supplied for you, or you can create your own. We'll support you along the way with resources and a helping hand. Find out more here: www.oxfam.org.nz/fundraising. 
If you organise a public event such as a concert or movie night we can help get the word out through promotion on Facebook and Twitter. Contact us at oxfam@oxfam.org.nz for more information.
Here are some of our top ideas for emergency fundraisers:
Collection point
Organise a local collection where there are a lot of generous people. It's simple, but effective. One supporter, Aaron Crown, raised $1300 by organising regular collections at a local theatre. His fundraising was boosted by the event's organiser announcing his collection before the interval. So make sure you announce that you are fundraising for Oxfam.
Host a quiz
The easiest and most effective way is to contact a locally run pub quiz and ask them to donate the money raised at one week's quiz to your emergency fundraising. Combine this event with a raffle and raise an extra $100. You could get in touch with local shops and businesses for free raffle prizes. Alternatively, you could organise your own quiz.
Bake sale
Everyone loves cake and raising money from a bake sale is quick and simple. You don't need to make lots of plans in advance – just get your friends and family involved with the baking. Or you could ask a local business to help you out by donating some delicious cakes. Set it up somewhere busy where people have their money at hand.