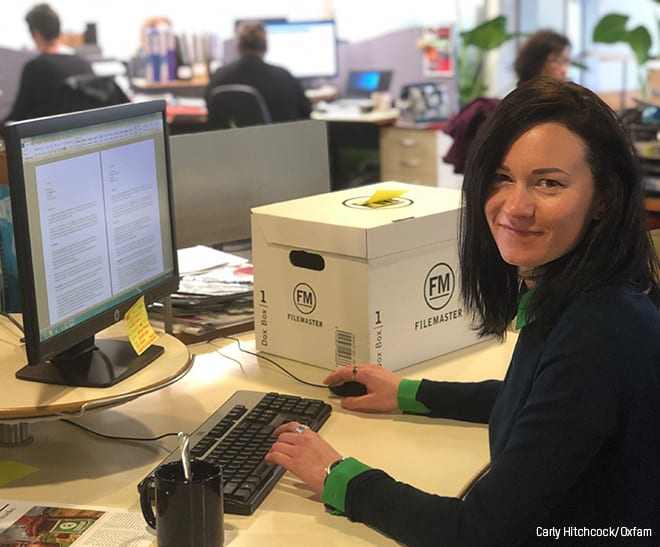 Oxfam is lucky enough to be supported by countless inspiring volunteers, who make so much possible around the globe.
Volunteers get involved with many, varied aspects of Oxfam's work; from office administration, to data analysis, marketing, fundraising, campaigning, or helping to make Oxfam Trailwalker an annual success. They generously give their time and skills out of the kindness of their hearts, greatly adding to what we can achieve.
As Sasha Fesenko, one of Oxfam's Auckland volunteers says:
"Oxfam. Have fun while helping make a difference! I have been volunteering at Oxfam Aotearoa for almost a year, but they still always find ways to surprise me. Maybe it is because I'm not from New Zealand, but it seems to me that it is because of the people who work there.
"A year ago, having recently moved to New Zealand, I was studying English and looking for an opportunity to practise the language whilst also learning more about the world-famous New Zealand work-life balance. The solution was found in volunteering, which in addition to meeting my goals, made it possible to do something useful for people in need. I applied for a data maintenance role in Oxfam and was very worried before my first 'interview' in New Zealand. When I arrived, I was met by a smiling and shining Volunteer Coordinator, who immediately made me feel at home and I felt like the happiest person.
"I was impressed with how many volunteers are involved in the activities of Oxfam and how the charity is working at in several directions at once. In my personal opinion, one of the strongest values of Oxfam is connectedness because in some way everyone is involved in each other's activities and projects, always sharing their ideas with colleagues – whilst also having fun.
"What can volunteering bring to you? A lot! You can improve your skills or acquire new ones, meet interesting and extraordinary people and make new friends from all over the world, gain work experience or learn more about charity work, and of course feel good by helping people. Moreover, as a foreigner you can get language practice, local work experience, references and even a job offer.  
"It's wonderful to know that as a volunteer, I am making a difference in someone's life who lives far away. I want to say that I'm grateful to Oxfam for allowing me to be a part of the team."
Find out more about volunteering with Oxfam here.