Volunteering for Oxfam Trailwalker is a unique experience; it's fun, exciting, emotional, and rewarding.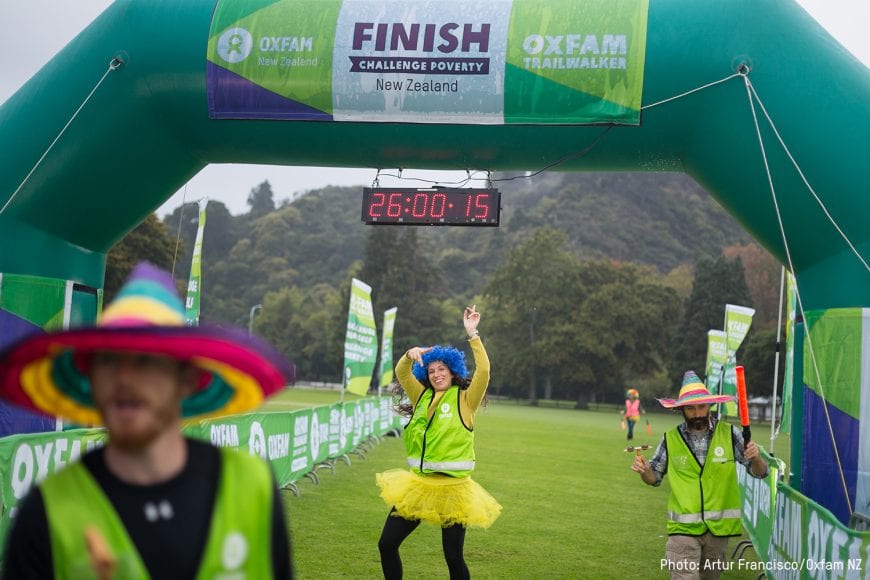 As a volunteer, you get to support people to take on perhaps one of the greatest challenges of their lives, while at the same time helping people across the Pacific to overcome poverty. To put it simply, as a volunteer you are part of something BIG.
Over 1000 people will be doing the walk this year, aiming to raise close to $1 million for the work that Oxfam New Zealand and our partners do in the Pacific region. The outcome of this event can make a difference to people's lives in Aotearoa and beyond. We could simply not do this without the help of our amazing volunteers. Join us!
Things you need to know:
The 2020 event will take place in Whakatāne, on 21-22 March, 2020.
You can sign up for as many – or as few – volunteer shifts as you like. Even taking on one shift is a big help, and a great way to be part of the event.
Sign up to volunteer at Oxfam Trailwalker

You choose your shift(s). All the available roles and shifts are published in the online registration form. You can view the different positions and shifts that need to be filled throughout the weekend and pick the one that works with your schedule and skills – or whichever you think will be the most fun to do. Most shifts are 4-6 hours long.
You don't need to be super fit or strong – anyone can be a volunteer. If you're keen, there will be a role for you, however you want to help out.
Are you bubbly and excited? Consider being a Finish Line Host, presenting medals and giving the occasional sweaty hug to the walkers that have finally completed their journey.
Friendly, always with a smile, and patient? Be a Trail Marshal and be the face that tired teams see after many kilometres of sand dunes, stop-banks and hilly forests. You'll give them that extra spring in their step, while also making sure they cross the road safely.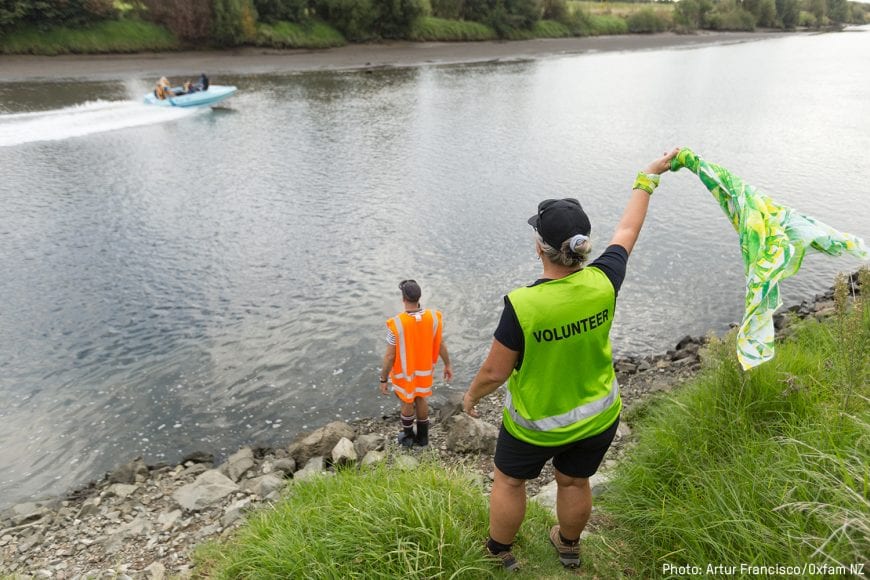 Want to literally give a helping hand? Grab that Jet Boat shift and help people up from the shortest jet boat ride of their lives. Love driving? Help with the logistics of the event and be a Courier. Read more about the different roles on our website or directly in the online registration form.
The most interesting ones are the graveyard shifts. According to the team average times, many of them are expected to finish their journey very late on Saturday or in the early hours of Sunday. Though this is not a time most of us are used to being awake and functional, it's exactly why the presence of volunteers along the trail is valued even more by our amazing Trailwalkers.
Whakatāne is GORGEOUS! Totally worth a weekend away and reasonably close to most major cities in the North Island. Sunshine more often than not (oops, hope we haven't jinxed it), stunning scenery and native bush, the beautiful Ōhope beach nearby and the most welcoming people. During the event weekend, the whole area gets transformed into "Trailwalker town" and the vibe is just incredible.
I'm in - sign me up!
If you're still thinking about it, read the following quotes from the 2019 volunteers, about why they signed up to help at Oxfam Trailwalker:
· "I'm a local and want to share our amazing place with others."
· "I have been a walker twice and needed a year off, really wanted to give back to the event and share my experience."
· "I have grown up very community centred. I help at the local holiday programmes and primary schools of West Auckland to increase the learning opportunities for the children of our future. This will be an exciting opportunity and I would like to step out into the wider community to aid the walkers in achieving their goals with Oxfam. I am very passionate about being active and would maybe like to participate in the trail myself one day."
· "I love encouraging people for their achievements! And making people feel so good on the inside about the amazing progress they choose to do for others and also themselves, plus I get excited over the smallest things so easily 😀 I have always heard about this from many of my friends in Australia and I finally get a chance to be a part of something that's not just life changing but also plays a huge part in fighting poverty."
· "I heard Oxfam Trailwalker is the only team challenge charity event in NZ to raise funds to end the injustices of poverty in the Pacific region. I think it will be a life-changing adventure and it would be meaningful if I could participate and be of help to someone."
Head over to our website for more information on volunteering for Oxfam Trailwalker or get in touch! Olga, our lovely Volunteer Coordinator, can be reached at otwvolunteer@oxfam.org.nz and is happy to answer your questions.
See you in Whakatāne?