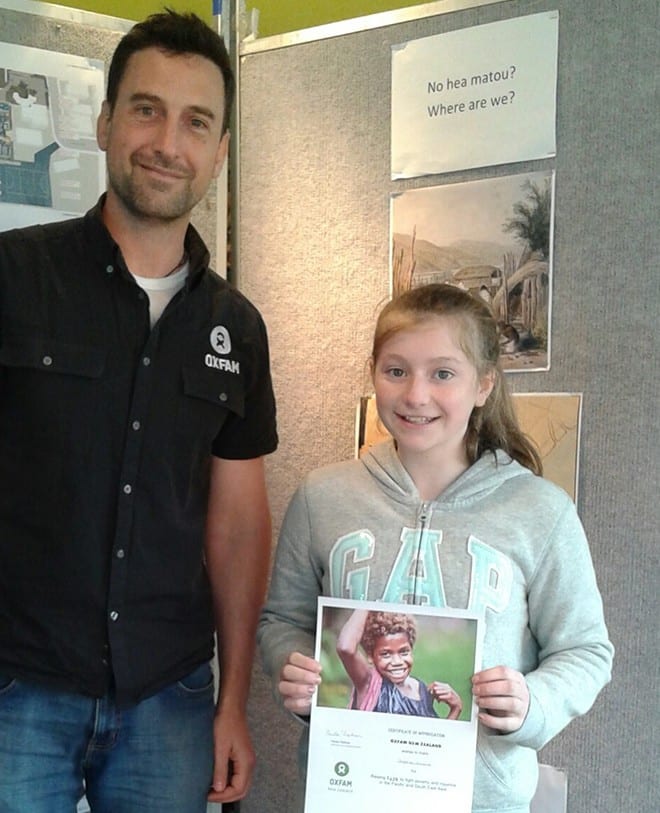 We are incredibly grateful to have the support of one of the coolest 13-year-olds out – Sophie Guerin. She sold hot drinks at her school in Wellington and raised a massive $627 which she chose to give to Oxfam. We can't thank her enough for her support of those people who need it most.
Our Humanitarian Specialist, Darren Brunk, went along to Sophie's school to receive the donation, and to have a chat with her:
How did you raise so much money?
I started fundraising at school every Wednesday at lunchtime, selling hot drinks. I was selling cordial for $1.50 and hot chocolate for $2. All the money was to go to Oxfam. I got my friends to help me. It was all student involvement.
Why did you choose to donate it to Oxfam?
I wanted a charity that would help lots of places around the world, and also one I could trust. I was looking at charities on the internet, and I found Oxfam and had heard of it before. I knew it was safe and it was what I wanted and so I decided to go with them.
What do you like about Oxfam?
I think it's good because they focus on everything, they don't just focus on one thing. They help lots of people in lots of places. They also help people start businesses.
What kind of change would you like your money to make in people's lives?
I would want it to help people. When people have had troubles, such as becoming sick because they have had bad water, I want them now to have fresh water and food and to have business opportunities so that their lives can be better.
If you could change one thing about the world, what would you change?
I think I'd change… selfishness, so there wouldn't be any selfishness so that everybody would always be looking out for each other. There wouldn't be things like poverty and wars because people would care about each other.