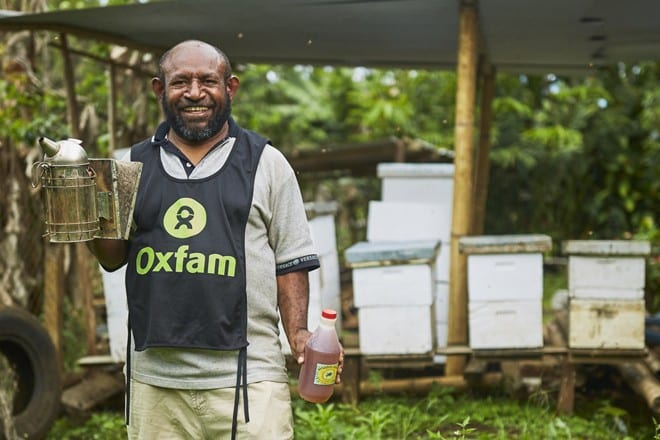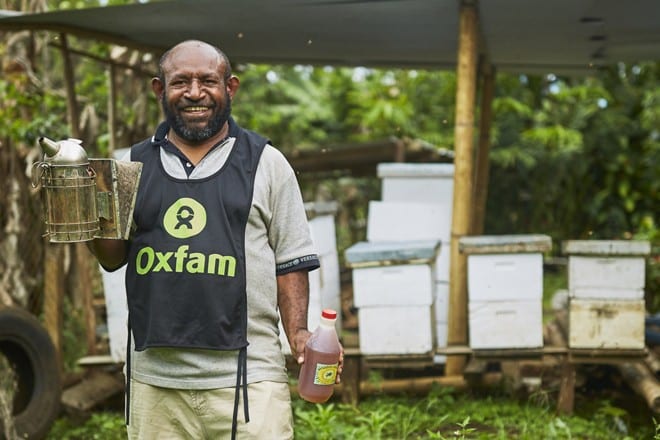 Photo: Patrick Moran/OxfamAUS
"To the Australians and New Zealanders who are donating their money to support this work, it's really touching the lives of the rural people. And that's what I like to see. When you support people it brings joy to your heart."
Oxfam is working alongside Kelly Inae, who owns Mountain Honey, and supporting him to provide training, advice and affordable equipment to rural beekeepers as part of a four year livelihoods project in Papua New Guinea.
"In a year of working with Oxfam I've trained almost 80 people. I supply them with my bee boxes and train them. They can bring their honey to me and I pay them in cash. This is greatly helping their living standards.
"I have managed to help all of these people through the support that Oxfam has given me. I am happy about this."
The support that Kelly provides beekeepers across PNG means that many of them now generate enough of an income to support their families' and save for the future.
"It motivates me to look at families and friends who have been able to build houses. It's my dream to continue this work. In the future someone will say, 'This house was built from honey money' and I will love hearing that.
"Honey money giving people a house, honey money giving people an education, and honey money uplifting their living standards.
"I would like to say thank you to the Oxfam team who are supporting work in Papua New Guinea. I have been able to travel with Oxfam into areas where they are working here and I have seen a lot of things that are being done to help the community and it's just amazing."
This work is part of Oxfam's HARVEST project – read more about it here.
*This project is partly supported by the New Zealand Ministry of Foreign Affairs and Trade