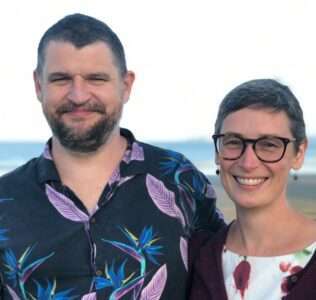 Today, we write to celebrate Jo, a compassionate and determined supporter of Oxfam Aotearoa.
Jo and her partner are parents to two young children (and a garden full of animals!). Jo, just like us, is driven by a passion for justice and the belief in a more just, sustainable world.
Jo was first introduced to Oxfam as a teenager when she lived in the UK, and has been supporting our mission ever since. Working at the New Zealand border, Jo is committed to keeping our country safe during a period of much uncertainty, "It's definitely my happy place – I'm surrounded by committed people and no two days are the same".
"Poverty limits everyone's potential – from life expectancy to learning to taking your place in the world and society. If we can fix that, the world will be an amazing place for everyone to live in."
"Oxfam has such a broad outlook – from political to local, environment to trade, short term disaster recovery to long term sustainability projects – all supporting communities across the world to have a brighter future."
Having donated towards Oxfam through monthly gifts, appeals and Unwrapped over the years; she decided to take the next step in her support by including a gift in her Will to Oxfam Aotearoa.
Jo made this decision as a reflection of her core values, promising a special gift to the world; "I feel pleased that I'll be able to make that one final meaningful contribution as I leave this world which has been so good to me but which isn't the easiest place for so many people."
Jo told us that she wants to encourage supporters to think about creating a legacy of their own;
"If you can afford it, do it – the money could make a big difference to a community supported by Oxfam. This is your last chance to make that contribution!"