"I've been to Syria and seen it as a functioning society where there was everything we have here. There were shops, you could get ice cream – all the things we take for granted, they had too. I had a few people say, oh, they won't know any different. But they do. And even if they didn't, does that make it better or worse?"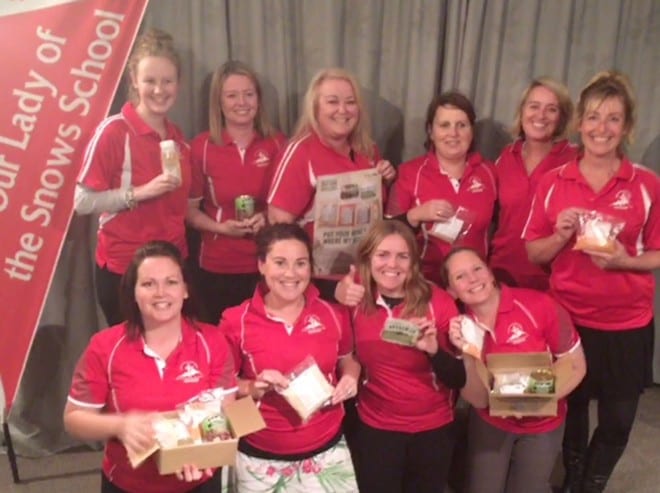 Cara McGrath and her team hold the small amount of food they ate during Ration Challenge week – exactly the same food distributed to Syrian refugees living in camps in Jordan.
Cara McGrath was one of over 5,000 Kiwis who took on the Ration Challenge, experiencing a glimpse of one of the many challenges that refugees face day in, day out, by eating the same rations they do for one week. The funds she and other participants raised will provide food and access to healthcare and education for Syrian families facing an indefinite amount of time in refugee camps in Jordan, as well as contributing to Oxfam's work around the globe – particularly in the Pacific region.
She felt drawn to the challenge as she thought of her experience in Syria in 2001, remembering a time in the Middle East long before the refugee crisis we're witnessing today. Seeing the challenge on Facebook was a call to action for Cara, and a chance to stand in solidarity with millions of displaced, traumatised families now seeking refuge in Jordan.
"The challenge was hard, but I still had a nice bed and a nice house, I had my family around me, I wasn't traumatised or afraid. I hadn't realised it but food is a big part of what motivated me through my day. It is so much a part of how we interact with each other."
Cara is part of Team OLS, the Ration Challenge's front-running fundraising team, sitting on an incredible team total of $10,665.
"We are the teachers, board, school fundraising team and supporters for a tiny little school in Methven in the South Island, called Our Lady of the Snows School. One of the school's core values is social justice, so it's great to know that parents are doing something at home and it's happening in the classroom too. Everyone's on the same page."
The food in the ration packs that Cara and over 5,000 other Kiwis ate during Refugee Week is exactly the same food, in almost exactly the same quantities, that is distributed to refugees in the camps – just a small amount of rice, lentils, chick peas, kidney beans, sardines, flour and oil.
"I wasn't a huge fan of the lentil soup, I have to say. I ate it for two or three days in a row, and when I only had a tiny bit left I put it in with my rice and had fried rice and lentils – and it was really good! I was so disappointed that I'd been eating lentil soup for three days when I could have been eating fried lentils!"
Fortunately for Cara and her team, they fundraised enough to gain rewards to add a little variety to their week – spice, sugar, milk, vegetables and even some extra protein, all achieved by meeting fundraising targets. But for Cara, the biggest motivator was knowing that – for her – the challenge would come to an end.
"We get to finish it. I kept thinking, I'll have that on Friday when I finish. It would be so much harder not knowing when it's going to finish, or if it's going to finish. We're so remote and isolated here, we're in our own little bubble, and sometimes it's hard for people to think outside their bubble."
One member of Team OLS – Tania Goodwin – even extended the challenge to her junior students, crafting a full day of teaching around the refugee crisis. The children were taught about the realities of refugee life, and watched videos of refugee families. They wrote prayers to Syrian children, a helped their teacher measure out her rations for the week. They even fled from their classroom and into a safe space, where they built shelters and worked from inside them.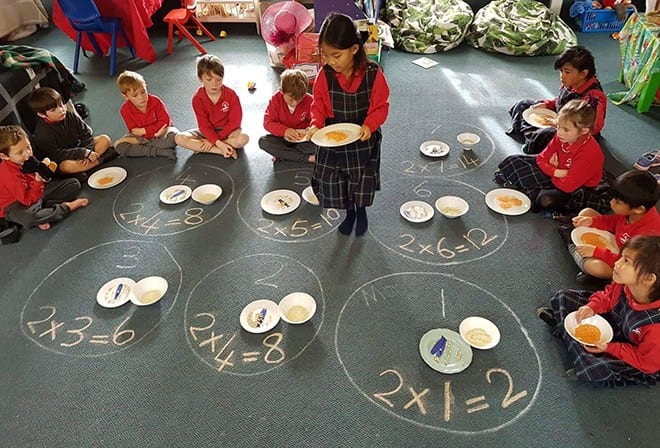 A class of children from Our Lady of the Snows School help their teacher, Tania Goodwin, ration out her food for the week.
Cara has a word of advice for those thinking about being part of the challenge in future: "Read the information and get to know the stuff. Oxfam sends out loads of great things, so using those and building an understanding then means it's more than just an experience where you don't eat very much for a week – you actually learn something too."
---
This awesome Ration Challenge team consists of Deidra O'Shea, Sonia Cullen, Rachel Clark, Kylie Fitzgerald, Connie Quigley, Becky Dirks, Georgia Annear, Tania Goodwin, Pattie Ree, Colm McGrath, and Cara McGrath.
To support them, visit their fundraising page.