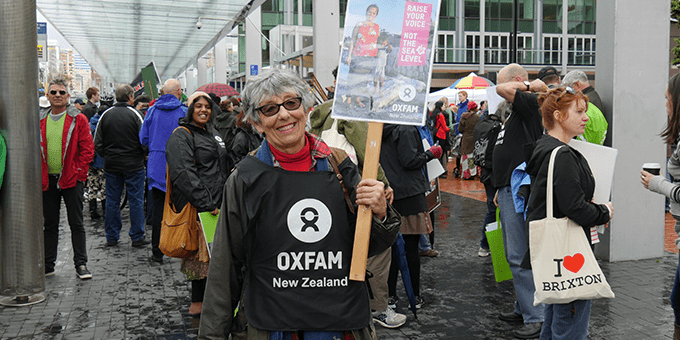 Auckland grandma Diana Rutherford says she wakes up every single day and thinks how lucky she is with her life here in New Zealand. She loves her garden, she has enough food to eat, she can afford to keep her house nice and warm and as a devoted mum and grandma she has plenty to keep her busy.
"I don't do bored," says Diana. "There's just too much to do."
Now a retired primary and special education teacher, Diana knows a thing or two about making a positive and lasting difference to people's lives.
"Empowering people is the most important thing you can do. I support Oxfam because I know they believe in the same."
"I've been an Oxfam supporter since the 1970s. I've always believed in finding the light in all people and helping them to be the best they can be. I support Oxfam because I love the way it's about offering a hand up; giving people the education, skills and support to improve their situation.
"I've supported Oxfam in many different ways over the years. I currently volunteer at the Auckland office, and I've made financial donations, bought Oxfam Unwrapped gifts and campaigned for action on climate change.
"One particularly important way for me to know I'm doing something that will make a lasting difference is by leaving a bequest to Oxfam in my Will," says Diana.
"It's important for me to focus on what I can do and find the right balance. Leaving a bequest to Oxfam is something I know will make a lasting difference for people living in poverty and it's something that fits in with what I can do right now.
"I'm certainly no goody two shoes but I do believe that in this life, you get back what you put in. We need to keep up the hope and faith in humanity. When I see things that are unfair, I have to do something about it. You have to get involved and make change. I really believe my life is enriched by what I give and what I do."