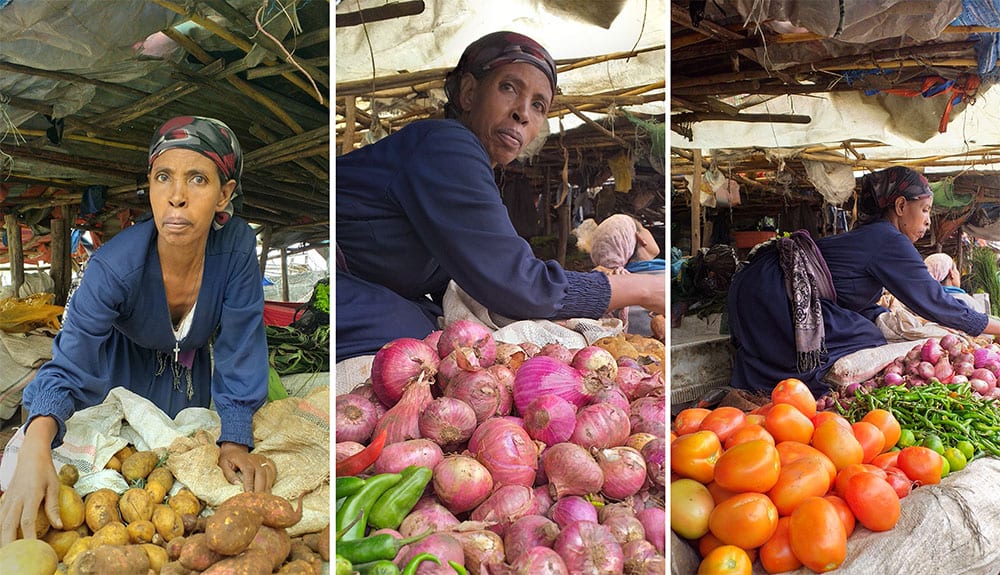 A Mother's Day Tribute to Atsede Getaneth
By Tigist Gebru
"I might not even survive this pandemic but right now, the most important thing for me is my children. I cannot see them go hungry."
Before COVID-19 reached Addis Ababa, Ethiopia, Atsede Gataneth, a single mother who sells vegetables for a living, earned enough money to ensure her family had enough to eat and to keep her two daughters in school. But government measures to limit the spread of the virus, physical distancing, and increasing prices of basic commodities are pushing her towards desperation. Her story reflects the challenges of women in the informal sector across the Horn, East and Central Africa (HECA), who are struggling to make ends meet.
"It is not a good time to be in business, as a single parent, I have two daughters to look after," says Atsede.  She has been selling vegetables on the street for the past 13 years and it has never been worse. She wakes up at 6 am every morning to go to the market to buy and sell vegetables right on the roadside.  On top of this, she used to walk from her informal settlement to up-market settlements to provides cleaning services.  But, since COVID-19, most rich families she provides these services are 'physical distancing'.
"I have been a single mother for the past 9 years. The father never helps any of his children, so I work hard to provide for them. Now, school is closed so the kids stay with me on the road."
A month ago, she fell ill and had to undergo surgery. Due to the fear of getting the virus, she stayed away from her business for close to a month.  "I reached a point where I could not afford to stay in bed anymore. With the excruciating pain from my surgery, I have to be back out on the street to do what I know best that helps me get money to live."
"I have seen my daughters struggle and starve. Most times, I had had to leave home to work, even when I can no longer bear to hear them say they are hungry. I do not want to hear them say that anymore. I am their mother, I have to do something to help them. So here I am again, risking everything. I am weak and vulnerable, and I know I might not even survive this pandemic but right now, the most important thing for me is my children. I cannot see them go hungry."
Like many workers in the informal economy, Atsede's business is facing a huge decline. The government recently moved the biggest vegetable market in Ethiopia right in front of the street where she sells vegetables, as a measure to facilitate social distancing. Because of this, her customers no longer buy from her and instead go to the market across the road. "Nowadays, I barely get 20 birr," which isless than a dollar per day.
"I would not mind living on a dollar if other food items were not too expensive. What hurts me the most is that, even after all this suffering, I am not able to provide the basics for my two children. I cannot even afford cooking oil and Teff. Washing clothes for rich people would have supplemented my income, but now, no one wants me around. That extra income would have helped, but now it is no longer there. I don't have any other alternative, but I will die trying for as long as I live to bring food for my children," says Atsede.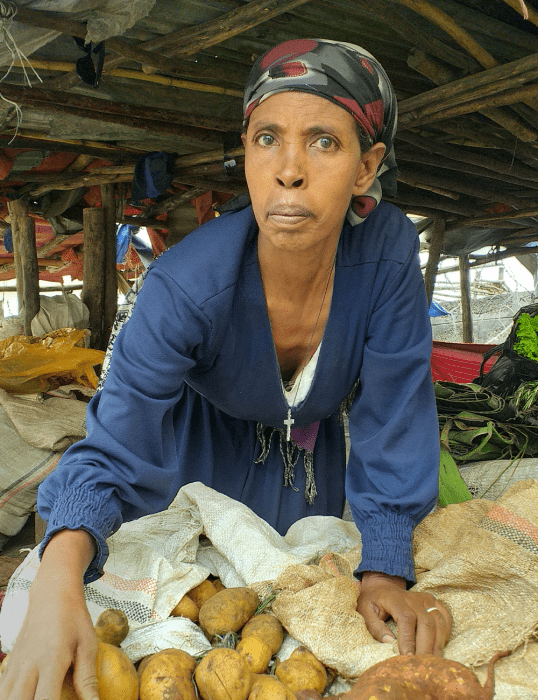 Atsede selling vegetables at the market. Photo by Tigist Gebru/Oxfam.
Mothers like Atsede who work in the informal sector are being hit hard. The informal economy accounts for 85.8% of employment in Africa. In Ethiopia, it comprises 50.6% of urban employment. As governments in the Horn, East and Central Africa region have called for 'physical distancing' and imposed lockdown measures, informal workers whose livings require social interaction are often unable to observe these measures. Being forced to work from home may mean giving up on their only way to earn an income. Many informal businesses are run by women such as Atsede whose lives and families depend on their income. These women have not been reached by economic stimulus packages or tax relief. Most relief efforts have built on pre-existing relationships between states, workers, and businesses in the formal sector, which have inadvertently deepened the gap between formal and informal economies.
It is critical the governments across the region enhance social protection systems to provide fast, direct support to people in need and develop policies that support the informal sector.