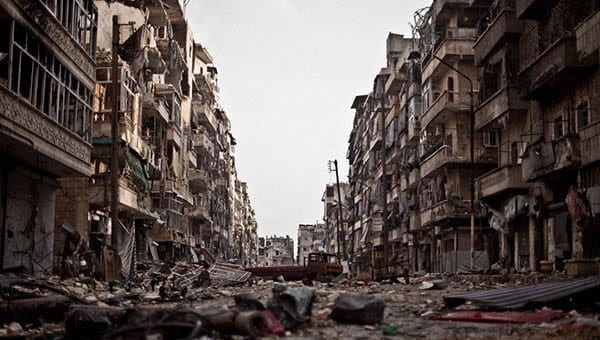 The people of Aleppo continue to be caught in the conflict, losing their lives and loved ones in airstrikes and facing other serious health risks as access to necessities like medical care and clean water is cut off.
Syrian forces and allies, backed by Russian and Syrian aerial bombardment, launched a military operation on September 22 to retake besieged East Aleppo from the opposition. The government siege has left 250,000 people trapped with no access to aid and they are now facing constant attacks from the air.
Right now, more than 1.5 million people in Aleppo have been without running water for five days, as vital water infrastructure and power sources have been destroyed.
"Deliberately targeting water supply, whether through air strikes on facilities or cutting off water, is a war crime," said Andy Baker, Oxfam's lead on the Syria crisis response. "Warring parties must immediately halt attacks on civilian buildings such as schools, hospitals, homes, and water infrastructure. They should allow repairs to be made to the water network, including by halting fighting in key areas, in order to pump clean and reliable water to hundreds of thousands of civilians in Aleppo."
Without this clean water being pumped, residents on both sides of the city—opposition-held East Aleppo and government-controlled West Aleppo—are relying on water from wells or delivered by trucks. These sources are unreliable and sometimes contaminated, which can lead to water-borne illnesses like diarrhea and can be life threatening without proper nutrition and resources.
Nassim, 65, a resident of East Aleppo reported that food was scarce. "Fetching water from the local wells is another daily challenge, as going out is dangerous and the water quality is an issue. You can't be sure if the water is safe or contaminated," said Nassim.
Walid, 35, from West Aleppo said,"Queuing to get water is a time consuming struggle, and buying water is becoming expensive. You need to pay more to get water first from truckers. Winter is coming and we have no electricity, and fuel is not available. The situation is becoming unbearable."
Oxfam has installed a generator to power one of the water pumping stations while the national grid is down. We have equipped three wells in West Aleppo to produce around 500,000 liters of water per day, and installed eight water purification units on the Qweik River to produce also 500,000 liters, though four of them are currently being repaired after sustaining damage. Oxfam also has 3,500 hygiene kits ready to be distributed in East Aleppo, but the convoy cannot currently access the oppositionheld part of the city.
Oxfam is calling for an immediate and complete ceasefire in Aleppo and an end to attacks on civilians and civilian infrastructure as the Syrian-Russian offensive enters its third week.