The Tonga National Youth Congress (TNYC) has got it licked with their new venture into ice cream.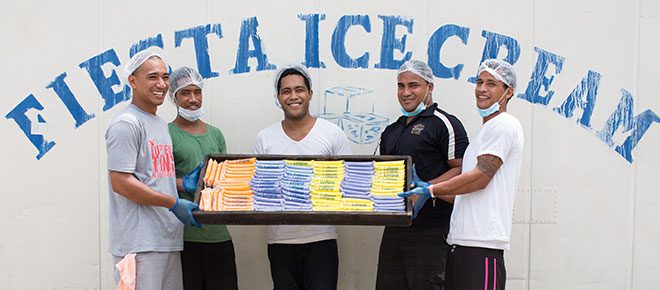 Oxfam's partner the Tonga National Youth Congress (TNYC) has got it licked with their commercial venture into ice cream, each week supplying local Tongan company Fiesta Ice Cream with up to 200 litres of their virgin coconut oil (VCO).
Fiesta produce ice blocks, lollies, cordials, soft drinks and ice creams for the local market. They approached TNYC through the Manufacturing Association of Tonga, a national organisation dedicated to driving sales of Tonga made goods.
Adding value for farmers
Fiesta pay P$500 (around NZD$325) for 50 litres of oil that is sourced from TNYC's VCO sites in Vava'u and Ha'apai. Simple technology, including diesel powered graters, wood-fired burners and oil presses, paid for by Oxfam and the New Zealand Aid Programme, means farmers working with TNYC are able to transform coconuts into a value added product within a niche domestic supply chain.
Fiesta sales have a big impact on TNYC's income. In April this year, TNYC's VCO sales, without any purchases from Fiesta, generated P$2,132. In May, following a purchase from Fiesta, that figure shot up to P$4,777. TNYC use this money to reinvest back into the community, supporting local farmers through the organic certification process.
Adding flavour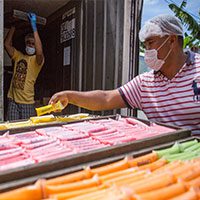 The oil Fiesta purchase is an off-white colour and extracted from dried coconut meat that has lightly burnt. This gives it a stronger, nuttier flavour than traditional clear VCO. When the oil is added to ice cream it imparts a soft, creamy taste and aroma.
Osova believes the oil is key to the popularity of his signature product, the Topsy bar, a vanilla coconut confection dipped in a thin layer of chocolate. The bar is a good earner for Fiesta, each bar costing 30c to manufacture but wholesaling at P$1.35 and retailing at P$1.80, sometimes higher in Tonga's outer islands.
A long term partnership
Osova values the close relationship his company has with TNYC and both organisations are looking forward to developing new opportunities.
He says: "Our main goal at Fiesta is to support local industries and we are very, very happy to help TNYC, I am very impressed with what TNYC is doing. The coconut oil they provide us with is of high quality and nice and fresh. And I am proud that we are Tonga made.
"I would like to thank New Zealand and Oxfam for supporting a project like this."
TNYC Field Officers are in discussion with Osova to explore the viability of further product development and opening new markets for TNYC farmers' produce, including coconut flavourings and desiccated coconut.
Working with communities in Tonga