Oxfam Trailwalker team Cool Runnings, has tonight made history, becoming the first team to cross the finish line in the fastest time, two years in a row.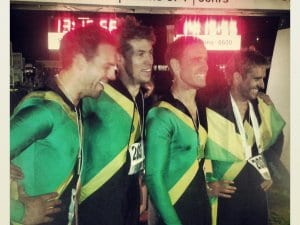 Oxfam Trailwalker team Cool Runnings, has tonight made history, becoming the first team to cross the finish line in the fastest time, two years in a row.
The team – named after the Jamaican bobsled movie – are ecstatic to cross the finish line once again as the fastest team at Oxfam Trailwalker 2014, running the 100 kilometre trail in Taupo in just 13 hours 14 minutes and 6 seconds.
Matt Landreth, Dan Cullen, Mark Henwood and Ryan Lobb once again crossed the finish in true style, speeding across the line in their black, green and yellow lycra suits carrying a makeshift bobsled. The team have so far raised over $1780 to support Oxfam's work in the developing world.
Team leader Matt Landreth said, "It is so good to do this for Oxfam, and an amazing cause. It makes the event so special".
Training together has been a challenge this time around as Mark and Dan moved to Christchurch after last year's Oxfam and so the team have been doing mostly individual training. Mark has been heading into Arthurs Pass most weekends and Dan ran the Motutapu Mountain Marathon a couple of weekends ago in Queenstown. Back in Wellington, Ryan and Matt have been doing trail runs together and a few weekends ago entered the Tararua Mountain Race Men's Team section and came first – showing that this team definitely still has what it takes!
Executive Director of Oxfam New Zealand, Rachael Le Mesurier, said, "Cool Runnings made Oxfam history today. They won for the second time – the first time ever. They made an amazing personal achievement and helped Oxfam Trailwalker 2014 towards our goal of $1 million. To help those in the Pacific challenge poverty and injustice"
Oxfam Trailwalker is about ordinary people doing extraordinary things, and Cool Runnings is a true testament to this.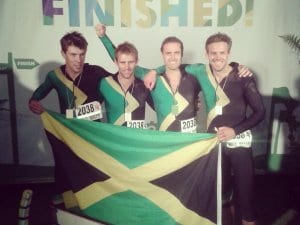 Participants have come from 90 towns and cities around New Zealand and as far as the UK, Germany, Japan, Singapore, Hong Kong, China, the US and Australia. The trail takes walkers through some of New Zealand's most spectacular scenery, including Huka Falls, Spa Thermal Park, the Waikato River, native bush and the shores of Lake Taupo.
Le Mesurier explains: "Oxfam Trailwalker is an incredible personal challenge but also an extremely important fundraiser for Oxfam. Each team's fundraising helps Oxfam make a difference for communities throughout the Pacific."
"It's inspiring how many Kiwis have pushed their limits at Oxfam Trailwalker. We are hugely grateful for the commitment and effort shown by everyone involved from the participants and support crew to volunteers and local Taupō community", says Le Mesurier.
A total of 263 teams set off early this morning. Most of them will continue walking all night, finishing by 7pm Sunday. Once the feet have recovered and the legs have revitalised, teams will continue to fundraise through until the cut-off in June, supporting Oxfam's humanitarian and long-term development work in some of the world's poorest countries.
The top fundraising team for this year's event is currently the Walking on Sunshine, who have already raised a phenomenal $14,358, with team Ich's and Bitches very close behind at $14,304. Total fundraising is now $750,340 and the goal is to raise $1 million in total. These vital funds help people around the world to overcome the injustice of poverty.