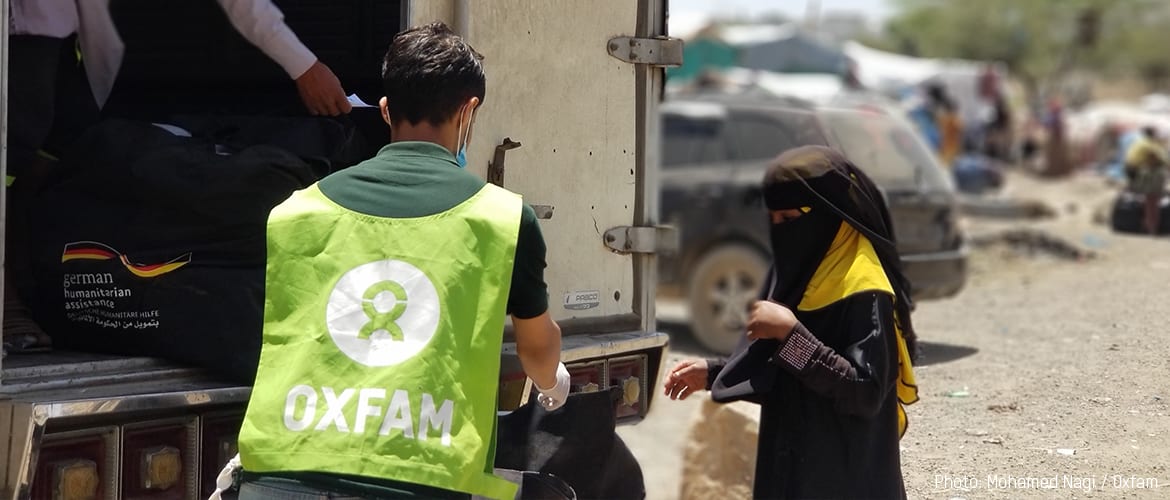 Wael Algadi (PHP Officer) at hygiene kit distribution in Mahwa Almarkazi Camp, Yemen
In reaction to the coronavirus pandemic reaching 1 million confirmed cases, Oxfam interim Executive Director Chema Vera, said today:
"This is a grim milestone that must spur the international community to take immediate action. We must tackle this pandemic with single-minded determination, and as one. The outpouring of compassion and support towards public servants must now extend across borders and countries must act in global solidarity. A million cases is just the beginning of this mammoth challenge, there is still an opportunity to stop this virus from decimating our most vulnerable communities. If no-one is safe until everyone is safe, then we must act now to make that so."

"Oxfam is already gearing up its entire humanitarian aid delivery system to help the most marginalised and people living in poverty as they face the rising tide of infections ahead. Despite access restrictions, we are working around the clock with our local partners in more than 60 countries to deliver much needed humanitarian assistance, to try to curb the spread of the virus. For nearly three billion people living in poverty and without enough clean water, jobs and access to basic health care; and for millions, especially women, already facing years of malnutrition, disease and conflict, the coronavirus will be a lethal killer."
"The international community must act now urgently and fully fund the UN's humanitarian appeal to enable the delivery of life-saving humanitarian assistance and provide an additional US$160 bn through aid and immediate debt cancellation to help poor countries double their spending on public health.They must also support the UN Secretary Generals call for a global ceasefire to enable humanitarian work to reach the most dangerous places."

Donate to Oxfam's emergency appeal here to support the worldwide response to Covid-19.