A new survey of more than 1500 Syrian refugees gives a clear picture of the harsh economic struggle facing refugees who have fled from Syria to Lebanon. It tells of children missing education and adults fearing they may never work again – or be able to pay back money they owe.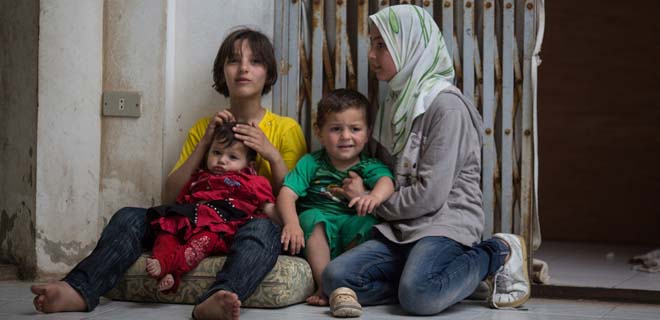 Survey of refugees tells of children missing education and adults fearing they may never work again – or be able to pay back money they owe
A new survey of more than 1500 people has given one of the clearest pictures yet of the harsh economic struggle facing refugees who have fled from Syria to Lebanon.
According to the new research, commissioned by Oxfam and conducted by the Beirut Research and Innovation Centre (BRIC) last month, families are spiralling deeper and deeper into debt, living in cramped and overcrowded accommodation, with few job prospects.
The lucky ones, less than 20 per cent of families, are scraping by doing temporary menial jobs. But with every working person supporting more than five other people in addition to themselves, every cent they earn is stretched to the limit.
The Lebanese people have shown incredible generosity in continuing to offer a safe refuge for people fleeing Syria, but with refugees now accounting for around 25 per cent of the population, the pressures on the Lebanese job market in particular are showing.
Hadir Jasem, aged 21, who fled with her family to Lebanon two years ago, is desperate to get back to her home in Syria and start university, but she is now the sole breadwinner for her family of 13, earning $200 a month as a teacher's assistant.
She said: "Things here are much, much more expensive. Going back to university requires money, if I do that, then there wouldn't be enough money for us to survive."
The survey shows people are spending more than twice what they're earning – monthly incomes for refugee families is around $250 but average expenditure is around $520 including monthly costs such as rent ($225) and food (up to $275). The refugees said the cost of putting a roof over their heads was exorbitantly high. More than 20 per cent are living in poor conditions such as tents, shacks, shops and storage basements because they can't afford the rent for a flat.
To make ends meet, many said they had spent whatever money they left Syria with (on average $370) and were borrowing money from friends and families – some from still inside Syria, where the cost of living is far lower. A fifth of respondents said they had sold family jewellery to help make ends meet and a small number of families said kind-hearted Lebanese shopkeepers and landlords were allowing them to run up credit, even though it's unclear when they will ever recoup the money.
Nigel Timmins, who heads up Oxfam's Syria response from Beirut, said: "Refugees from Syria face a daily battle to survive in a country where jobs and affordable accommodation are scarce. The perpetual hunt for work is crushing people's hope.
"Competition is tough for any job – between desperate refugees and poor Lebanese workers who feel they are being squeezed out of the workforce. Seasonal jobs in agriculture, for example, are drying up as winter approaches making the situation even worse."
Some refugees said they were getting support from UN agencies or organizations, such as Oxfam. But unless there is a massive injection of funds, Syrian refugees face the prospect of a life of grinding poverty ahead, surviving on borrowed cash and credit alone. The UN's humanitarian appeals for the Syria Crisis are currently 61 per cent funded.
One of the most tragic aspects of the refugees' predicament in Lebanon is the plight of the children's future. The survey found that only 25 per cent of children are enrolled in schools pointing to a generation of Syrian children missing out on a much-needed education.
Parents fear they are letting their families down as their children are losing out on an education – even though public Lebanese schools are free, many refugee families are unable to pay additional school expenses, particularly the transport costs if schools aren't nearby.
Timmins said: "As the crisis drags on, parents worry this is just the start of the nightmare – and wonder when their lives and the lives of their children will ever get back on track.
The plight of refugees went beyond issues of money, accommodation or schooling. They spoke of the anguish and agony related to loss of dignity, loss of friends, seclusion or anger by some members of the family, lack of self-esteem, poor living conditions and poor health.
"At the moment, there is no end in sight for the vast majority of refugees. They have little prospect of a regular income and many live with the fear that not only will they find no work tomorrow or next week – but it could be a long time before they will be able to provide for their families again. Only a lasting political solution to the crisis in Syria is what will allow them to leave this life in limbo behind," said Timmins.
Oxfam and other agencies are working closely with the Lebanese Government to assess potential livelihoods opportunities for refugees and vulnerable Lebanese. These could include cash-for-work programmes, savings schemes, vocational training and job placement, as well as developing training opportunities and building community-based organisations.