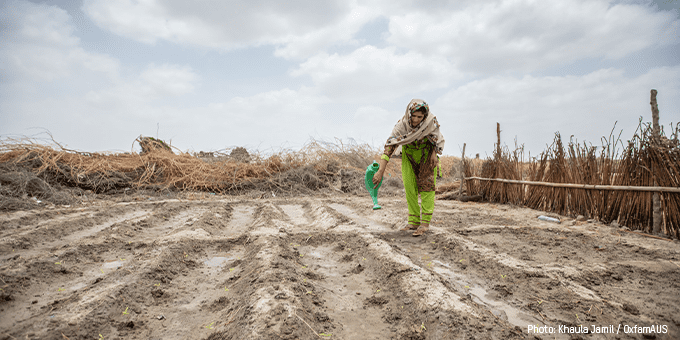 The Global Report on Food Crises 2021 was released last week reiterating the need for inclusive and sustainable food systems across the world. The report is described as 'grim' by United Nations Secretary-General António Guterres due to the shocking number of people who are in desperate need of food and good nutrition. As Guterres explains, "Conflict is the main reason [for the need], combined with climate disruption and economic shocks, aggravated by the COVID-19 pandemic." 
In a statement, Oxfam International's Global Advisor for Emergency Food Security and Livelihoods Emily Farr said, "Oxfam is deeply concerned by the findings from the Global Report on Food Crises released today, which show that the confluence of conflict, economic shocks including from COVID-19, and extreme weather exacerbated by climate change has radically increased extreme hunger and inequality around the globe. Over the last year, 20 million more people – equivalent to the population of Mumbai – were pushed into a hunger crisis, but this is only an escalation of a deadly trend: there has been a 56% increase in the number of people experiencing acute food insecurity in the 39 countries monitored in the report since 2016.  
"Conflict is driving extreme hunger, and its impact is only growing. It is an unacceptable failure and violation of human rights that in countries like Syria, South Sudan, and the Central African Republic, more than half the population does not have access to enough food to meet their basic needs, or that 15.8 million children in the 55 profiled countries are suffering from the severe weight loss called wasting due to poor nutrition and disease. 
"The warnings keep coming – from the farmers unable to grow enough food to eat and sell, from the community and civil society leaders calling for more support before food crises spiral out of control, from the UN calling for a global ceasefire in light of the pandemic. This report is unfortunate proof that these warnings have gone unheeded, and that millions of lives are on the line.  
"This report underscores that the current efforts to fight hunger are falling short. The international community must work together, right now, to stop this terrifying trajectory. It's time to take our hard-learned lessons and apply them in a radical new approach to address the drivers of hunger: conflict, poverty, inequality and climate change. With the political will, urgent and strategic funding, and local communities and women in the lead, we can address this. We're calling on the international community to remember that these staggering statistics each represent someone enduring great and needless suffering – and to act with renewed urgency, cooperation, and generosity to tackle hunger now."    
Read the full Global Report on Food Crises here: GRFC 2021 | fightfoodcrises.net 
Notes: 
For more information and interview opportunities please contact: 
DAVID BULL | Media Lead Oxfam New Zealand | +64 0274 179 724