Oxfam New Zealand team up with Deloitte New Zealand through the Deloitte Humanitarian Innovation Program to improve the delivery of disaster relief in the Pacific.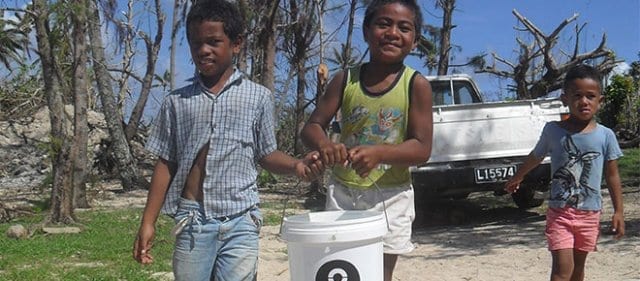 When Oxfam responds to disasters, the priotiry is to get clean water, sanitation and hygiene packs to affected communities. In the Pacific, the agency faces an exceptionally challenging environment, with both the geography and the fragile infrastructure making it hard to reach vulnerable, remote island communities.
Deloitte New Zealand recently partnered with Oxfam New Zealand to co-create an innovative solution, leveraging the latest practices in supply chain and logistics to create a scalable, transferrable set of tools to support disaster response. The new framework aims to help Oxfam reach affected communities with vital life-saving supplies, faster.
Delivering vital supliles, faster
At least three Pacific Island countries are affected by cyclones each year as Rachael Le Mesurier, Oxfam New Zealand's Executive Director, explains:  "Cyclones are becoming more frequent and more intense in the Pacific and communities need our help now, more than ever. We are always seeking to improve, and we wanted to answer a critical question:  are there ways for Oxfam NZ to get vital water and emergency supplies to Pacific communities following a disaster faster, and more efficiently? "
Deloitte Consulting, New Zealand worked with Oxfam to tackle this challenge.  Working collaboratively they used expertise and insight developed in the private sector to developed a logistics framework and management plans for disaster support and relief in the Pacific region. The framework will help Oxfam NZ reach affected communities with vital lifesaving supplies, faster.
"The framework considers the movement of aid following a disaster from the point of purchase to the point of entry into the affected country. The framework was developed to improve the effectiveness of a response by reducing the costs, reducing the time, and improving the quantity and quality of aid", says Deloitte NZ partner David Lovatt.