Mistrust, rumour and myths about the origin and spread of Ebola are allowing the disease to thrive.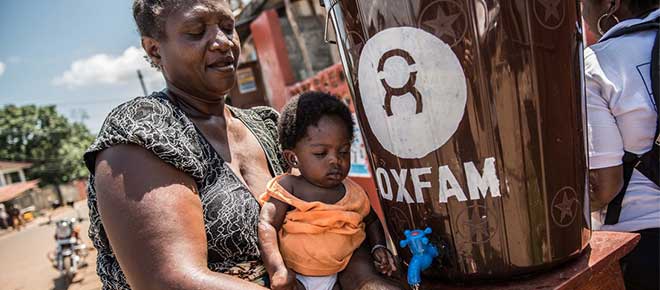 Mistrust, rumour and myths about the origin and spread of Ebola are allowing the disease to thrive.
The unprecedented outbreak has sparked suspicion and fear across the globe, with sensational headlines and governments imposing travel restrictions and quarantine periods. Oxfam is working with communities in Liberia and Sierra Leone to try to prevent the spread of the disease.
The situation is reminiscent of the early 1980s in Europe and North America when the discovery of AIDS caused panic and led to myths about how HIV was contracted and spread.
Oxfam's work with local communities in West Africa has highlighted the need for more to be done to listen to people's fears and convince people that there are ways to stop the spread of this terrifying disease.
Months after the outbreak began, health workers trained by Oxfam say some people in rural areas of Sierra Leone are still hiding sick relatives at home.
Oxfam's Doris Mapturi Wuseni said: "There are many different rumours. People have seen that when someone gets ill they get taken away and they never come back."
Where messages about Ebola are getting through, people are able to act to prevent the further spread of the disease.
Oxfam understands the critical importance of isolation and treatment of Ebola cases but the aid agency believes that prevention is also critical and needs more funding.
Trusted community health workers are best positioned to listen to people's concerns, talk through their fears and explain how to stop the spread, protect themselves and seek treatment in medical centres.
Analyses of previous outbreaks of Ebola, including from the World Health Organisation, have shown that establishing relationships of trust and confidence with affected communities and involving community and religious leaders and respected individuals are fundamental to a successful response.
Oxfam's head of water and sanitation in Liberia, David Watako, said: "There are various conspiracy theories concerning where the disease has come from – in the streets people in hushed tones will say that the disease was brought by the Western countries, others say that it is because of the things that the Liberians have done in the past that God has brought this to them."
The number of Ebola cases, and suspected Ebola cases, has now exceeded 10,000 and the outbreak has claimed almost 5,000 lives, almost all of them in these three West African countries.
The World Health Organisation has put the death rate from this outbreak at 70% and has warned that there could be 10,000 new cases a week in West Africa by December
Oxfam is building on local efforts to increase public awareness by boosting its mass public information campaign over the radio, billboards and text messages about how people can best protect themselves from catching the disease.
Sierra Leonean radio host, Stephen Bockarie Mansaray said: "We need reputable organisations like Oxfam to come on board and tell people that the disease is here but if we do A, B, C and D we can contain it. I think information is key in the fight against Ebola and for us here people are not used to reading newspapers so they rely on the radio."
Oxfam is also training and working with community health workers to spread the word about Ebola prevention. The aid agency has stepped up its water and sanitation supply to Ebola treatment centres and community care centres, and its supply of hygiene materials, like soap and bleach, in Sierra Leone and Liberia. It is supplying personal protective clothing for front line community health workers and burial teams.
Oxfam plans to spend NZ$45 million to scale up its programmes and reach more than 4 million people across the two countries but urgently needs more funds.
Photo: Tommy Trenchard / Oxfam. Hawa Sesay and daughter Hawa Koroma using the Oxfam hand-washing station in Tengbeh Town, Freetown, Sierra Leone. Oxfam has provided handwashing stands in the area and have also trained Community Health Worker teams who teach the community about the signs and symptoms of Ebola, about how to prevent it and what to do if a family member becomes infected. The community health workers also man the handwashing stands, and promote their messages there.