New Zealand's weak climate target fails Pacific communities, writes Barry Coates, ahead of the Pacific Islands Forum which starts tomorrow.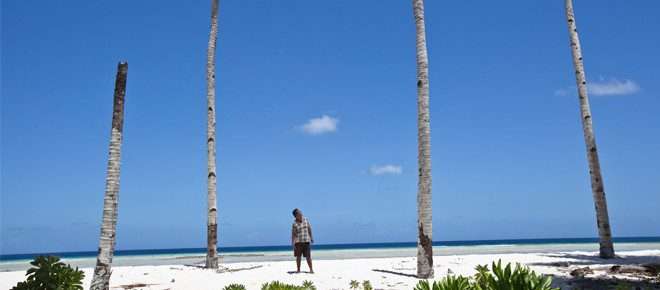 New Zealand's weak climate target fails Pacific communities, writes Barry Coates, ahead of the Pacific Islands Forum starting tomorrow.
On August 16, a day most notable for the second large Seddon earthquake, the Government took yet another step backwards on climate change.
Tim Groser, the Minister for Climate Change, quietly revealed that New Zealand will set a target of reducing our greenhouse gas emissions by just 5 per cent over the 30-year period between 1990 and 2020. Our inaction fails Pacific leaders who are fighting for their countries' survival and demanding climate leadership at the Pacific Islands Forum in two weeks' time.
As hosts of this year's Pacific Islands Forum, the Marshall Islands are making the point that they and other Pacific nations will not survive unless countries like New Zealand are prepared to do far more to curb their emissions. The forum, from September 3 to 6, will bring together leaders from the Pacific Island countries with New Zealand and Australia, and major emitters, including the United States, China, European, India and Japan.
It comes at a critical stage in the international response to the climate crisis. The plan is to make the forum a stepping stone towards next year's global summit of climate leaders, hosted by United Nations Secretary- General Ban Ki-moon and intended to raise ambition ahead of the 2015 deadline for an effective international climate agreement.
But the announcement by New Zealand was a bitter blow. A 5 per cent emissions reduction below 1990 levels by 2020 continues a "business as usual" track towards a dangerous future of extreme weather that threatens thousands of vulnerable communities, including our Pacific neighbours. This target is not even a full commitment, since it is being pledged under the UN Framework Convention on Climate Change, rather than the binding Kyoto Protocol.
New Zealand is one of the highest per capita emitters of greenhouse gases in the world. A voluntary target of 5 per cent falls well short of our fair share of global action and is far lower than the target many other countries are taking, including some countries far poorer than New Zealand. It's also significantly less ambitious than our previous conditional commitment to cut emissions by 10 to 20 per cent.
The announcement was more than six months after the Government previously failed to make a commitment at the last UN climate summit and follows previous backtracking on climate action, including weakening the already weak Emissions Trading Scheme. As a result, the carbon price has hit new lows of below 20 cents, having started at $25 a tonne of carbon dioxide.
New Zealand's voluntary pledge of 5 per cent is also far below the 25 to 40 per cent reduction that has been called for by the Intergovernmental Panel on Climate Change (IPCC), the authoritative Nobel prize-winning body of leading scientists.
The next IPCC report, due out in September, is expected to underline the dangerous path we are on, towards 4 to 6 degrees Celsius average global temperature rise by 2100, a path the World Bank says will result in "catastrophic climate change".
The Government has announced that this is the target we can meet without doing anything other than the toothless Emissions Trading Scheme we already have, and that this approach has carefully balanced the cost to New Zealand households and businesses. But this inaction is not good for the New Zealand businesses trying to maintain our reputation for good environmental practice, nor for the exporters trying to persuade retailers abroad to stock our products even though they are shipped halfway across the world, nor for the growing group of companies trying to carve out a position in the rapidly growing clean-technologies sectors.
But, above all, this is a retreat from the climate change battle being waged by our Pacific neighbours. This year's Pacific Island Forum comes as many communities are directly feeling the risks and impacts of climate change, and no more so than the Marshall Islands themselves. Spread across two remote chains of coral atolls near the equator, the Marshallese are among the most vulnerable people on Earth to the ravages of climate change.
Since early this year, the islands have been trapped in a climate-induced humanitarian crisis after a prolonged and unseasonal drought led to severe shortages of drinking water in the northern atolls, loss of staple crops, and disease outbreaks.
On June 25, six weeks after the president declared a state of disaster and appealed for emergency drought relief, a king tide topped the sea walls in the capital Majuro, where the forum will be held, flooding the airport runway and many neighbourhoods.
We can do far more to help our Pacific Island neighbours avoid being swamped by king tides, sea swells, higher intensity cyclones and rising sea levels. Our humanity and responsibility towards others demands a more serious response.
Barry Coates is executive director of Oxfam New Zealand.
Article as appears in The Press, September 2, 2013