Over 250 teams walked 100 km in Taupo. Re-live the action in our live blog.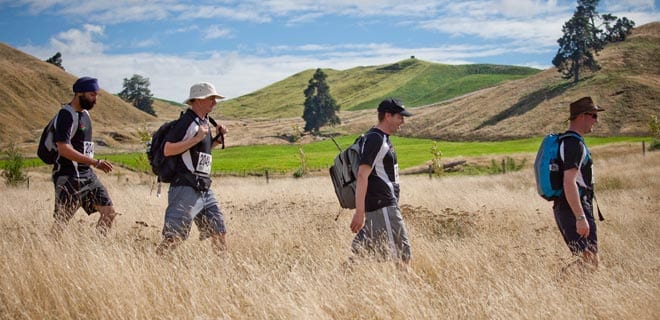 People of all ages and fitness levels from across the country will be up bright and early this Saturday morning, gearing up to converge on stunning trails in Taupō to challenge themselves and challenge poverty at Oxfam Trailwalker 2014. The event begins at 6am on Saturday morning and concludes around 7pm on Sunday evening.
Teams of four will walk – or run, if they're keen – a full 100 kilometres in less than 36 hours, all to help Oxfam raise vital funds to support its work with communities living in poverty in the developing world.
After training for months, people come from over 100 towns and cities across New Zealand and as far as the UK, Germany, Japan, Singapore, Hong Kong, China, Brunei, the US and Australia.
The trail takes walkers through some of New Zealand's most spectacular scenery, including Huka Falls, native bush and stunning views across Lake Taupō.
But the event's draw comes from more than just picturesque scenery. Oxfam Trailwalker is about ordinary people doing extraordinary things.
268 teams have confirmed their participation in this year's event. In taking on Oxfam Trailwalker each team commits to raising a minimum of $2000 for Oxfam's work tackling poverty in the developing world. In 2013, Family Guys were the top fundraising team, raising $17,475.90.
Oxfam New Zealand's new Executive Director, Rachael Le Mesurier explains: "Oxfam Trailwalker is an incredible personal challenge but also an extremely important fundraiser for Oxfam. Each team's fundraising helps Oxfam make a difference for communities throughout the Pacific."
"It's inspiring how many Kiwis have pushed their limits at Oxfam Trailwalker. We are hugely grateful for the commitment and effort shown by everyone involved from the participants and support crew to volunteers and local Taupō community", says Le Mesurier.
Total fundraising for 2013 was $990,113 and Oxfam hopes to raise over a million dollars in 2014. The event has a huge impact on the lives of people in the developing world – communities are able to build clean water supplies, families can grow more food, women are protected from violence and children are given the chance at an education.
In 2013, Wellington team Cool Runnings crossed the finish line first – in a bob-sled to pay homage to the film Cool Runnings – in just 12 hours, 41 minutes. The team also bet the fundraising target turning over $3240 to Oxfam. They are signed up again for 2014 and are hoping to get themselves and their bobsled over the line in under 12 hours!
Oxfam Trailwalker Event Manager, Zeb Stone, is inspired by the way Kiwis have taken on the Oxfam Trailwalker challenge and are positively impacting the lives of those in extreme poverty.
"Oxfam Trailwalker is unique for the team aspect – this is no relay where you are out there on your own. Teams demonstrate the power of what we can collectively achieve when we work together. By supporting each other, and reaching out to friends, families and colleagues to support them, the event truly demonstrates the power of people against poverty", says Stone.
Throughout this weekend, people can keep track of each team's progress and follow the live blog at oxfamtrailwalker.org.nz.
Oxfam Trailwalker is held over April 5-6, 2014 at scenic Lake Taupō, teams of 4 will walk 100km together in under 36 hours to help save and improve lives. Oxfam Trailwalker is not a relay, your team of four starts and finishes together. You can contribute to this incredible challenge by supporting and donating to your favourite team at http://www.oxfamtrailwalker.org.nz/