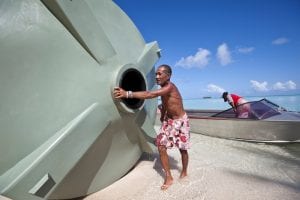 A new natural disaster simulation event – the first of its kind in New Zealand – has just been launched by international aid agency Oxfam, in association with Auckland Civil Defence and Emergency Management, to raise money for Oxfam's humanitarian work in the Pacific.
Operation Oxfam is a unique challenge that will see teams of four show off their survival skills in a simulated emergency response, with the most effective survival solutions taking home the crown.
Participants must combine brains and brawn using limited supplies to build shelter, water (capture and storage) and a toilet, all vital elements for surviving a natural disaster before aid arrives.
The event is designed to emulate challenges faced in the immediate aftermath of a disaster such as a cyclone, earthquake or tsunami.
Fundraising Events Manager at Oxfam, Amanda Wright, said she was delighted to launch the country's first emergency simulation charity event. "Operation Oxfam offers the public an opportunity to experience first-hand some of the challenges people face in the aftermath of a natural disaster. As well as putting your survival skills to the test you'll be contributing to Oxfam's vital emergency response and disaster risk reduction work, making sure we can continue to support communities around the Pacific who need it most."
Craig Glover, Head of Strategy and Planning for Auckland Civil Defence and Emergency Management said the Operation Oxfam event is a fantastic reminder to Aucklanders to have a think about how they might react in a natural disaster.
"While it might seem daunting, we all need to have plan. Having a chat with your loved ones about what you might do if there's a natural disaster while you are at work, home or out and about is a really simple way you can be prepared."
Oxfam is one of the world's leading providers of humanitarian aid in emergencies, with well-recognised expertise and a strong reputation for scale, speed, and innovation. Fundraising efforts from Operation Oxfam will go towards life-saving assistance for people affected by natural disasters, as well as supporting communities' long-term recovery and resilience to future disasters.
Operation Oxfam will take place in Auckland on 14 October during Auckland Civil Defence and Emergency Management's Get Ready Week. You can register your team and find out more information at the Operation Oxfam website.
Photo: Rodney Dekker/Oxfam