Bay of Plenty hosts 11th annual Oxfam Trailwalker.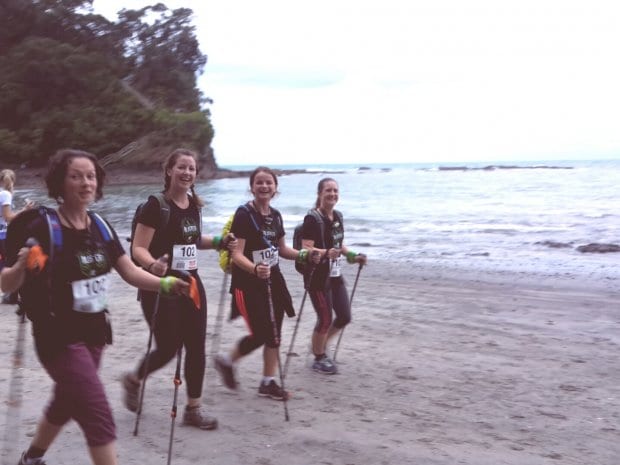 A brand new Oxfam Trailwalker awaits excited participants from across the country as the annual fundraising event launches its first Whakatāne challenge.
The course will take around 276 teams of four people across open paddocks, through forest and native bush, and along coastal sections.
The popular event is not only changing venues – after being held in Taupō for the past 10 years – but also includes a shorter 50km challenge along with the traditional 100km trek.
After training for months, the teams have 36 hours to complete the 100km course, which usually requires participants to walk through the night, and 18 hours to knock off the 50km option.
Oxfam Trailwalker Event Manager Zeb Stone is inspired by the fact people as young as 17 years-old have taken up the challenge to help those living in extreme poverty.
"There is a wide cross-section of people involved in the event this year, from volunteers to participants, and the fact younger generations are taking up the challenge is a real positive," says Stone.
For the 50km event, anyone over 16 years-old can enter provided they have parental consent and at least two participants in their team are over 18 years-old.
"The sense of accomplishment and the ability to challenge yourself and challenge poverty is what draws people to this event – And what keeps people coming back year after year," Stone says.
"Oxfam Trailwalker is unique for the team aspect – you are not out there on your own. Teams demonstrate the power of what we can collectively achieve when we work together," says Stone.
Since the event began in 2006, over 10,000 participants have stepped up to the challenge and raised over $8.3 million to fight poverty.
Throughout the weekend, people can track each team's progress and follow a live blog at oxfamtrailwalker.org.nz or by using
#otwnz
on Twitter.
Oxfam Trailwalker is held over April 2-3, 2016 at scenic Whakatāne, teams of four will walk 50km or 100km together in under 36 hours to help save and improve lives. Oxfam Trailwalker is not a relay, the teams of four start and finish together. You can contribute to this incredible challenge by supporting and donating to your favourite team at
oxfamtrailwalker.org.nz