"Widespread destruction" in the district of the Gurkhas as Oxfam trucks in aid by land for the first time from India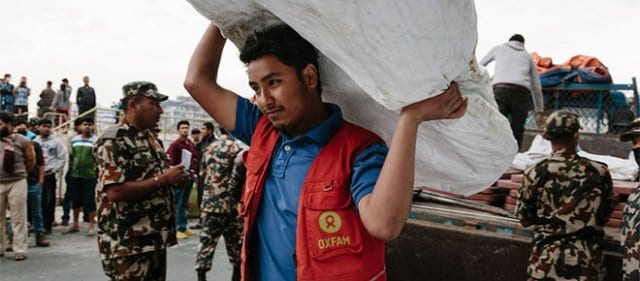 "Widespread destruction" in the district of the Gurkhas as Oxfam trucks in aid by land for the first time from India
Oxfam India has for the first time in its short history today begun trucking in aid by land to remote villages in the Gorkha district of Nepal – the ancestral origins of the Nepalese Royal family and from where the famous Gurkha soldiery got its name.
Three trucks carrying tarpaulins, foam sheets, water containers, chlorine tablets and solar lamps have left Gorkhpur and another two have departed Kolkata with water filters and latrine construction materials. The convoy is expected to reach villages in Gorhka by the weekend. The terrain is so bad that some villages can only be reached by foot.
Oxfam has been in India since 1951 and was established as an affiliate of the Oxfam confederation in 2011. Oxfam India's Deputy Director for Humanitarian and Disaster Risk Reduction, Zubin Zaman said, "Oxfam India has responded to fifteen disasters in India in the last 6 years and has built competencies to address the great challenges of providing immediate relief in Nepal."
Oxfam aid workers in remote Gorkha villages say that 80% of houses are destroyed and practically everyone has been forced to live and sleep outside. "This is not sustainable especially for the sick, elderly and children. Women – especially those who are pregnant or breast-feeding – are desperate for private spaces to wash and bathe, while rudimentary sanitation systems have been wrecked," said Oxfam India's humanitarian programme manager Andrio Naskar, speaking from Gorkha.
Medical functions across the entire district are largely gone. "No-one is getting formal health care in Gorkha. Medicin sans Frontiers is active, which is a great benefit, but with the lack of sanitation facilities, it is likely more people will fall sick," said Naskar.
The Nepalese army, along with support from the Indian army and other rescue teams, are still trying to save people in ground and air searches.
Oxfam New Zealand's Executive Director Rachael Le Mesurier said, "We are pleased that the government of India has acted so quickly in allowing humanitarian NGOs based in India, like Oxfam, to be part of the relief effort in Nepal. Traditionally, Indian NGOs only work within the boundaries of the country, but by allowing Indian NGOs to provide relief in Nepal, the Indian government has stepped up their global commitment to support neighbouring nations."
"Oxfam has assessed the need for tarpaulins, ground and foam sheets, solar lamps, kitchen sets and blankets. We'll try to get hygiene kits, emergency shelter and water purification kits into Gorhka by the end of the week, but the dispersing large amounts of aid in this landscape is terribly difficult as many villages can only be reached on foot.
Nepal faces the start of its monsoon rains in one month, driving the urgent need for the construction of robust shelters. "Locally-sourced wood is available for beams and people are already planning to use debris to rebuild. We will do our best to help people as fast as possible but the terrain and subsequent travel challenges this poses are against us," Naskar said.
There is food is available in Gorkha, and supplies are being boosted by UN World Food Program. But in remote villages, local supplies are likely to run out within a week.
In addition to Oxfam aid now trucking into Gorhka from India, Oxfam has provided drinking water, temporary latrines and water systems in camps in and around Kathmandu and aims to reach 350,000 people as soon as possible through its water and sanitation programmes.