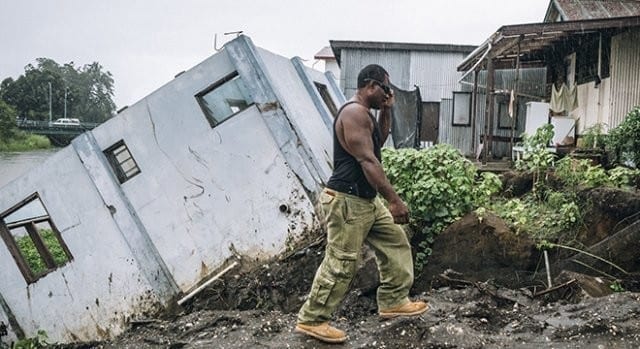 Oxfam New Zealand have highlighted five key areas Bill English must tackle if he's going to be judged to be a successful Prime Minister of New Zealand, and tackle poverty and inequality in the Pacific and around the world.
They are:
1. Make sure that New Zealand is a good neighbour to our Pacific friends, by helping them to tackle rising sea levels and turbo-charged cyclones. Families in the Pacific are living on the frontline of climate change and they need resources to adapt to these increasing threats. But they're just not getting adequate support from the New Zealand government right now. Solar panels are good, but not enough to battle rising tides. The new prime minster should fix that by rebalancing resources intended to tackle climate change in the Pacific so that they are adequate, effective, and reach those most in need.
2. Lead New Zealand to be a caring, decent and responsible global citizen, by allowing more refugees to make their home here. The world is in the middle of the most serious refugee crisis since the Second World War. Millions of people have been forced to flee their homes by conflict, violence, disasters and poverty. We should be helping more of these people out, and increasing the New Zealand refugee quota to 1500 will go some way to shouldering our fair share. That's just 500 more people, who need our help, a year.
3. Crack down on the dodgy multinationals who aren't paying their way in New Zealand. The schemes and deals that allow multinationals to minimise their tax, whilst legal, should not be tolerated by the new Prime Minister. If people are to have trust in the tax system, all governments, including New Zealand, must act immediately to end tax avoidance. Bill English should also use New Zealand's international reputation as a fair-minded country to encourage other nations to crack down on tax avoidance.
4. Show clear intent to tackle the big issues of poverty, inequality and climate change by implementing the United Nations' sustainable development goals, and do everything possible to end child poverty in New Zealand.
5. Be a decent bloke, and buy some goats for his cabinet colleagues this Christmas.
Rachael Le Mesurier, executive director of Oxfam New Zealand, said: "If being a good neighbour, leading New Zealand to be a responsible global citizen, cracking down on tax-dodging multinationals, tackling the big issues of poverty, inequality and climate change are all on Bill English's to-do list, then he'll be off to a cracking start as the new Prime Minister.
"If he manages to tick them all off during his tenure, he'll be seen as one of the  great New Zealand prime ministers, a true friend of the Pacific and an internationally acclaimed politician.
"And he could kick off his stint as the PM by showing he's a decent bloke, and buying some goats for his cabinet."