Island leaders hold their ground as NZ and Australia fail once more to stand with the Pacific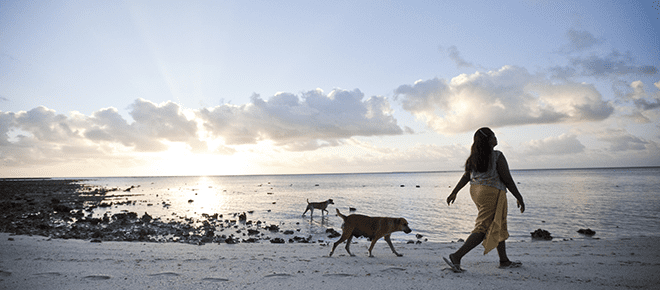 Pacific Island leaders have refused to negotiate on their survival, despite pressure by Australia and New Zealand at the Pacific Islands Forum to weaken the Pacific position on climate change.
Pacific Island leaders had remained steadfast on the need for action, refusing to let go of key demands ahead of the Paris climate negotiations, including for a goal to limit the global temperature rise to below 1.5°C.
"Pacific Island leaders have made it clear at the closing of this forum that they will be taking their own position to the Paris negotiating table" Luke Roughton, Oxfam New Zealand's Senior Policy Advisor said.
"The past week has seen the most urgent and unequivocal statements to date from Pacific Island leaders and civil society about the dangers facing the Pacific, and a clarion call for greater action from New Zealand and Australia," Roughton said.
"The message has been loud and clear: For the Pacific, climate change is a question of survival. Pacific Island leaders are not willing compromise when the very future of Pacific communities is at stake."
The road to Paris
On Tuesday the Smaller Islands States Leaders issued a powerful declaration urging the Paris negotiations to deliver a legally binding agreement that will limit the global average temperature rise to well below 1.5°C, ensure ease of access to finance and support with transitioning to fossil-fuel free economies and adapting to the impacts of climate change, and address the permanent loss and damage in cases where it is impossible to adapt.
"The final Pacific Islands Forum Leaders Declaration on Climate Change Action, agreed between all Forum members including New Zealand and Australia, while a step in the right direction has failed to fully represent these categorical calls to action from Pacific Island countries and territories," Roughton said.
"By defending their woefully inadequate emissions reduction targets and failing to adequately back urgent calls for stronger action, New Zealand and Australia have once again shown they are willing to accept a future of even more hardship for their Pacific neighbours."
While acknowledging that a temperature increase of 1.5°C "would severely exacerbate the particular challenges facing the most vulnerable smaller island states", the final PIF statement failed to call for a strengthening of the internationally agreed goal to limit the temperature increase to 2°C. And while recognising that there must be separate provisions to address unavoidable loss and damage from climate change, such as lost land and livelihoods, failed to call for these to be included in the Paris agreement.
The close of the 46th Pacific Islands Forum comes a few days before Sunday's 6-month anniversary of Cyclone Pam.
"The devastation from Cyclone Pam in Vanuatu and severe flooding in the low-lying nations of Tuvalu, Kiribati and the Marshall Islands from rising seas were a terrifying reminder of the impacts of climate change on Pacific Islands," Roughton said.