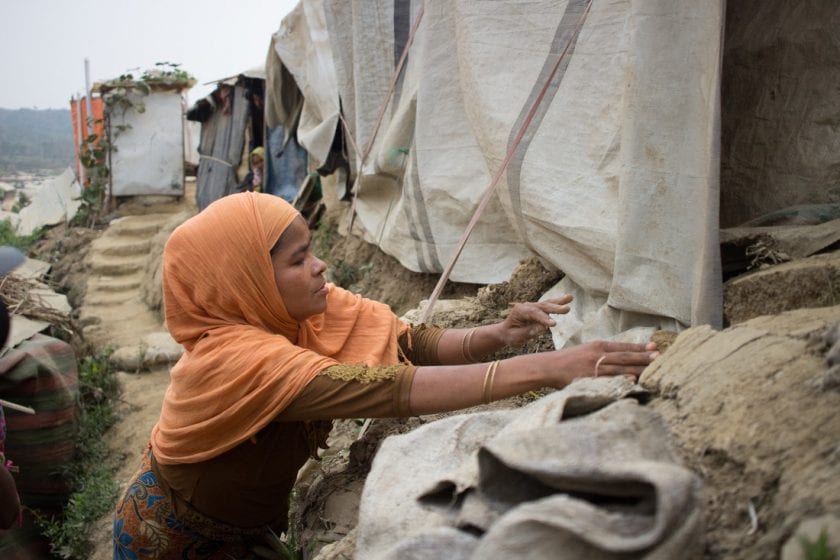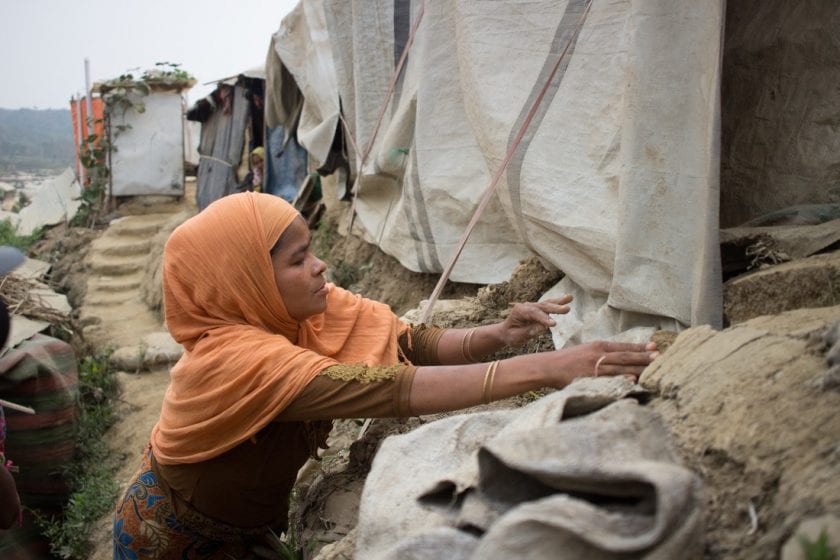 While 5000 Kiwis take part in Oxfam's Ration Challenge in support of refugees this World Refugee Week, Rohingya refugees are facing life-threatening rains and disease as monsoon rains continue to lash the camps in Cox's Bazar, Bangladesh.
There have been over 130 landslides, 3,300 damaged shelters and 28,000 Rohingya refugees affected as monsoon rains continue to fall, Oxfam said today.
A survey of Rohingya refugees in Bangladesh carried out by Oxfam before the start of the monsoon season found that more than half were almost completely unprepared for the floods, landslides and disease that accompany the monsoon weather, with women most at risk.
Gabriela Luz-Meillet, Oxfam's Humanitarian Programme Coordinator in Bangladesh, said:
"The monsoon rains are causing flooding, landslides and disease outbreaks in the Rohingya refugee camps. Hundreds of thousands of people are living in temporary shelters, on hills of compacted mud which are completely shorn of protective trees and plants. Those hills could melt into the earth. There are refugees alive today who will not make it through to the end of the rainy season.
"Oxfam is working with the government of Bangladesh and the United Nations to relocate refugees to safer areas and to make the remaining areas as weather-proof as possible. It is a race against time. We are doing what we can but there aren't enough safe areas for all the refugees who need to move, so it is vital those who remain in danger know what to do in an emergency."
Luz-Meillet said refugees could anticipate and prepare for the severe impacts of a monsoon in their homes in Myanmar. However now they had fled to Bangladesh they were struggling to deal with the weather.
"Most of the refugees come from small villages where they know how to deal with extreme weather. But now they are living in a huge tent city, disorientated and scared, and they are telling us that they lack the knowledge and resources to survive in this strange new environment. Women are in greater danger than men. They are frequently confined to their homes and do not know how to find shelter or to get help.
"We need to ensure that refugees get the information and resources that they need so they can deal with the bad weather and its consequences. Everyone working on the response needs to consult refugees so they can feel in control of their own lives. Everyone working in the camps is doing their best but we need to make sure that this response meets both the needs of the Rohingya and international humanitarian standards. Work on the ground should be matched by diplomatic efforts by the governments of Bangladesh, Myanmar and others to find long-term solutions for the Rohingya people. We cannot allow these people to endure another monsoon in these dangerous conditions in the camp."
Oxfam New Zealand's executive director Rachael Le Mesurier said urgent help was needed to reach the most vulnerable people before the situation worsens. "It's heart-breaking to see people who have already been through so much – fleeing terrible violence, losing their homes, seeing family members killed – now facing even further hardship as extreme weather threatens their lives, families and homes once again.
"There is a high chance that without urgent assistance, some of these vulnerable people will not survive the next few months."
Oxfam surveyed residents of the refugee camps in Bangladesh and found that 59% of women and 53% of men do not know how to ensure the safety and security of their families during and after a disaster.
Only around a quarter of refugees surveyed know where the nearest shelter is in case of a cyclone warning, with two thirds of women unaware of its location. Amongst men, 38% of men do not know the whereabouts of a shelter and 34% say there is no shelter.
Oxfam also ran a series of focus groups. All the groups told researchers that their shelters will be unable to withstand the rains, were concerned they couldn't stockpile food and firewood, and felt reliant on aid agencies. Many thought they would be cut off by the rains and unable to access help, and the female groups feared struggling to feed their families should this occur.
Since last August a camp the size of a small city has been created from scratch, and the scale of the crisis has meant that resources have been mostly focused on the day-to-day efforts needed to supply nearly a million people with food, water, shelter and other life-saving goods.
A total of 200,000 out of over 900,000 refugees are categorised as at risk from flooding and landslides, with around 24,000 of those considered at high risk. So far nearly 25,000 refugees have been relocated to freshly prepared, flattened ground that should be safe from landslides and flooding.
/ends
Notes to editors:
The figures for landslides, damaged shelters and refugees affected are correct as of 15 June 2018.
Oxfam surveyed 383 refugees and 482 households in in the two main refugee areas of Ukhia and Teknaf, giving a 5% margin of error. Oxfam ran a series of focus groups and key informant interviews in Unchiprang and Nayapara camps in April 2018, consulting 109 refugees, of which 46% were women.
Currently Oxfam has provided vital aid to at least 240,000 people and is planning to reach 300,000. It has helped people stay healthy by installing water points, toilets and showers, distributing soap, and talking about good hygiene. Oxfam has installed a sewage facility for 50,000 people, which will rise to 100,000. To help local communities cope with water shortages, it is providing an average of 300,000 litres of chlorinated water daily in the Teknaf area.
Oxfam has provided 23,000 households with vouchers that can be exchanged at local markets for nutritious vegetables and ingredients to supplement their basic rations – including spinach, eggs, dried fish and spices.
Oxfam has a team of 125 staff and more than 1000 community-based volunteers in Cox's Bazar working hard to provide emergency aid in a $25 million response. This is currently Oxfam's third biggest humanitarian program, after Yemen and Ethiopia.
The Ration Challenge is a fundraising challenge that shows refugees Kiwis are with them, not against them, by living off the same food rations as a refugee would in Syria for one week. Participants fundraise and the money goes towards supporting those very refugees in Syria as well as Oxfam's work around the world. It is occurring for the first time in New Zealand this World Refugee Week and so far over 5300 participants have raised almost $500,000.
Donations to Oxfam's Rohingya refugee crisis appeal can be made at www.oxfam.org.nz.
Photo: Zaheda*, a Rohingya woman living in a Cox's Bazar refugee camp, attempts to secure her home as well as possible against the extreme weather. Credit: Oxfam New Zealand