Upper Moutere has once again been revealed as the country's most generous town in Oxfam Unwrapped's Generosity List.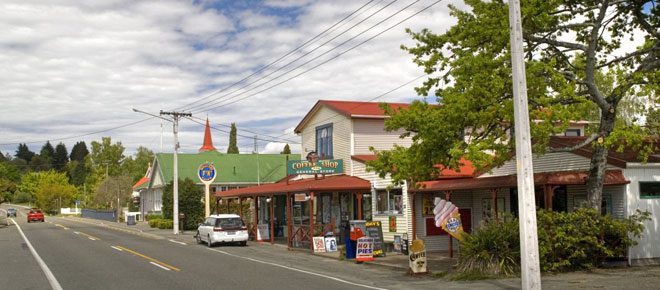 It's world famous in New Zealand as home of the country's oldest pub, but Upper Moutere now has another claim to fame: it's once again been revealed as the country's most generous town.
By looking at the numbers and locations of gifts given through the Oxfam Unwrapped appeal, the 2012 Generosity List names New Zealand's most charitable towns. The Tasman town of Upper Mouterehas come up trumps for the second year in a row.
Upper Moutere ranked highest on the list for having donated the most gifts for its population size – around 152 people according to the Tasman District Council.
The number two and three spots went to Takaka, also in the Tasman district, and Hauraki's Ngatea.
Oxfam Unwrapped's Julia Nicholson says: "Kiwis are a really generous bunch and it's so great to see towns like Upper Moutere taking out the top spot in our Generosity List. Donations through Oxfam Unwrapped help families work their way out of poverty through long term projects like farming, organics and clean water. It's awesome to see Upper Moutere supporting Oxfam's work to bring about real change."
Mayor of Tasman Richard Kempthorne, says: "Tasman citizens are often out there helping others in need. When whole communities think beyond their own immediate needs to contribute to the well-being of others without fanfare it is gratifying to hear. I am proud the Moutere and Takaka communities are in Tasman."
Over the past seven years, Oxfam Unwrapped has raised over $4.3 million from generous Kiwis to help communities in the Pacific, Southeast Asia and beyond. Money is spent on improving access to safe drinking water, providing educational training and helping farmers to grow enough food.
Here's how it works: choose a cheeky gift from Oxfam Unwrapped, order online, by phone or mail, receive one of our quirky cards to send to your family or friends, and your gift goes to communities in the developing world where it is needed most.
Nicholson added: "Oxfam Unwrapped gifts are a great alternative to the usual socks and chocolates at Christmas because they really change lives. From old favourites like a Goat to newbies such as Top up a Human Rights Defender's Phone and a Flat White, not only are you buying a unique gift; you're also giving someone in poverty the chance of a better life – what a great way to celebrate Christmas!"
With nearly 50 gifts to choose from, starting at just $5, there's no more need to give a forgettable gift – or spend time stuck inside the mall. Get online, get shopping and get more time to enjoy the great Kiwi summer. Giving and receiving gifts has never been so much fun!
Oxfam Unwrapped gifts can be purchased online or by calling toll-free 0800 600 700. Check out www.oxfamunwrapped.org.nz to find out more. Order your gift cards before December 17 to ensure delivery before Christmas. After this date you can still order a PDF or ecard that you can give immediately to your loved ones.
The top 20 most generous towns in Oxfam Unwrapped's Generosity List 2012 are:
1.      Upper Moutere, Tasman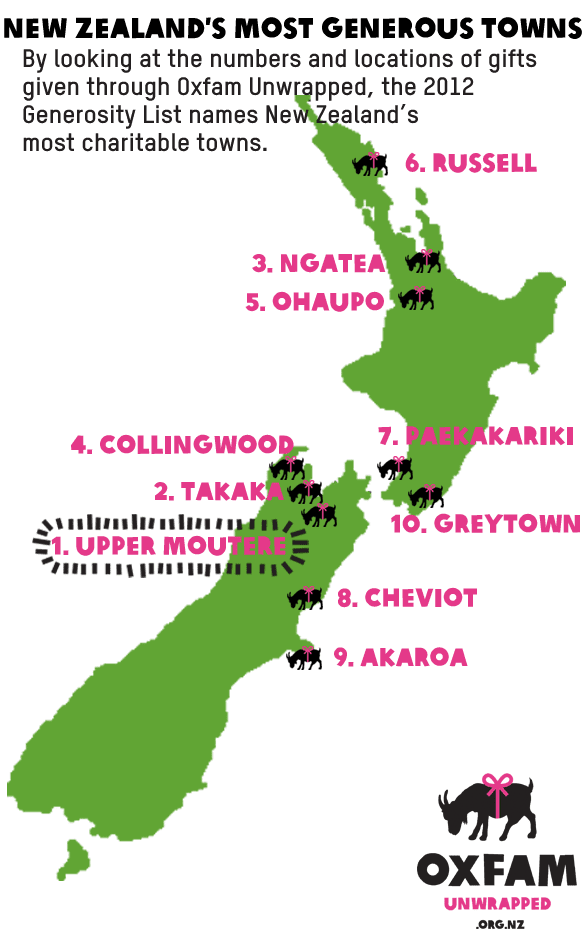 2.      Takaka, Tasman
3.      Ngatea, Hauraki
4.      Collingwood, Tasman
5.      Ohaupo, Waikato
6.      Russell, Northland
7.      Paekakariki, Kapiti
8.      Cheviot, Hurunui
9.      Akaroa, Canterbury
10.  Greytown, Wairarapa
11.  Warkworth, Auckland
12.  Lyttelton, Christchurch
13.  Port Chalmers, Otago
14.  Albany, Auckland
15.  Martinborough, Wairarapa
16.  Katikati, Bay of Plenty
17.  Waipu, Northland
18.  Kaiwaka, Northland
19.  Karori, Wellington
20.  Fairlie, Mackenzie