In response to the onslaught of super Typhoon Goni, which hit Philippines earlier this month and left hundreds of thousands without home, Oxfam together with international and local partners are supporting 49,000 people in the hardest-hit areas of the Bicol region with lifesaving aid.
"We have already reached 8,550 individuals with potable water, water treatment tablets, hygiene kits, food packs and cooked food through community kitchens, sleeping kits, solar lamps, and kitchen essentials. We are also preparing for distributing desperately needed cash to 600 households," said Lot Felizco, Oxfam Country Director in Philippines.
The multi-agency massive response aims to provide immediate shelter, clean water, sanitation, and hygiene, food and cash assistance, as well as protection to the most vulnerable people in the disaster struck region of Bicol, including the provinces of Albay, Camarines Sur, and Catanduanes.
Typhoon Goni, followed by Typhoon Vamco a week later, devastated the lives of more three million people in eight regions of the Philippines. Hundreds of thousands of people now displaced, are in dire need of clean water, sanitation facilities, and cash to buy food and shelter grade material.
Climate change has been a main cause to some of these frequent weather extremes. In October, the country has been battered by seven consecutive typhoons that ripped apart homes and livelihoods in more than 30 provinces and left an unprecedented destruction. 
"These typhoons may have already left the country but their aftermath havoc, including disease outbreaks and food insecurity, is far from over. Recovery will be a long journey for many communities living in poverty and are most vulnerable to the impacts of climate change", added Felizco.
The long term impacts on farmers, who have been reeling from successive emergencies, means their crops and livelihoods, particularly in the "rice bowl" areas of central and North Luzon island which have been hit hard by the typhoon, will be decimated.
"Our livestock and rice, bananas, and vegetables are badly damaged. We were supposed to continue harvesting next week. This is no longer possible", says Mirriam Solleza, farmer and Oxfam staff who lives in Infanta, Quezon, with her family.
"My house is totally submerged in floodwater and our drinking water is contaminated. Many houses are totally washed out in my village. Toilet facilities are damaged. don't have safe drinking water in my village. Wells are completely submerged," added Solleza.
With more typhoons expected to land by the end of the year, thousands of families who are without safe shelter, or emergency essentials — will be more prone to getting diseases including COVID19, unless humanitarian agencies are able to act fast.  
Oxfam Philippines urgently needs 1 million GBP to support an additional 50,000 most vulnerable people affected by Super Typhoon Goni.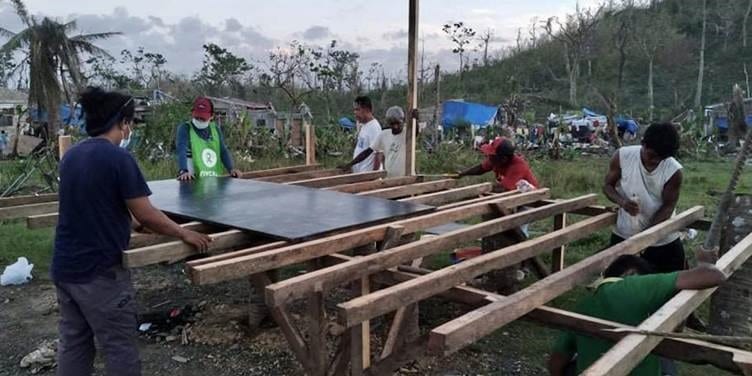 Photo Caption: Oxfam, People's Disaster Risk Reduction Network, Inc., and the local disaster risk reduction and management office (LDRRMO) of Virac, Catanduanes  assist community members construct a platform for the installation of water bladders to provide immediate access to potable water while initiating repair of safe water sources in San Isidro Village, the community most heavily affected by Super Typhoon Goni in Virac, Catanduanes.  Photo Credit: Jhie Durana/Oxfam
Notes to the Editor
·         Oxfam has been working in the Philippines for more than 30 years, together with 15 partners, we have reached over 105,000 of the poorest and most vulnerable people in 6 provinces across the country, with life-saving assistance including responding to the COVID-19 pandemic. Together, we have provided food and cash assistance, as well as clean water and sanitation to communities affected by crises.
·         The humanitarian response Consortium for the Philippines for Super Typhoon Goni, which is led by Oxfam, consists of Adventist Development & Relief Agency (ADRA), World Vision Philippines, People's Disaster Risk Reduction Network, and Coastal CORE, with support from the EU Civil Protection & Humanitarian Aid – ECHO.  It is currently  funded by 1.3 million euro from ECHO to assist families affected by Super Typhoon Goni until April of 2021.
·         The National Disaster Risk Reduction and Management Council (NDRRMC) reports that Super Typhoon Goni alone has affected over 2 million people nationwide, and left Php 12 billion ($ 240 M) worth of damage to infrastructure, including 170,000 houses damaged. Days after, typhoon Vamco (local name Ulysses) entered the Philippines, which further aggravated the situation of families barely coping from Goni.
Contact information: 
Spokespersons available, please contact: Patricia Miranda | Oxfam Philippines : +639202814009 | PMiranda@oxfam.org.uk