It is a familiar conundrum around the world during the coronavirus pandemic – students crammed into home offices or at the kitchen table, adapting to the strange new reality of learning online and communicating with classmates and teachers solely through a screen.
For many young students in Vanuatu, getting an education online is an unfeasible or unaffordable luxury. But with the help of generous donors, Upskill People and Digicel, and supported by Oxfam, Youth Challenge Vanuatu (YCV) is helping young people in the island country to take their learning online. 
The pilot programme, launched in May, provided students with free mobile data, access to computers at the training centre, and free online courses. The aim of the pilot was to find ways to improve flexibility and accessibility for young people wanting to gain new skills and knowledge. This will be especially useful in the aftermath of a  natural disaster, when classroom learning is not an option.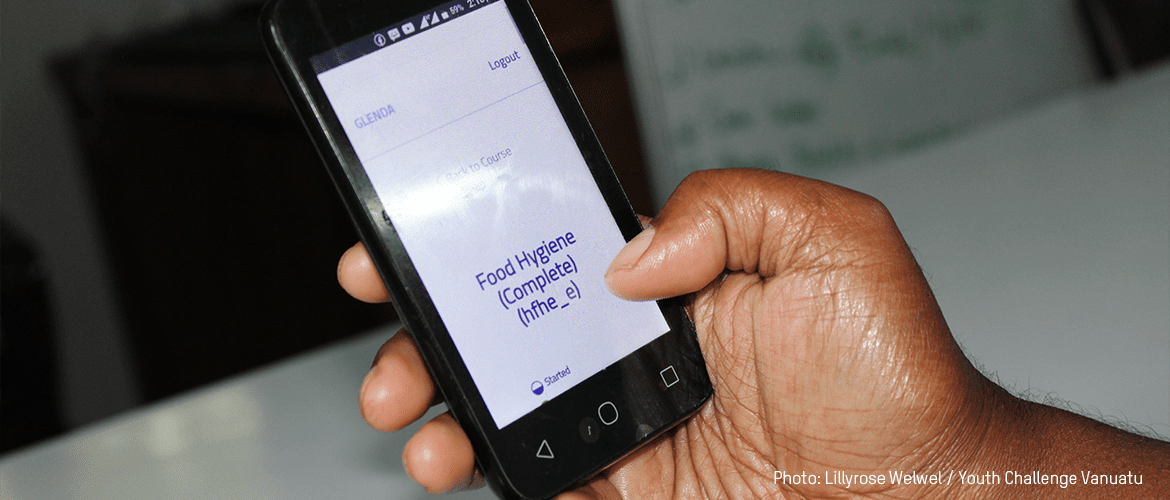 Upskill People, a UK-based company who create and deliver online learning courses for businesses and individuals, were fundamental in the experiment. For the pilot they provided free access to five courses from their library, all of which had online quizzes. Courses included food sales and service, food hygiene, and understanding depression. With this generous donation, Youth Challenge Vanuatu and its pilot students could identify challenges and opportunities for making more online learning available from people's phones or home computers in the future.
In total, 47 students participated in the first pilot programme delivered by Youth Challenge Vanuatu. Selected students were given free access to online training resources for an eight-week trial period. They could then log in to their personal Upskill People online account and study anytime, anywhere and on any device. Digicel's contribution of free internet data meant the students could stream online videos and other training content from their personal phones or tablets.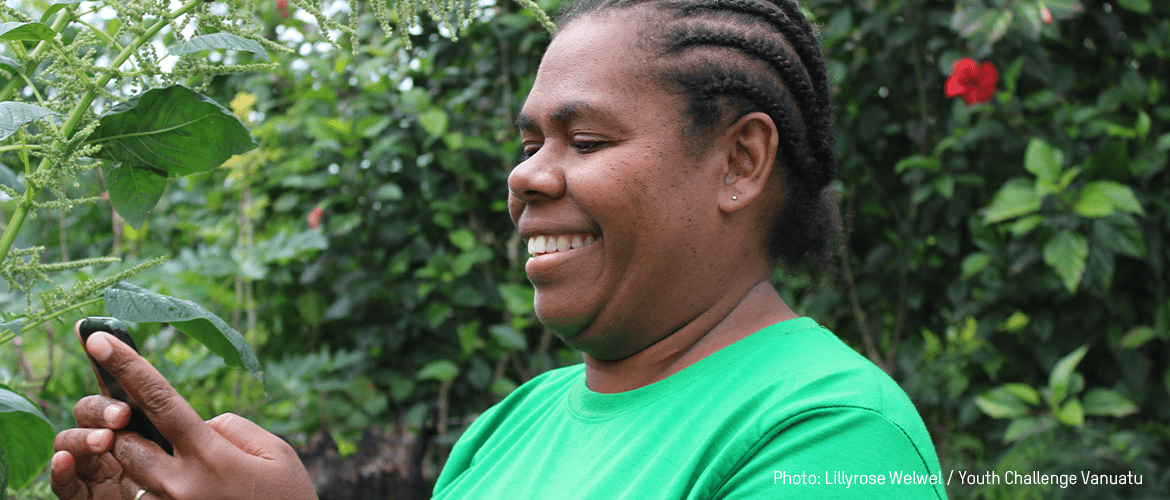 Youth Challenge Vanuatu student Glenda Mass uses the e-learning platform from Upskill. Photo: Lillyrose Welwel / Youth Challenge Vanuatu 
Data from the pilot showed it was a great success:
·       100% said they learned skills they could use
·       96% found the course easy to use
·       100% said the enjoyed learning in this way
"A really useful course, I learned new ways and words as I went along, I'd like to do more"
"The course helped me to understand how to talk with a customer and improve my selling skills, thank you"
"Learning about depression means I now know I can help myself, a friend or family member"
It is clear there is a lot of potential in this new approach for YCV. The organisation currently provides a suite of courses and assistance for job-seeking, employment and life skills, and entrepreneurship to disadvantaged youth, with life-changing results. By using a well-curated menu of online resources, more students can access  training, with more flexibility via a mix of taught and self-paced options, and students can take greater control of their own learning pace. Armed with the learnings of this initial pilot, YCV is moving forward in the hope that more ni-Vanuatu youth will soon be able to sign up for further online learning journeys.

Oxfam has been working with YCV for over ten years to improve access to life-changing training and courses for Vanuatu youth. This pilot took place as part of a five-year project to lift the quality of YCV's training and mentoring and the sustainability of this unique organisation, funded by Oxfam and the New Zealand Aid Programme.