The islands of Tuvalu are extremely low-lying and sea level rise is a direct threat to lives, assets, livelihoods and ecosystems. Other climate-induced threats include rising atmospheric and surface ocean temperatures, prolonged droughts, coral bleaching, tropical cyclones, storm surges, and salt spray.
Tuvalu is primarily a patriarchal and patrilineal society, and men dominate both traditional and formal political power structures. Historically, major social institutions have been family-based under the leadership of the matai (head of clan), and deep-seated social norms discourage women from contributing to public decision-making processes.

KŌTUI
Tuvalu Climate Finance Project is part of our larger five-year, multi-country programme, Kōtui. Read more about Kōtui here!
This te reo Māori word means binding together, or interlacing, during weaving. The woven mat represents dialogue and joint problem-solving in Pacific countries and in Timor-Leste. It is an appropriate symbol for a programme focused on inclusive and equitable governance.
CLIMATE FINANCE
'Climate finance' is the term used for funds that support people to stop climate destruction or adapt to its impacts. Effective climate finance is funding that all people can use and benefit from, especially people who experience discrim­ination and poverty. Oxfam's work seeks to ensure that climate finance de­cision-makers factor in the needs of women, that there is greater transparency in how climate funds are spent and allocated, and that women's voices are included in policy and finance decisions.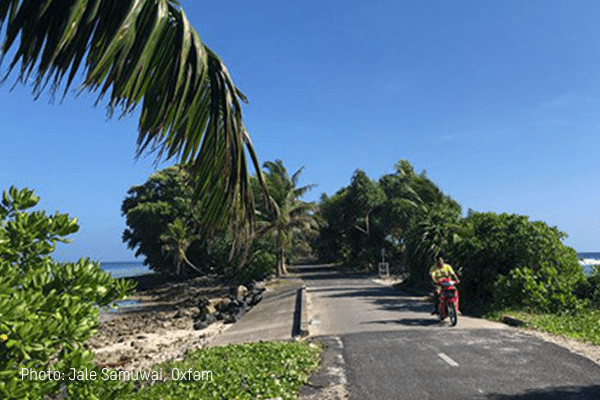 Climate finance in Tuvalu
Oxfam's recent (2019) research in Tuvalu on women's lived experience of climate change and access to climate finance in their communities found:
There is a lack of meaningful community-based consultation for women;

Preserving the peace and social harmony in communities is more important;

Accessing financing information is a challenge; and

Women in remote communities feel left out from climate finance benefits.
Focus on partners:
Tuvalu Climate Action Network (TuCAN)
TuCAN is a non-profit member organisation that was set up 'in response to the urgent need for a global commitment to reduce warming to well below dangerous levels and the equally urgent need to raise awareness on, adapt to climate change and implement clean energy in Tuvalu'. TuCAN's vision is that "Tuvalu's people and environment are protected from the effects of climate change where equity, social justice and sustainable development benefit all Tuvaluans". TuCAN seeks to ensure transparency and accountability for the activities for TuCAN and other members of the civil society, and offers leadership to NGOs by example and guidance.
TuCAN is a member of the Climate Action Network (CAN), which is a worldwide network of over 1300 Non-Governmental Organizations (NGOs) in more than 130 countries, working to promote government and individual action to limit human-induced climate change to ecologically sustainable levels.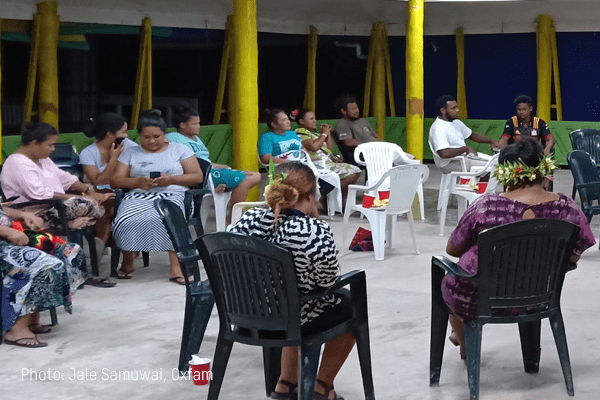 Strengthen civil society capacity
Oxfam will support TuCAN and its member organisations to access training in gender equality and social inclusion, climate finance and influencing, monitoring and evaluation, and other organisational development needs. 
This will equip these organisations with the skills and evidence to contribute to making climate change adaptation and resilience policy settings more inclusive and equitable.
Climate finance governance
Oxfam will work with TuCAN to develop, test and apply context-appropriate tools and methodologies to track climate finance to fully understand how funding is currently being allocated and what impact it is having on women's resilience. Development of an advocacy and influencing strategy will ensure climate finance governance is increasingly transparent, equitable and inclusive.
Improve access to climate finance
Oxfam will facilitate training and accompaniment for TuCAN members to consolidate their project management systems and skills, including proposal writing, financial management, and monitoring, evaluation and learning. This will improve organisations' access to climate finance for initiatives that support women's resilience.