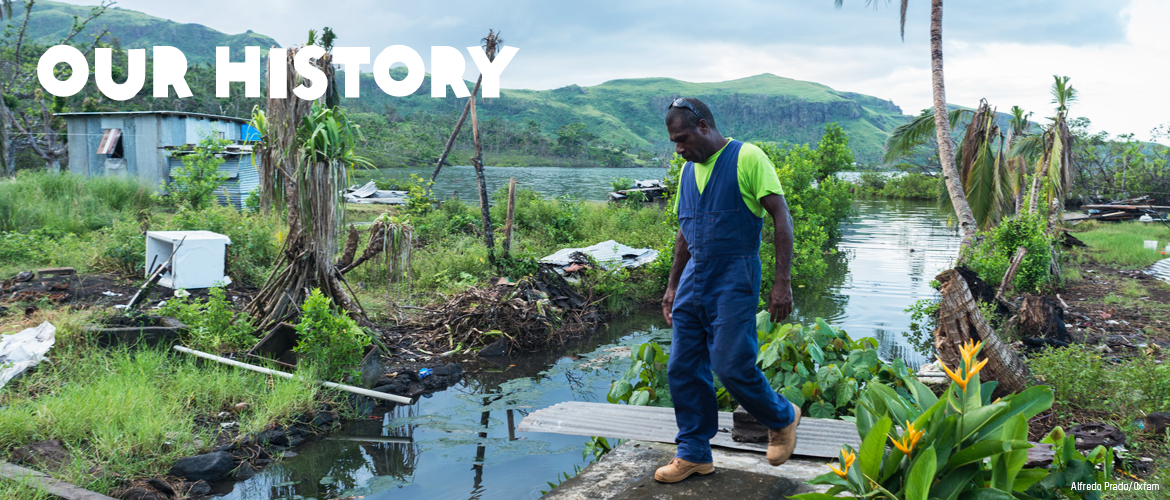 The defining moments in Oxfam Aotearoa's work.
We'd like to thank all our supporters and partners for helping us make it through many milestones. We know the years ahead will bring many new challenges. It's good to have you with us.
Let's take a look back at some of the defining moments of our work.
1991: Launch
A small group of dedicated and passionate New Zealanders set up Oxfam New Zealand back in 1991. Their initial fundraising appeal for victims of the drought and war in the Horn of Africa raised over $25,000 in just a few months.
Oxfam set up its first partnership in the Pacific, with the Fiji Women's Rights Movement (FWRM). It also began its support for the conflict-ridden island of Bougainville, in Papua New Guinea. This included expressing concern at the PNG military blockade of aid to the province and launching an appeal to provide medical supplies.
1992: Pancakes set the scene
In the early years, we set about fundraising through a series of Walk Against Want events across the country. There was also a pancake toss and a waiter's race in Wellington. This involved waiters from several of the biggest hotels setting bottles and glasses on their trays and racing down Manners Mall. They tried to keep their trays balanced in the midst of laughter and heckling from the onlooking crowd. These events helped raise funds for a women's literacy project in Bangladesh.
Then Chairman Keith Johnson explained the approach and set out a vision for public involvement in our work, a vision we strongly believe in today:
"We start with the certainty that most people want to help others. We want to attract new people and add a feeling of hope and involvement. Caring for the inequalities in the world doesn't have to be gloomy, earnest and sombre. People need to be confident their help will make a difference."
1998: Opening the Bougainville office

After lobbying for the Bougainville peace agreement that was eventually brokered by the New Zealand government, Oxfam began work on the ground in Bougainville. A programme office was set up there. This helped rural communities earn a decent income, build schools and supported peace building initiatives.
2001: Expansion in the Pacific
By 2001, Oxfam had expanded its work across the Pacific and Southeast Asia with programmes in Samoa, Fiji, Papua New Guinea and Indonesia.
Today, our PNG programme has grown to become our biggest. Staff and partners operate across the country working on water, sanitation, gender-based violence, peace building, livelihoods and climate change adaptation.
2002: Ending unfair trade
Oxfam embarked on its Make Trade Fair campaign with the launch of a report entitled, Rigged Rules and Double Standards, in 2002. Unfair trade rules are one of the biggest obstacles to development. We continue to challenge the European Union, Australia and New Zealand to prioritise the interests of the Pacific's people and its environment.
2003: Water for Survival
The New Zealand organisation Water for Survival was amalgamated with Oxfam and we also joined forces with WaterAid Australia. This greatly strengthened Oxfam's water, sanitation and hygiene education programmes. Because in the world's poorest countries, ill-health from drinking dirty water is one of the most serious threats to human life. Today, we're providing clean water and toilets to communities across the Pacific.
2004: Fairtrade hits New Zealand
During May 2004, Oxfam promoted New Zealand's first Fair Trade Week as awareness of this new model for trade – and its benefits to producers in the developing world – hit the mainstream. Since then, sales of Fairtrade products have skyrocketed across the country.
The government cites Oxfam's lobbying as a reason for supporting the United Nations Arms Trade Treaty to control the flood of weapons to the most miserable battlefields of the world. Oxfam's international campaigning with partners over the subsequent five years has meant that a treaty is now a real possibility.
2005: Responding to the Asia Tsunami
Within days of the 2004 Boxing Day Tsunami, Oxfam deployed water and sanitation engineers to Aceh and Sri Lanka, and launched a major fundraising appeal. The generosity of the New Zealand public was unprecedented, providing $1.9 million in donations. With funds from the New Zealand government included, a total contribution of over $3.6 million was made to Oxfam's 5-year reconstruction effort.
2005: Chooks away
Oxfam Unwrapped was launched in late 2005, immediately capturing the hearts of New Zealanders. These clever gifts were a big hit and are making a huge difference in the lives of people living in poverty. For example, goats, chickens, nutritional gardens and safe water are firm favourites today.
2006: Oxfam Trailwalker takes off
Over 700 people in 187 teams took part in Oxfam's inaugural Oxfam Trailwalker. The challenge is to walk or run 100km in 36 hours along a stunning trail. Year in year out, Oxfam Trailwalker participants continue to inspire the New Zealand public to support the $1 million fundraising target.
2007: Supporting farmers in Southeast Asia
By 2007, work was also underway with farmers in East Timor and Papua. This supported communities with agricultural techniques, tools, skills and access to markets. This helped them grow enough food to eat, and to earn a decent income for their families.
2008: Feeling the heat on climate change
Oxfam launched its climate change campaign "Feel the Heat", highlighting the vulnerability of our Pacific neighbours to climate change. We motivated the New Zealand public to speak out for action on this injustice. Tens of thousands of New Zealanders have joined us since then, with people calling on world leaders to cut climate change pollution. We also help communities on the frontline to protect themselves from the effects.
2009: Samoa tsunami response
Oxfam immediately responded to the tsunami that ravaged the southern coast of Samoa in September 2009. With our partner, Women in Business Development Incorporated, we delivered emergency food, water, shelter and provided counselling. Our work with local communities continues today, helping people to rebuild their lives and their means of earning an income. Right now, we're also supporting survivors of the earthquake in Haiti and the floods in Pakistan.
2010: Oxfam's Biggest Coffee Break
Kiwi music icon Neil Finn's 7 World's Collide project, which played a series of live shows and recorded a double album to support Oxfam's work. Following this success, another group of household names put their reputations on the line. Te Radar, Robyn Malcolm, Kate Sylvester, Steve Logan and Trade Me's Sam Morgan auctioned themselves on TradeMe for Oxfam's Biggest Coffee Break. This raised awareness about fair trade, and over $8000 for Oxfam.
2022: 31 years on
We believe in the power of people to change the world. That's why we motivate and support members of the New Zealand public to take action towards a fairer, safer, more sustainable world. Over the last 31 years, we've come a long way. Managing more people and more funds mean we can support local partners across the world to provide real benefits and hope to people in poverty.