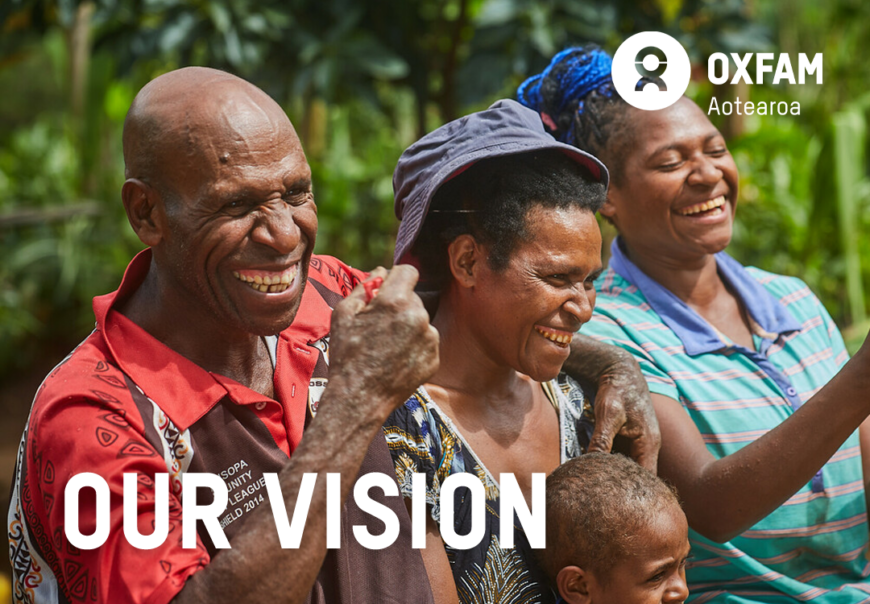 Our vision: a fairer, safer and more sustainable world.
Oxfam is a global movement of millions of people who share the vision of a world without poverty. Together, we endeavour to create a world where people everywhere are valued and treated equally. Where people are empowered to influence the decisions that affect their lives. And where people can thrive on a planet that has the natural resources to sustain them.
We believe that with the necessary action and political will, this world is possible.
Oxfam saves lives and helps to rebuild livelihoods when disaster strikes. This means providing access to clean water, aiding families to earn a dignified living, grow food and send their children to school. We stand up for the rights of women everywhere and speak out against injustices that keep people poor. We fight poverty now – and beat it for good.
Oxfam Aotearoa's values include:
Show MAIA (courage)
We choose courage over comfort. We challenge ourselves and others. We ask brave questions and make brave decisions.
Seek tika (justice)
We recognise everyone's equal value and fight for their rights. We promote what's fair and right. We challenge those in power alongside those who feel they are powerless.
Be manaakitanga (connectedness)
We link up, between, across and most importantly, with. We reach out respectfully and with authenticity. We engage, we care, and we use knowledge drawn from diverse thinking.
Our world-changing goals include:
Help people claim their right to a better life
When people have the power to claim their basic human rights, they can escape poverty – for good. We support people in the Pacific and around the world to exercise their civil and political rights, influence the decisions of people in power and hold them accountable.
Centre women's rights at the heart of all we do
Every day, in every country around the world, women are confronted with discrimination and inequality. They face violence and abuse, hold less power and fewer resources and experience fewer opportunities to learn, earn and lead.
Empowering women is vital to ending poverty, not only for women and girls but for entire communities. We help them speak out, demand justice, assert their leadership, and exercise their right to live free from fear and violence.
Save lives
When disaster strikes, we are there. Communities living in poverty are disproportionately affected by disasters and conflict. We act fast to help ensure the world's most vulnerable are kept safe and have access to the essentials they need to survive. We make sure people have clean water to drink, food to eat, and good sanitation. And we're there for the long haul, helping strengthen communities to face the future on their own terms.
Food for all
Right now, almost a billion of us go to bed hungry each night. Not because there isn't enough food to go around, but because of the deep injustices that exist in the food system. We're working to protect and improve food supplies so that people always have enough to eat and can enjoy greater income, prosperity, and resilience.
Help people claim a fairer share of natural resources
Many of the world's poorest countries are rich in natural resources but still face poverty because of corruption and human rights violations. Plus, an increasingly competitive system that does not listen to their voices. We help marginalised people become more prosperous and resilient by defending their right to life-sustaining resources, ensuring they get their fair share of revenue, and protection from the stresses of climate change.
Increase access to essential services
Public services have unparalleled power in tackling poverty and reducing inequalities. We push for an increase in resources for basic development so the worlds poorest don't lose out on participating fully in economic, social and democratic life.