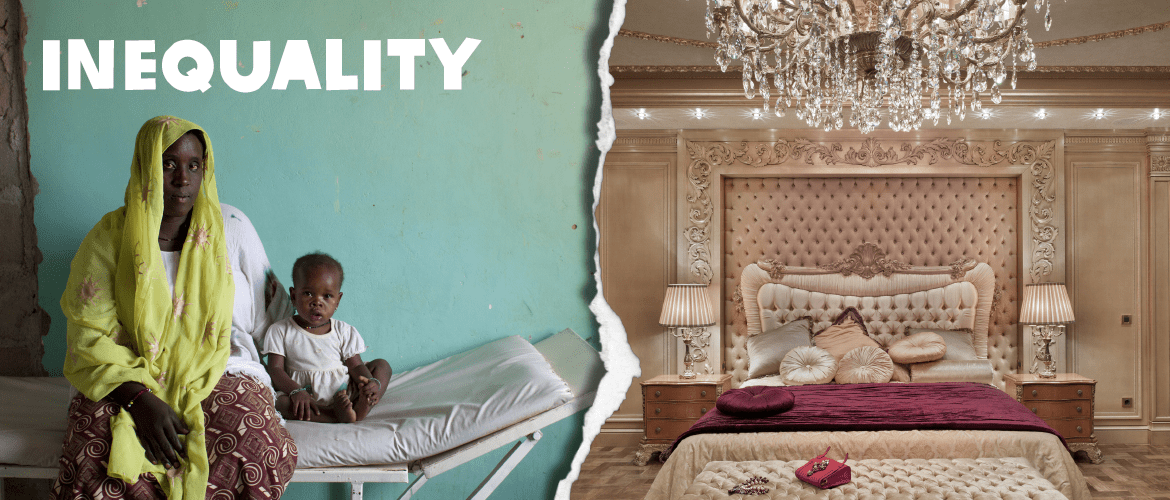 Extreme inequality is hurting us all
It is damaging economic growth, fuelling crime, and destroying the hopes of billions who are trapped at the bottom with no way out. It's time to even it up! One positive action we can take is to demand an update of international tax rules so they work for everyone, not just for wealthy multinational corporations. The tax system is crucial to ensuring that everyone enjoys their basic human rights. We all want warm houses, clean rivers and oceans, decent roads and public transport, thriving communities, and the health, skills and knowledge to enjoy meaningful work. Governments around the world use tax to make sure we all have access to our fair share of resources. Multinational corporations don't want to share. They use their power to avoid paying taxes to governments around the world; shirking their responsibilities and robbing from people living in poverty. In fact, multinational corporations are now paying less tax than before the 2008 financial crisis, and they continue to shift up to 40 percent of their foreign profits to shadowy tax havens so they can avoid contributing where they should. This isn't right.
Right now, you can help
As you read, unfolding across the world is an unprecedented opportunity to change the outdated international tax system that fuels poverty and inequality. We can change it for the better, and you can help.Ministers Robertson and Nash want to hear your thoughts. They have issued a discussion paper on multinational corporations and the digitalization of the economy.
Read it here.
This is your opportunity to tell them that New Zealand should champion international tax rules to stop multinational corporations behaving badly – from tech giants to pharmaceuticals to oil corporations. If we can demand that these corporate giants contribute their fair share, we will help provide nurses, teachers, roads, and electricity to those who need it most.
We're working on our submission and we'll share it with you soon. If you'd like to have your say,
email:

policy.webmaster@ird.govt.nz
CLICK HERE
to tell us you're in for a world where everyone enjoys good health, infrastructure to get their goods to market, and the skills and knowledge they need to meaningfully contribute to their communities. Read on if you want a little more detail.
We need international rules for a digital future
Our international tax system is based on rules created before World War One. These rules say what multinational corporations can do and what governments can tax. Right from the beginning, multinational corporations have found ways to bypass these rules so that they drain profits away from countries where they have to pay tax. Corporations have manipulated countries' need for investment to drive down corporate tax rates to the lowest they have ever been. This bad behavior robs billions of dollars from governments around the world.
To make matters worse, our economies have changed and become more digitalised, meaning these international tax rules are now obsolete. Digital corporations, like the big tech giants, can avoid paying any taxes at all. In response to this, a few governments decided to put their own digital services tax in place. But the problem runs much deeper. Our economies have increasingly become digitalised with people involved in digital transactions around the world. We need to change the fundamental rules, not just add new ones. The OECD and 129 countries around the world – including New Zealand – are joining together to agree on a modernized set of rules around how governments tax multinational corporations. These discussions offer the potential for fundamental reform of the old international tax system in our digital world. If governments get this right, we could see the end of corporate tax havens and tax avoidance. It could mark the beginning of a new tax era with fair taxes; where countries get the funds they are owed so they can eradicate poverty and inequality.
This is where you come in.
You can tell our government you want an international tax system that fits our future and that is fair for everyone, everywhere.
CLICK HERE
to tell us if you want a world where everyone enjoys good health, infrastructure to get their goods to market, and the skills and knowledge they need to meaningfully contribute to their communities.

The latest news