Country profile
Vanuatu is a lush archipelago of more than 80 scattered volcanic islands and has been ranked every year for the past 10 years as the world's most at-risk country for natural disasters and the impacts of climate change. Agriculture, fishing, offshore financial services and tourism are the main drivers of Vanuatu's economy, yet border closures brought on by Covid-19 have had a devastating impact on the tourism sector, dramatically reducing the number of jobs available to young people.
The World Risk Index found Vanuatu to be the world's most at-risk country for natural hazards. Because Vanuatu is so vulnerable to natural disasters, it has been critically important to improve how we can deliver aid in the wake of a destructive cyclone, flood or storm. Life has changed dramatically in Vanuatu over the past few decades. Young people must navigate an economy of high unemployment, low wages and expensive housing. Ni-Vanuatu youth have limited access to secondary education, with only 11.9% of young people staying on through Grade 13 (the final year of secondary school). Many must leave school early because they cannot afford the tuition and fees, and must instead earn money to help support their families. In addition to the pandemic, Tropical Cyclone Harold made landfall in Vanuatu in April 2020, causing major destruction to parts of the country and impacting staff, students and their families. This has left Ni-Vanuatu youth in the precarious position of being unable to afford advanced education but with only limited low-wage opportunities elsewhere.
97% of the country's poor population live in rural areas, which are often remote and have limited infrastructure. Only 18% of those living in rural areas complete secondary education, and about 20% of the population in rural areas have never been to school at all. Vanuatu's young people are the country's biggest resource – with the right opportunities, these young people will be the leaders of Vanuatu's social and economic development.
Key statistics
Capital: Port Vila
Population: 307,150 (2020)
Population below the basic needs poverty line: 15.9% (2021)
Infant mortality rate: 21.07 deaths/1,000 live births (2021)
Life expectancy at birth: 65.31 (2020)
Population affected by natural disasters: 64% (2021)
Vanuatu ranks 140/189 countries on the UNDP's Human Development Index (2020)
The average annual income per person in Vanuatu is US$5,593. By comparison, in New Zealand it is US$39,583 (Sources: World Inequality Database, 2021 and Statz NZ, 2021)
Children go to school for an average of just 6.8 years (2017)
There are currently zero seats held by women in Vanuatu's Parliament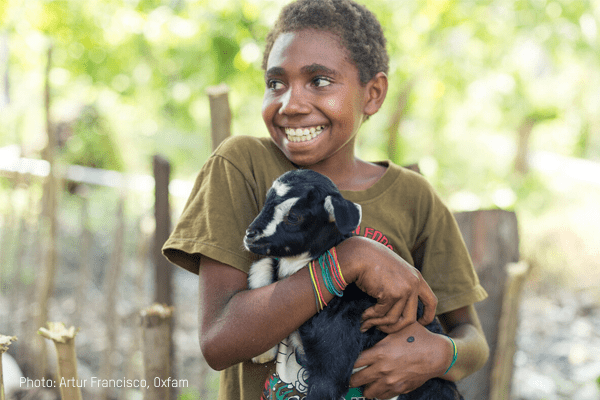 KEY PROJECTS
Oxfam's Enhancing Youth Employment and Leadership programme (EYEL) partners with Youth Challenge Vanuatu (YCV) to help bridge the gap between young people eager to learn and work and the jobs that they could succeed in. Through training programmes in leadership, business and computer skills, as well as internship placements, YCV supports young people to build the skills that will make them competitive in the job market and even offer start-up grants for young entrepreneurs.
This project was officially started in April 2018 and is set to finish around June 2023. The overall objective is to increase the number of young men and women, including marginalised youth, that are leading economic and social development in Vanuatu.
Oxfam Aotearoa's partnership with Youth Challenge Vanuatu has improved young people's access to education and work experience. After completing YCV's programmes, Ni-Vanuatu youth have more experience, confidence, and the skills necessary to secure jobs that pay a living wage.
Oxfam's UnBlocked Cash Project 
The massive number of people requiring humanitarian assistance has been growing in recent years due to climate-caused disasters. Vanautu is particularly prone to climate-caused disasters and has suffered extensive damage from Category 5 cyclones (TC Pam and TC Harold) in recent years.
Oxfam's UnBlocked Cash project is set to tackle this challenge. It offers an opportunity to improve how aid is delivered without compromising the dignity of beneficiaries. Using blockchain technology, beneficiaries receive "tap-and-pay" cards which they can use to purchase the goods or services they need. Local vendors can process payments using smartphones with a pre-installed app. This system saves costs and reduces delivery time for distributing aid, brings more transparency and accountability to the process, and ensures that people in need are able to get the things they need, rather than make do with whatever supplies are being made available.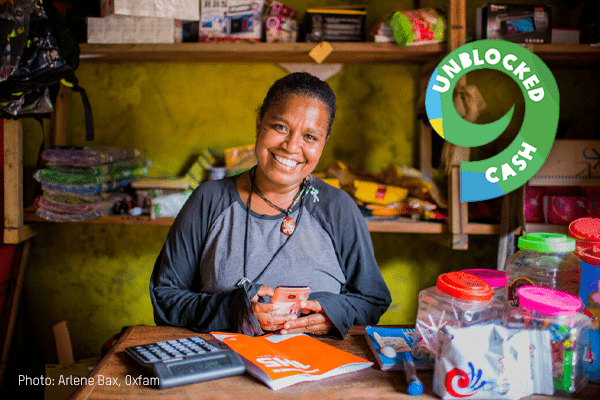 The project originated in 2019 in areas of Vanuatu where the severity of Tropical Cyclone Harold and COVID-19 restrictions had significantly reduced income and livelihoods, particularly amongst households with pre-existing vulnerabilities. Oxfam's UnBlocked Cash project won the European Union 2020 Horizon Prize for Blockchain for Social Good in Aid category, supporting further scaling of the project beyond the Pacific region. It has also been selected as the winner of the 2020 World Summit Awards in the Inclusion & Empowerment category.
Drawing from what we learned in Vanuatu, this project has been scaled out to Papua New Guinea, where heavy rains in April 2020 caused floods and landslides in several provinces, and will be deployed to Solomon Islands next year.