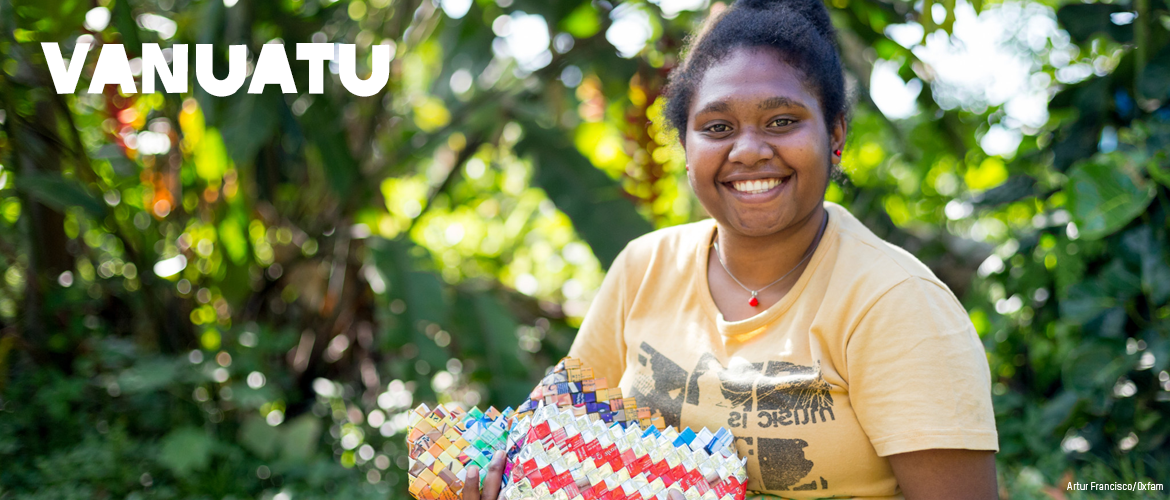 Vanuatu is a lush archipelago of more than 80 scattered volcanic islands.
Country profile:
Agriculture, fishing, offshore financial services and tourism are the economic mainstays, yet 76 per cent of Vanuatu's population live a subsistence lifestyle.
Rural areas are often remote and have limited infrastructure. Climate change threatens Vanuatu's food security and the country is particularly vulnerable to cyclones and other disasters.
Rapid population growth has put pressure on health and education services, along with job opportunities. Budget restrictions mean there are not enough secondary schools. It's not uncommon for children to finish formal education at age 10. Those who do secure a place at secondary school often find it too expensive to complete.
Employment choices for these young people are often limited to helping with domestic chores or working on small family farms. There is waning interest in farming as a livelihood and many head to the cities, adding to growing youth unemployment and  placing them at increased risk of poverty.
Quick facts from the UNDP Human Development Report, Government of Vanuatu, World Bank and World Risk Report 2018:
Capital: Port Vil

a

Population: 262,787 (2018)

Population below the poverty line: 13.2% (2017)

Infant mortality rate: 23.1 deaths/1,000 live births (2017)

Life expectancy at birth: 72.3 years (2017)

Population affected by natural disasters: 50% (2018)

Vanuatu ranks 138/189 countries on the UNDP's Human Development Index

The average annual income per person in Vanuatu is US$2,995. By comparison, in New Zealand it is US$33,970

Children go to school for an average of just 6.8 years (2017)

One third of the population over the age of 15 is unemployed (2017)

There are currently zero seats held by women in Vanuatu's Parliament
Key projects:

 THRIVE Programme in Vanuatu.pdf
In Vanuatu, Oxfam is training and supporting farmers to establish and grow small-scale market gardens and find new income opportunities. We are also providing people with safe clean water, sanitation and hygiene education and traning them in skills that will earn them a living.
Too many young people are pushed out of formal education each year in Vanuatu. But with Oxfam's support, a network of small rural training centres is giving them new opportunities to learn and build a brighter future for themselves and their families.
Youth Challenge Vanuatu specialises in offering young people employment and enterprise training courses. Aimed at those without school qualifications, YCV's courses, which include life skills, internships and counselling, smooth their pathway into employment, enterprise or further study.
Ni-Vanuatu youth have to navigate hard realities – few jobs, a low-wage economy for unskilled jobs, and a high cost of urban living. Limited schooling opportunities mean that most young people don't finish secondary school – only 32% even enrol. After leaving school, most have only two options. They can return to the family farm, or move to urban areas looking for work – areas where 35% of people are unemployed.
These challenges are particularly acute for disadvantaged youth – early school leavers, adolescent mothers and youth with disabilities.
Oxfam works through partnerships with local organisations on the ground, because who knows the community better than the ones living in it?
We've partnered with YCV to help them grow and develop their organisation. More young women and men will be able to thrive as employees and entrepreneurs, and engage with issues that are important to them. Most of YCV's staff have come through the programme themselves. This means they know the challenges these young people face, and the life-changing difference YCV can make. Take a look at the stories of some of YCV's graduates.
Vanuatu's young people are the country's biggest resource – with the right opportunities, these young people will be the leaders of Vanuatu's social and economic development.

Farm Support Association (FSA) is helping to raise the standard and appeal of farming and increase incomes by empowering farmers to adopt effective and sustainable practices. They help farmers produce higher volumes of quality produce, with a focus on local varieties.
FSA supports the development of small income generating opportunities. They provide agricultural extension to women farmers on five islands, and to young people interested in farming as a business.
Women are producing vegetable and off-season pineapples, and raising chickens and pigs, and selling their produce to neighbouring communities and in markets. As well as reinvesting into their farming businesses, many use the income to pay for their children's education.
FSA also teach farmers how to make animal feeds, saving them money that can be invested into developing their business
Oxfam is helping FSA develop into a robust organisation. This will strengthen the long-term impact of FSA's work. We are doing this by sharing expertise and resources, including financial management systems, developing publications and hosting skills workshops.
FSA has reached over 300 rural farmers. The first cohort of young people has graduated from the three-year Young Farmers' Development Course.
Oxfam is helping the agricultural sector transition from subsistence to small-scale market-oriented farming.
Thousands of young Ni-Vanuatu now have practical skills that they can use to support themselves and their families for the long term.
The latest news: