Three years on, we're excited to introduce you to three women who were empowered by your support.
In April 2015, a magnitude 7.6 earthquake struck Nepal, killing over 9,000 people and destroying or damaging over 850,000 homes. Three years on, we're excited to introduce you to three women, Muna, Tirsana and Til, from Sindhupalchowk, Nepal, who were empowered by your support following that devastating day.
Meet Muna
"I cannot even imagine myself being able to live here if the tap hadn't been rehabilitated. Life would have been really hard… You supported us when we were in such a dire situation. You helped us and I would like to thank you for that."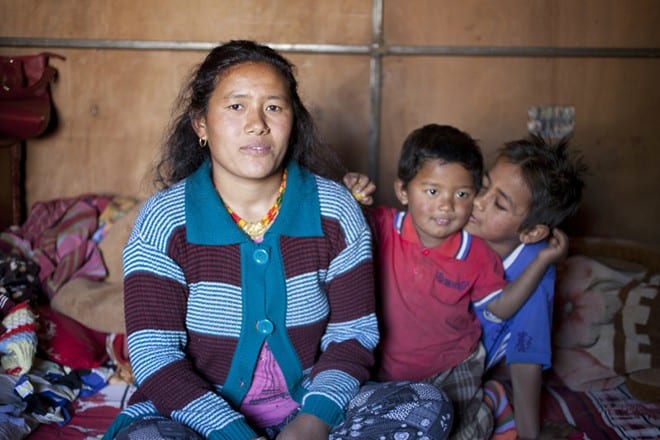 Muna Tamang Giri and her children. Photo: Abbie Trayler-Smith/Oxfam AUS
Muna is one of almost half a million people that Oxfam reached during the year following the earthquake in Nepal three years ago.
She was nine months pregnant when the earthquake struck, and was in hospital giving birth when the second big quake shook the country.
Before, Muna used to have to spend five hours a day collecting water from the nearest source. But after the earthquake, even that dried up.
"Finding water was really difficult. We had to go downhill to get water. If we could fill our pot as soon as reaching there, then we could be back home in 40 to 45 minutes. But if we had to wait in the queue, then it would take one to one-and-a-half hours to get back.
"Altogether we had to make four to five trips a day."
Because of the donations from Kiwis and others around the world, we were able to rehabilitate a water supply system near Muna's home.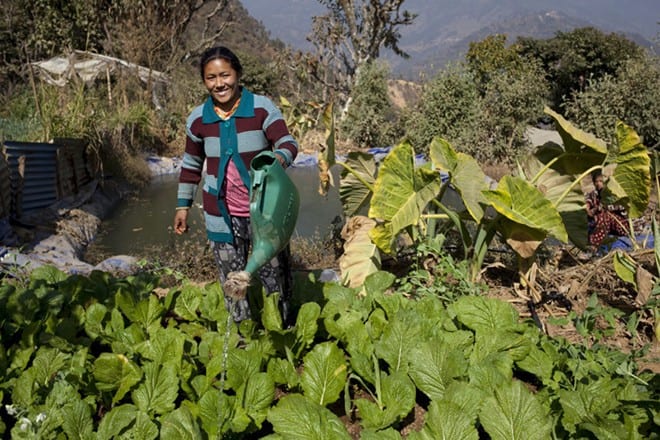 Muna tending to her garden near her home in Sindhupalchowk, Nepal. Photo: Abbie Trayler-Smith/Oxfam AUS
"From the time of the earthquake until this tap was installed, it was really difficult to find water.
"Now, that time is saved. We don't need to make those trips. Moreover, we can grow our own vegetables. Because of the clean water, I think my son will not get waterborne diseases like diarrhoea, pneumonia or others."
---
Meet Tirsana
"All the water was muddy after the earthquake. It was dirty. Due to constant quakes, the earth was shaking and all the water was muddy and dirty."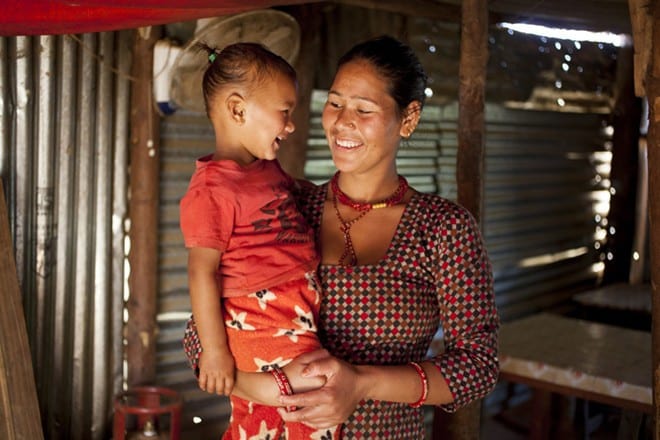 Tirsana and her son Aman. Photo: Abbie Trayler-Smith/Oxfam AUS
Tirsana was making four two-hour trips each day to fetch water before the earthquake, but thanks to Oxfam supporters, all of this has changed and she now has an extra eight hours a day to spend with her children.
"After the earthquake, Oxfam constructed this new water supply system and tank, which is nearby. I don't have to spend time on collecting water. I can spend more time with my children, look after them, send them to school on time. I can keep my children clean.
"We have a water source so near… I don't need to stand in a queue for water. Water comes to our house.
"Thank you for giving us water."
---
Meet Til
"From that far away, although they did not see with their eyes, they saw with their hearts and sent support."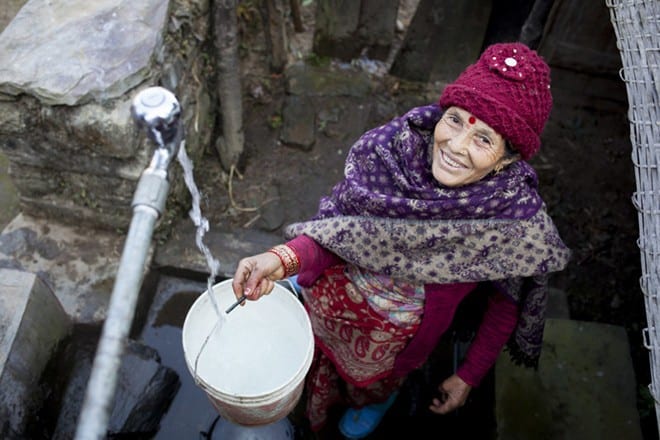 Til collecting water from the new tap by her home. Photo: Abbie Trayler-Smith/Oxfam AUS
The water source in Til's village in Sindhupalchowk, Nepal, was left completely damaged after the earthquake.
"Water was scarce. Water would be collected the whole night in a tank and would be opened through a tap in the morning and then closed again after everyone filled their pots. That's how we were managing.
"Oxfam came and provided some support. Oxfam gave us materials and then we could bring the tap nearby – after that it has become comfortable and it is good.
"If it was not fixed we would have faced a hard time. We would not have had enough water. Having this is like a godsend for us women."
Til really enjoyed Oxfam's visit, and loved the opportunity to be part of such an incredible story of success!
"Earlier, having my photo taken and being filmed, it was like a film on TV. You should have seen! I carried water, put a pot on the stove, made a fire and what not. We all laughed. At 60 I became the heroine of a movie."
---
What we've achieved, thanks to our supporters, since the earthquake in Nepal is something we can be proud of – but there is still much more work to do. Many more people across the country are still without access to safe water, like Hira, who makes seven or eight 30 minute trips to get water each day, carrying 40 to 50 litres each time. "The water is very cold, and my back and whole body are in so much pain from carrying it back in the night. It makes me feel really sick." To support people around the world like Hira, please think about making a donation today.
The earthquake in April 2015 – centred between two major cities, Kathmandu and Pokhara – left nearly 9,000 people dead and destroyed or damaged more than 850,000 homes.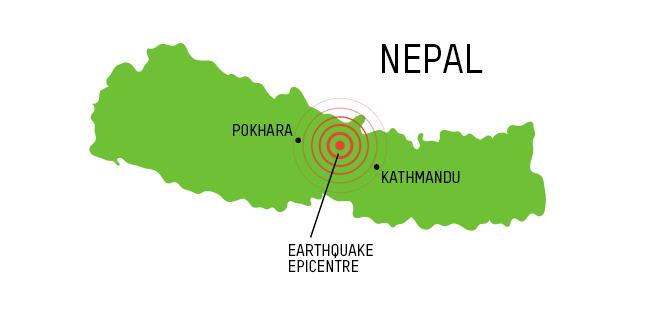 Many of the affected people have received some support from the Government of Nepal and aid organisations, but others are still waiting for assistance. The government's response has been beset by delays, and for the past several months the country has been in the grip of a fuel crisis.
As well as destroying and damaging homes, the earthquake also severely impacted employment. Many are still struggling to find work, while those who do often report that their incomes are below pre-earthquake levels.
Women, children, the elderly, ethnic minorities, those disadvantaged by the caste system and people living with disabilities have all been disproportionately affected by the earthquake and its aftermath. The problem of landlessness, widespread before the quake, has also worsened.
Oxfam was one of the international non-government organisations in Nepal to immediately respond to the 25 April earthquake. It has been working in seven of the 14 most affected districts: Gorkha, Nuwakot, Dhading, Sindhupalchowk, Kathmandu, Lalitpur and Bhaktapur. In the first three months, or the emergency period, we provided emergency food, water, shelter, latrines and awareness surrounding hygiene and sanitation to more than 400,000 people across these districts.
In the early recovery phase, Oxfam worked to prioritise providing improved temporary shelters, winterisation kits, income-generating opportunities for skilled and unskilled labour, and sustainable livelihoods support.