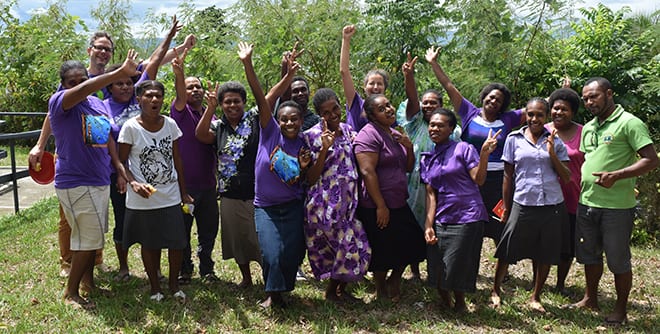 Photo: Glen Pakoa/Oxfam in Vanuatu
The youth population in Vanuatu is booming – and our local partner, Youth Challenge Vanuatu (YCV), specialises in offering these young people employment and enterprise training courses.
Aimed at those without school qualifications, YCV's courses, which include life skills, internships and counselling, smooth their pathway into employment, enterprise or further study.
Ni-Vanuatu youth have to navigate hard realities – few jobs, a low-wage economy for unskilled jobs, and a high cost of urban living. Limited schooling opportunities mean that most young people don't finish secondary school – in fact, only 32% even enrol. After leaving school, most have only two options: return to the family farm, or move to urban areas looking for work – areas where 35% of people are unemployed.
These challenges are particularly acute for disadvantaged youth – early school leavers, adolescent mothers and youth with disabilities.
Oxfam works through partnerships with local organisations on the ground, because who knows the community better than the ones living in it?
We've partnered with YCV to help them grow and develop their organisation so more young women and men will be able to thrive as employees and entrepreneurs, and engage as active citizens around the issues that are important to them. Most of YCV's staff have come through the programme themselves, so they know the challenges these young people face – and the life-changing difference YCV's support can make. Take a look at the stories of some of YCV's graduates.
Vanuatu's young people are the country's biggest resource – with the right opportunities, these young people will be the leaders of Vanuatu's social and economic development.
Together with YCV, you, and Oxfam, this is what the programme will achieve:
Over 2000 young women and men develop their knowledge, skills and confidence to pursue their chosen career path.
More young women and men are in employment, self-employment or further study, and are advocating around youth issues.
Youth will access innovative, effective courses that give them the skills employers are looking for, as well as complementary services like internships, enterprise incubators, career and enterprise counselling, an electronic resource library, and careers events.
YCV will develop a new course in social enterprise, giving youth the opportunity to learn the ropes of running a business while keeping the social purpose at the forefront.
YCV will be a stronger organisation, able to demonstrate the high quality of their services, and with a range of income streams that allow them to continue to serve underprivileged youth.
---
Want to be a part of supporting awesome programmes like this? The best way to do so is to give a regular gift – long-term programmes rely on long-term support.