Analysing farmers' needs in Samoa.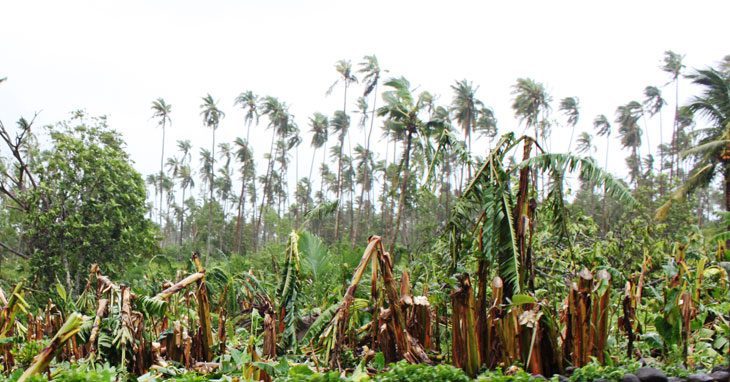 Oxfam's partner in Samoa, Women in Business Inc, is embarking on a Cyclone Evan farm-to-farm needs analysis in Upolu this week.
The organisation's organic fieldworkers are giving up their holiday break to do a detailed analysis on farms in the cyclone-affected areas. Other staff will continue the dried banana and coconut oil production so they can meet Women in Business' export contracts.
Executive director Adimaimalaga Tafuna'i says the staff recognised that although it was the Christmas break, many farmers that are desperate for help out there. "This work is incredibly important and will inform much of our work for 2013 as work with vulnerable families to get back on their feet.
"This is similar to what we did after the 2009 tsunami and we although we have done an assessment of damage, this is a detailed face-to-face process where our staff will also be walking through the farms to record and photograph the damage and the type of assistance required."
The organisation has two teams going out on December 27, 28, 29 and then again on January 3, 4 and 5.
Aside from Women in Business farmers, Tafuna'i says they will also be checking on neighbouring properties to make sure those families are alright. Staff will record the impact of the cyclone, analyse the families' needs and update contact details. Meanwhile, many Women in Business production staff are also going to work through the Christmas break in an effort to meet their virgin coconut oil and dried banana exports.
"We had a shipment due the week before Christmas but Cyclone Evan delayed that. However, we still have an opportunity to complete the order and ship it out mid-January," says Tafuna'i.