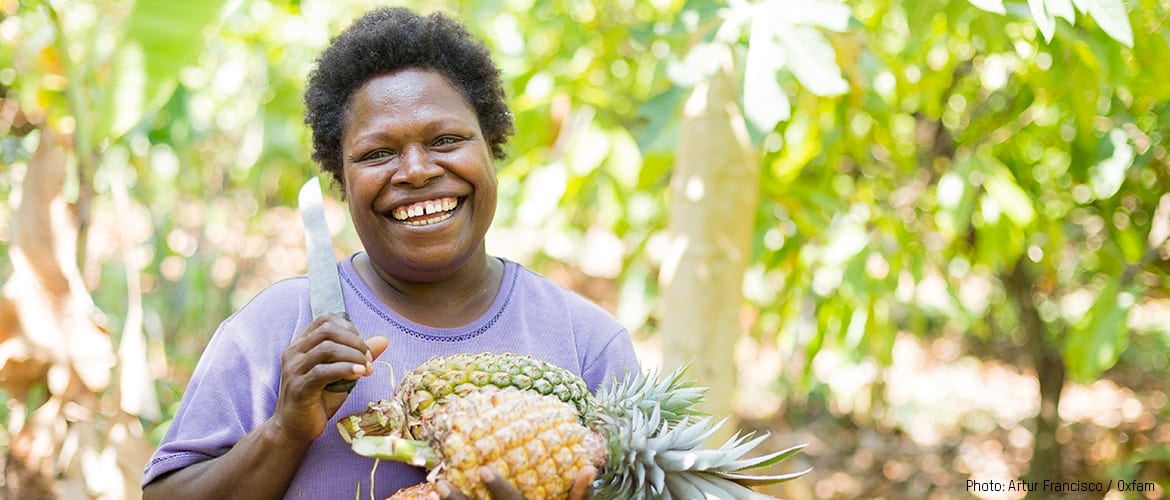 Makin, 43, with her pineapples. She is being supported with new techniques for planting by Oxfam partner FSA. Farm Support Association (FSA), Larvat, Malekula, Vanuatu. Photo Artur Francisco / Oxfam
What is Oxfam, what do we do, and how do we do it? Here's the information you need.
1: Oxfam is a global organisation working to end the injustice of poverty.
We believe poverty is wrong, and that it is not an inevitable fact of life. We help people build better futures for themselves, hold the powerful accountable, and save lives in disasters. Our mission is to tackle the root causes of poverty and create lasting solutions.
2: Our donors have confidence in us.
We believe in the power of people to change the world. That's why we motivate and support members of the New Zealand public to take action towards a fairer, safer, more sustainable world. Over the last 30 years, we've come a long way. Managing more people and more funds mean we can support local partners across the world to provide real benefits and hope to people in poverty.
Oxfam Aotearoa is a Trust Board incorporated under the Charitable Trust Act 1957 and is also registered under the Charities Act 2005. Oxfam Aotearoa is also a member of the Council for International Development (CID) and is a signatory to the CID Code of Conduct, which is a voluntary, self-regulatory sector code of good practice. In May 2019, Oxfam Aotearoa received re-accreditation for a further three years.

Oxfam Aotearoa's financial accounts are independently audited by RSM Hayes Audit. The auditor's opinion on the full annual financial statements is available on request and can also be found as part of Oxfam's Annual Return published on the Charities Services website. Globally, Oxfam applies best-practice accountability aimed at reducing the risk of corruption and fraud. All Oxfam offices are regularly peer-reviewed for adherence to governance and management standards. We know how important it is to spend every dollar wisely; the more efficient we are, the further your dollar goes, and the more people we can help.
3: We work with local and national organisations: our partners.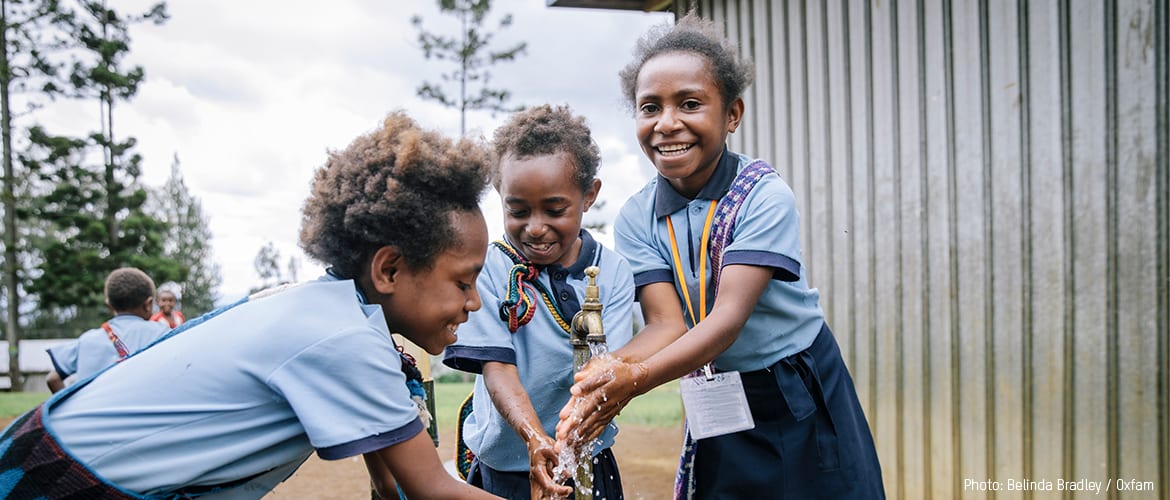 Oxfam worked with local organisations in the Eastern Highlands of Papua New Guinea   providing water, sanitation and hygiene education and gender-separated toilets in schools. Photo Belinda Bradley / Oxfam
We provide local partners grants for their anti-poverty programs and work with them to build alliances, networks, and effective organisations that will eventually be self-sufficient. Most importantly, we work with our partners to learn; what they teach us about the best solutions to poverty is just as valuable as the funding and collaboration we provide them.
Working with our local partners, we're active in more than 90 countries as part of the Oxfam International confederation. Our work tackles the root causes of poverty and we respond to emergencies to save lives and help communities to rebuild.
4: We believe that fighting poverty is about fighting injustice.
Poverty often arises from the violation of people's basic rights. When someone is denied the right to own land, the right to education, access to basic services like clean water, a fair price for the crops they grow, or a fair wage for the work they do, the result is poverty. Fighting injustice is an essential means to ending poverty.
5: The projects we fund are community driven.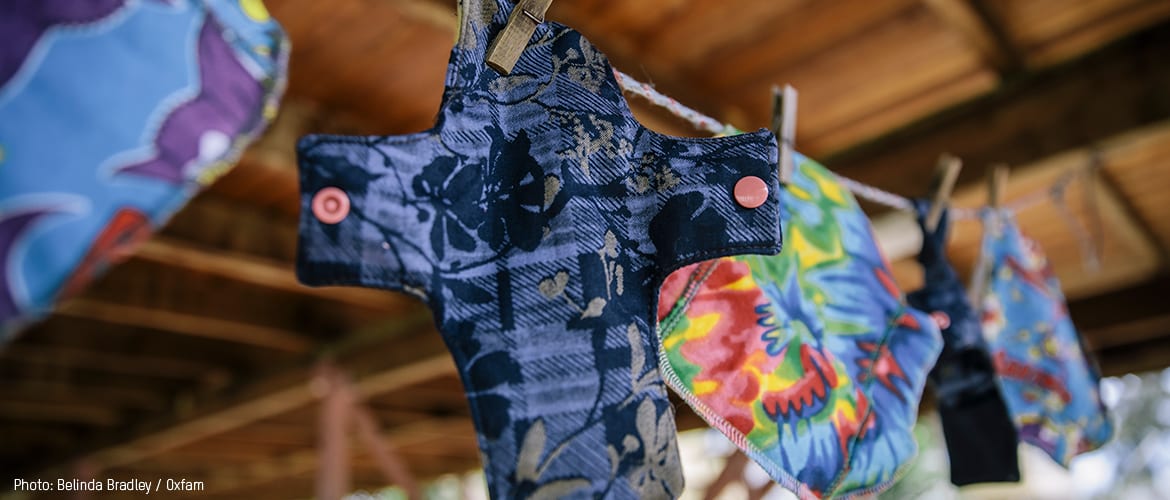 Reusable pads hang from a washing line in Papua New Guinea. Oxfam Aotearoa's four-year programme FLOW aims to reach 30,000 girls in 12 rural communities. Through simple steps this programme is delivering the support needed for girls to safely manage periods with dignity and to stay in school. Photo Belinda Bradley / Oxfam
Our local partners do the work, so the results are theirs. Locally informed and locally driven solutions to poverty are the best solutions – the most sustainable and the most appropriate– because they come from the people who can keep the initiatives going after Oxfam and its funding goes away.

Oxfam Aotearoa's work focuses on the Pacific countries of Tonga, Vanuatu, Papua New Guinea and Timor-Leste, as well as Bangladesh in South Asia. Discover more about our programs here. 
6: Poverty puts people in harm's way.
Poverty makes people vulnerable to calamities – from armed conflicts to earthquakes. Poverty forces people to live in violent areas or to build their houses with flimsy materials in locations vulnerable to floods, landslides and climate change. But even the poorest countries can ensure local leaders have the funds and training they need to mount an effective disaster response, and prepare for future emergencies. We help people in vulnerable communities to reduce their risks, and to advocate with their governments to support their efforts. 
7: We help people learn about their basic rights and how to defend them.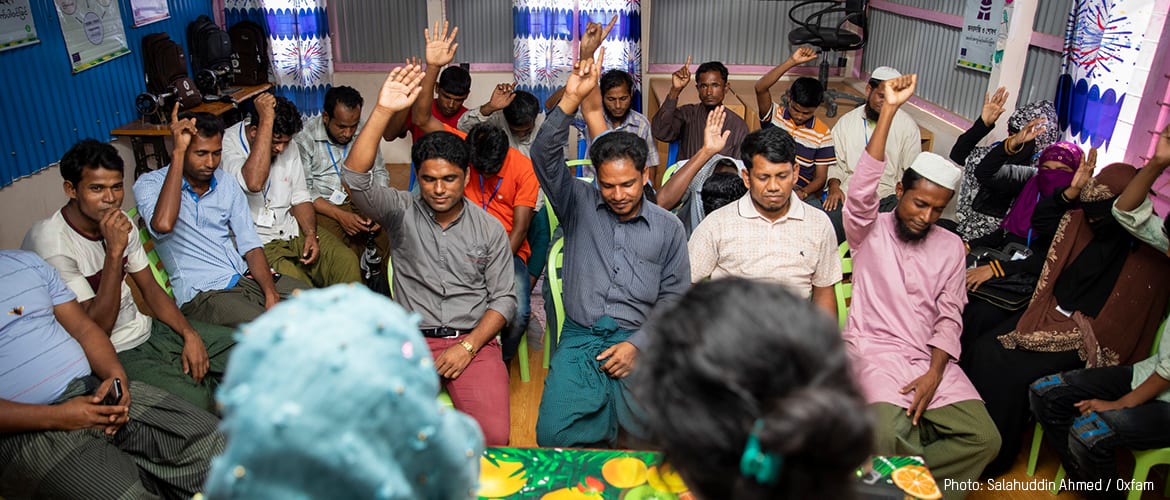 Oxfam is training local leaders in Teknaf to manage social issues faced by the community. The Oxfam Protection team took their knowledge of protection challenges, and worked with Rohingya refugees and host community members to create pictographic training materials that capture complex terms like "coercion," "empowerment" and "trafficking." Photo Salahuddin Ahmed / Oxfam
By educating people about their rights, we help to build strong communities that compel governments and other institutions to deliver on their responsibilities. When citizens hold their governments accountable, they can change the systems that keep people trapped in poverty.
8: Oxfam is a global organisation with a massive reach.
Oxfam has 75 years of experience. Last year we worked with 3,624 partner organisations in more than 90 countries. We know what it takes to end poverty and we are mobilising people and resources worldwide to make it happen. In 2017-2018 we spent $1.14 billion and reached more than 22.2 million people (more than half of them women) in our long-term development and humanitarian assistance programs.
9: Laws, policies, and institutions have an enormous impact on poverty.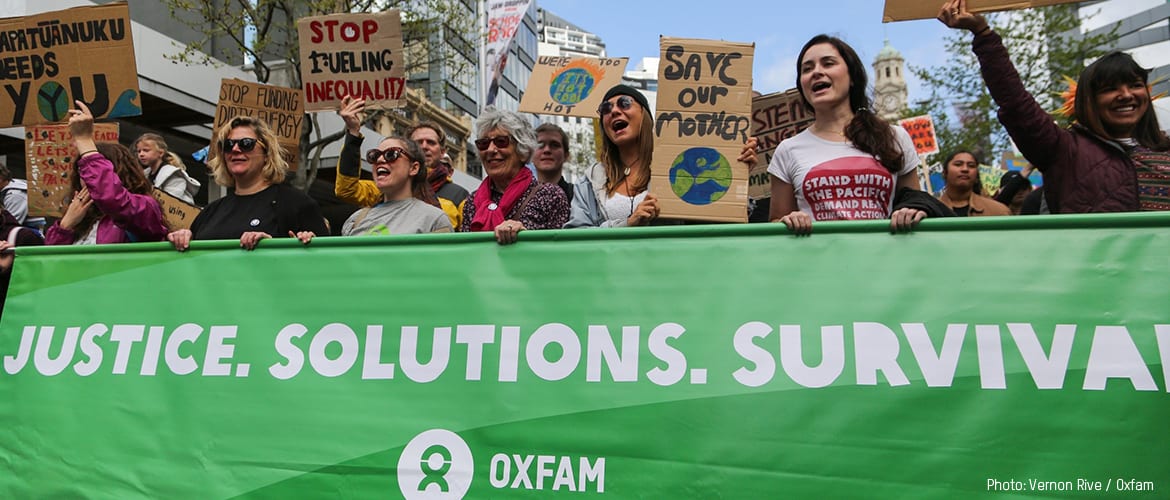 Oxfam Aotearoa with thousands of people against climate change marched from Aotea Square, before blocking the entrance to the Ports of Auckland on Quay Street. September 2019. Photo Vernon Rive / Oxfam
Decision makers rarely consult poor people about major issues like international trade agreements, climate change, or how wealthy countries administer foreign aid programs that are supposed to help them. From the halls of Congress to the World Bank, we make sure the voices of the world's poorest people are heard loud and clear. We bring our passionate supporters together to take action on big issues that keep people poor. Every action is powerful – signing a petition, pressuring big business, meeting with policymakers. When we speak as one, world leaders listen. 
10: You can join the effort. Everyone – including you – has a part to play in the fight against poverty and injustice.
Ending poverty is possible, but it will take every one of us. Each of us has a role to play. With the power of many voices speaking together, we can call on companies and legislators to change the laws and practices that keep people in poverty. We can also raise awareness and inspire action on some of the world's most urgent issues. We can't do this alone. Please join our online community; we need your voice and your support. No matter who you are, or how busy you are, you can make a difference.