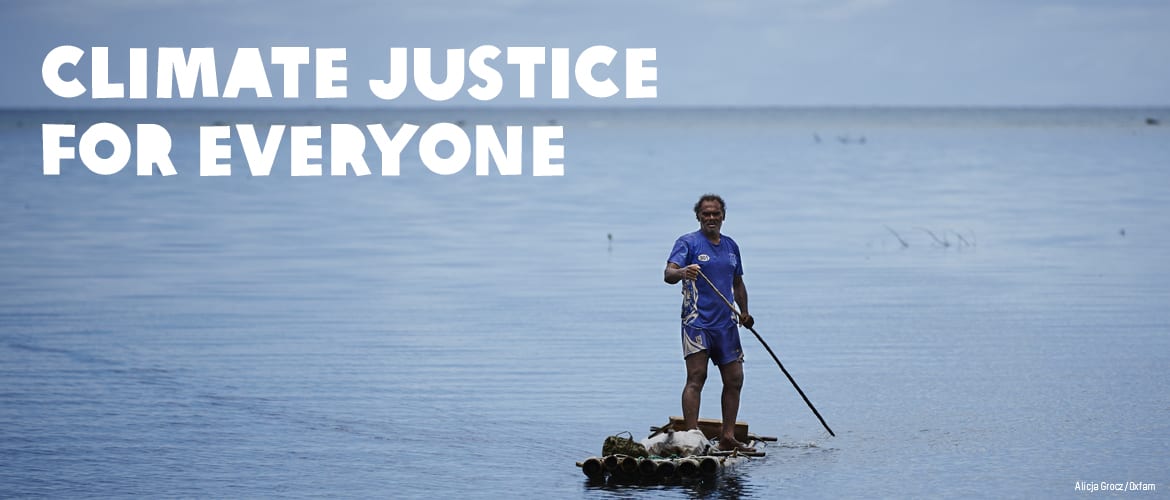 Climate breakdown is pushing millions of people into hunger and hardship.
---

As greenhouse pollution collects in the atmosphere, it acts like a blanket, warming the surface of the Earth. These gasses mainly come from burning oil, coal and gas, as well as industrial agriculture. As the world heats up, we are seeing more devastating cyclones, droughts, floods, food shortages, sea level rise and coastal erosion.
Climate breakdown is a great injustice. It has mainly been caused by rich, industrialised countries, but the effects are being felt worst by people in poor countries. They are most vulnerable to cyclones, failed crops, dried up rivers, and losing their homes and livelihoods.
Because of this injustice, helping people cope with these changes isn't an act of charity. It's a responsibility. Rich countries must stop making the problem worse, while quickly providing the financing to pay for the damages done. This is called climate finance.
We will not stand by and watch this happen. People all over the world are doing their bit to tackle this issue. Now governments and big businesses have to step up and play their part by cutting pollution and helping communities adapt. We can ensure there's enough good food for everyone. But people – particularly those across the Pacific – need real action now to avoid the worst effects.
What Oxfam is doing
Calling for urgent action
Climate breakdown is dramatically changing the world we love. It's putting our homes, our land and our food at risk. We're calling on world leaders to ensure that money to help people cope is increasing, while pollution that leads to extreme weather events decreases.
Oxfam takes a leadership role in international climate change diplomacy. We call for the needs of the world's poorest people to come first.
We amplify Pacific voices by providing support to Pacific island organisations and governments in negotiations.
Our Pacific neighbours desperately need financing to adapt to climate breakdown, but they have only received crumbs. Oxfam supports innovative ways to generate the funding that poor people need to cope with climate breakdown. This includes an international Financial Transactions Tax, or Robin Hood Tax.
Helping communities protect themselves
The most intense cyclones, droughts and floods are getting worse. Oxfam moves quickly to provide life-saving assistance when disaster strikes. We stay on to help people to build communities that are stronger and more resilient.
Oxfam works with communities to ensure sustainable sources of food, water and income. People are better equipped to deal with the impacts of global warming.
Papua New Guinea is particularly vulnerable to climate breakdown. Oxfam works with local groups to regenerate forests and establish terraces to reduce soil erosion. We provide education on how communities can grow enough food despite changing weather conditions.
Oxfam works with the Farm Support Association in Vanuatu to improve the soil and help control erosion. This means people have a more secure food supply.
The latest news