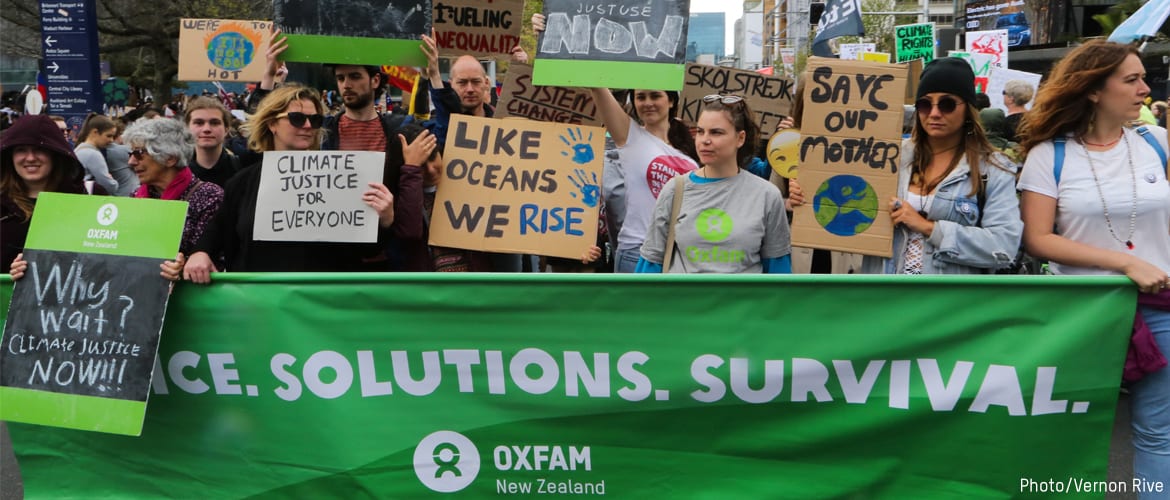 The oceans are rising and so are we
We believe in a thriving, resilient future for everyone, everywhere. Human-made climate change is the greatest threat to this future. Together we can stand up to climate destruction.
At Oxfam, we advocate for New Zealand to fulfill its responsibility to reduce its pollution, and to properly support people in poor countries to adapt to the effects of climate breakdown. We stand alongside those communities who have been resisting pollution of their land for centuries, and we join with the movement for climate justice to ensure that the voices of people who are poor are heard.
Join our community of New Zealanders organising for climate justice
What's the problem? Humans are causing our climate to change
As greenhouse pollution like carbon dioxide and methane collect in the atmosphere, it acts like a heat-trapping blanket, warming the surface of the Earth. These gasses mainly come from burning oil, coal and gas, as well as industrial agriculture. As the world heats up, we are seeing more devastating cyclones, droughts, floods, food shortages, sea level rise and coastal erosion.
Climate change is a great injustice. It has mainly been caused by rich, industrialised countries, but the effects are being felt worst by people in poor countries, who didn't cause the problem. They are most vulnerable to superstorms, failed crops, dried up rivers, bleached coral reefs and loss of their homes.
Because of this injustice, helping people cope with climate change isn't an act of charity. It's a responsibility. Rich countries must stop making the problem worse, while quickly providing the financing to pay for the damages done. This is called climate finance.
We will not stand by and watch this happen
People all over the world are doing their bit to tackle climate change. Now governments and big businesses have to step up and play their part by cutting greenhouse gas pollution and helping communities adapt to an unstable climate. We can ensure there's enough good food for everyone. But people – particularly those across the Pacific – need real action now to avoid the worst effects.
The situation in Aotearoa New Zealand
New Zealand's pollution is rising, and people in government must act to turn this around.
Despite the clean, green image it promotes to the world, New Zealand's greenhouse pollution has grown by 64.9% since 1990, reflecting a sustained lack of climate action over successive governments. It is among a tiny minority of developed countries in which climate pollution is going up not down.
The 'Zero Carbon Act' that recently passed through Parliament creates a framework for how decisions on climate action will be made by the people in government. This is a great start. However, the Act on its own it does not cut our pollution and does not represent a fair share of keeping global heating to 1.5 degrees Celsius.
Now that we have the framework in place, the real work of transformational action and implementing solutions begins. The government must go further, faster to get emissions down now while also stepping up to finance a thriving, climate-resilient future for our neighbours in the Pacific and beyond.
Meet your MP to demand effective climate action now
Communities around the Pacific are leading the way – New Zealand needs to stand with them
Aotearoa New Zealand is part of Te Moana nui-a kiwa, the Blue Pacific, and is one of the many Large Ocean States that call this region home.
Our neighbours in the Pacific are facing intensifying threats to all aspects of life, culture and security due to climate destruction. For example, in 2018 Cyclone Gita was the worst storm to hit Tonga in 60 years. It affected 80% of the population, and the damage and economic losses were equivalent to 38% of Tonga's annual GDP.
But Pacific communities are also leading the way in calling for action from the global community, and actively drawing on indigenous knowledge and time-tested traditions to mitigate the impacts of climate destruction and to strengthen resilience.
New Zealand has a responsibility to support the resilience, resolve and leadership of those at the front lines. Supporting the Pacific on the global stage, and contributing our fair share of funding for resilient food systems, mangrove planting and clean energy through the Green Climate Fund are key ways to do this.
What Oxfam is doing to fight climate destruction
Calling for urgent action
Climate change is dramatically changing the world we love. It's putting our homes, our land and our food at risk. We're calling on world leaders to ensure that money to help people cope with climate change is on the way up, and the pollution that leads to more extreme weather and disasters is on the way down.
Oxfam takes a leadership role in international climate change diplomacy, calling for the needs of the world's poorest people to come first. We also amplify Pacific voices by providing support to Pacific island organisations and governments in climate change negotiations.
Our Pacific neighbours desperately need financing to adapt to climate change, but so far all they have received are crumbs. Oxfam supports innovative ways to generate the funding that poor people need to lower their own emissions and cope with climate change, including an international Financial Transactions Tax, or what's sometimes called a Robin Hood Tax.
Helping communities protect themselves
The most intense cyclones, droughts and floods are getting worse. When disaster strikes, Oxfam moves quickly to provide life-saving assistance. We then stay on to help people rebuild to be stronger and more resilient.
Oxfam works with communities in the long term to ensure sustainable sources of food, water and income. This means people are better equipped to deal with the impacts of global warming.
Papua New Guinea is particularly vulnerable to climate change. Oxfam is working with local groups to regenerate forests and establish terraces to reduce soil erosion. We also provide education on improving soil fertility and crop diversification, so that communities can grow enough food despite changing weather conditions.
Oxfam works with the Farm Support Association in Vanuatu to plant vetiver grass hedges, which improve the soil and help control erosion. As a result, people have a more secure food supply.
The latest news